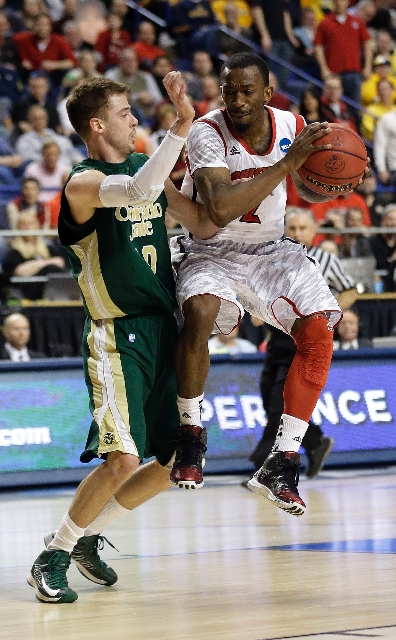 LEXINGTON, Ky. — Watching film of Louisville demolishing Colorado State will be scary enough for anyone who has to face the Cardinals in the next two weeks.
Hearing what coach Rick Pitino said afterward will be downright terrifying.
"We can play much better," Pitino said. "This is the best we have played so far at both ends of the floor. … But we can definitely get better and improve."
It's tough to see how.
Russ Smith scored 27 points on 7-of-15 shooting, three other Cardinals reached double figures, and top-seeded Louisville put on a defensive clinic in dismantling Colorado State 82-56 on Saturday.
Louisville forced the eighth-seeded Rams into a season-high 20 turnovers and outrebounded Colorado State 29-24 — no small feat considering the Rams entered with a nation-best plus-12 margin.
Colton Iverson and Pierce Hornung, the country's best rebounding tandem, managed only eight. Greg Smith led the Rams (26-9) with 14 points, and Dorian Green, who had scored 26 against Missouri, was held to six on 2-of-13 shooting.
"I don't want to put the pressure on Rick and his guys, but they're special," Colorado State coach Larry Eustachy said. "They need a little luck like everybody does to win it all, but that's as impressive team as I've been against, certainly."
Louisville (31-5) will play Oregon (28-8) in the Midwest Regional on Friday at Indianapolis. The Cardinals have won 12 straight since a five-overtime loss to Notre Dame.
"Our preparation coming into every game has to be sky-high," Louisville guard Kevin Ware said. "Coach P doesn't allow any letdowns."
Few teams have had much success against Louisville — there's a reason the Cardinals are the overall No. 1 seed — but Colorado State seemed as if it might have a shot. The Rams run a motion offense that's tough to defend, rebound well and are a veteran team that doesn't turn the ball over. When Pitino made out his "dangerous" list before the tournament began, Colorado State was on it.
"We were sick about this game," Pitino said. "We really were."
So much for that. Colorado State actually shot the ball well — 47.5 percent. The Cardinals just wouldn't let the Rams do it often, limiting them to 18 shots in the first half and 40 total.
Colorado State reached its season average in turnovers (11) by halftime and topped its worst for the season (16) with 15:33 to play.
LOUISVILLE — 82COLORADO STATE — 56
■ KEY: The Cardinals had a 29-24 rebound edge over the Rams, who entered the game leading the nation with a plus-12 rebound margin.
■ NEXT: Louisville vs. Oregon, Friday, time TBA