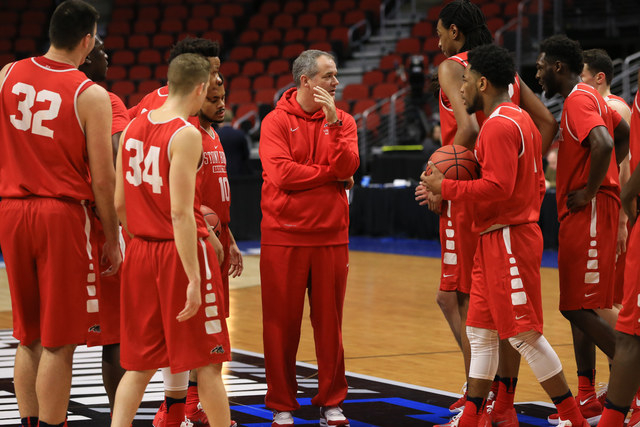 A capsule look at what to expect and who to watch during today's first-round games of the NCAA Tournament:
(7) DAYTON (25-7) VS. (10) SYRACUSE (19-13)
When, where: 9:15 a.m., St. Louis
Line, total: Dayton -1, 131
Player to watch: Charles Cooke. The James Madison transfer is the Flyers' leading scorer, but he will be particularly important in this matchup as their most prolific outside threat. Dayton's approach to the 2-3 zone defense has often revolved around getting Cooke the ball on the wing and allowing him to choose between shooting the 3 or finding a teammate either on the baseline or the high post. Cooke, who shoots 41 percent from beyond the arc, has made multiple 3-pointers in five consecutive games and will need to continue that streak for Dayton to advance.
Storyline: Syracuse has no business being in the tournament. The Orange got the benefit of the doubt from the committee because they went 4-5 when coach Jim Boeheim was suspended early in the season. That doesn't mean they can't win. While Archie Miller is one of the brightest young coaches in the nation, his team is prone to prolonged shooting slumps, and Syracuse's zone can be suffocating to a frustrated team. Still, Syracuse is reeling and Dayton will put it out of its misery.
Pick: Dayton 66, Syracuse 61
(2) VILLANOVA (29-5) VS. (15) UNC ASHEVILLE (22-11)
When, where: 9:40 a.m., Brooklyn, New York
Line, total: Villanova -17½, 141½
Player to watch: Daniel Ochefu. The offensive numbers certainly don't jump off the page for the senior center, who is averaging 9.7 points and 7.6 rebounds. He should find extra opportunities in this matchup, however, as none of the six players in the Bulldogs' regular rotation is taller than 6 feet 6 inches. At 6-11, Ochefu should dominate the glass and have his way inside. He may also draw fouls that could expose Asheville's lack of depth. Georgetown's Bradley Hayes had 18 rebounds in a loss to the Bulldogs this season.
Storyline: Asheville is aggressive with its defensive pressure and has overcome a lack of firepower by turning defense into offense. This could prove an awful matchup, as Villanova's experienced backcourt won't be rattled. Asheville has been quite inefficient defensively on 2-pointers this season so expect Villanova to pound the ball into the paint and attack the rim with its explosive wing players, which will open up the perimeter. The Bulldogs are a legitimate team with a lot of young players that will make noise in future tournaments, but styles make fights and this isn't a good one.
Pick: Villanova 81, UNC Asheville 59
(7) OREGON STATE (19-12) VS. (10) VIRGINIA COMMONWEALTH (24-10)
When, where: 10:30 a.m., Oklahoma City
Line, total: VCU -4½, 141
Player to watch: Gary Payton II. One of the most versatile players in the nation, the senior point guard has led the Beavers back to the NCAA Tournament for the first time since his famous father in 1990. Payton's struggles shooting the ball, particularly beyond the arc, haven't stopped him from leading Oregon State in nearly every major statistical category. The Pac-12 defensive player of the year paced the Beavers in scoring (15.9), rebounding (7.5), assists (5.1), and steals (2.5). Expect plenty of crowd shots of his dad, who attends nearly every game.
Storyline: A tall task for Oregon State was made more difficult when Tres Tinkle, the coach's son, was officially ruled out Tuesday. He missed the past four games of the season, and the Beavers went 2-2. Even with a new coach, VCU finds itself in familiar territory playing in the NCAA Tournament. The Rams didn't skip a beat under Will Wade, a former Shaka Smart assistant. Four starters return from last year's tournament team.
Pick: Virginia Commonwealth 73, Oregon State 64
(4) CALIFORNIA (23-10) VS. (13) HAWAII (27-5)
When, where: 11 a.m., Spokane, Washington
Line, total: California -5, 141½
Player to watch: Tyrone Wallace. In this case, the player to watch will be on the sideline. Cal has one of the best collections of NBA talent of any tournament team. It didn't all come together for the Bears, however, until Wallace returned from a wrist injury for a Feb. 11 game against Oregon when he led Cal to a 20-point win over the Pac-12 champs. His absence forced some of the team's talented freshmen to mature quickly, and the season took off when he came back, as the Bears went 9-2 down the stretch with only a 3-point loss at Arizona and an overtime loss to Utah in the conference tournament . Wallace broke a bone in his right hand in practice this week and won't play in the tournament.
Storyline: Despite all the talent, Cal has struggled to win road games. The Bears went 18-0 at Haas Pavilion and 5-10 in all other games. The task becomes even more difficult with Wallace out. It will be interesting to see how the Bears respond to his absence. Stefan Jankovic and Roderick Bobbitt provide more than enough firepower to make the Warriors dangerous for even the Pac-12's best defense.
Pick: Hawaii 71, Cal 68
(2) MICHIGAN STATE (29-5) VS. (15) MIDDLE TENNESSEE (24-9)
When, where: 11:45 a.m., St. Louis
Line, total: Michigan State -18, 143
Player to watch: Denzel Valentine. He's quite simply the most important player in the country. Valentine does a little bit of everything for the Spartans, a trendy pick to cut down the nets. Valentine's numbers are eye-popping. He's averaging 19.4 points, 7.6 rebounds and 7.6 assists, a combination of numbers no player has maintained through a season since assists became an official state in 1983-84. But his game transcends the box score. He's an extension of Tom Izzo on the floor and always seems to be in the right place at the right time, particularly late in the game. This will be his final chance to make a case for the Wooden Award before voting closes on March 21.
Storyline: Even if this were one of Kermit Davis's better teams at Middle Tennessee, the Blue Raiders would be fighting an uphill battle against a confident Spartans team that comes in off a Big Ten tournament victory. That's not the case. Middle Tennessee lost five games in a mediocre Conference USA and took advantage of Western Kentucky's upset of top-seeded Alabama-Birmingham to win the conference tournament and automatic bid. The Blue Raiders aren't particularly strong on either end of the floor and a mediocre rebounding team.
Pick: Michigan State 78, Middle Tennessee 56
(7) IOWA (21-10) VS. (10) TEMPLE (21-11)
When, where: 12:10 p.m., Brooklyn, New York
Line, total: Iowa -7½, 139½
Player to watch: Quenton DeCosey. The Owls' unquestioned leader was one of two unanimous first-team All-American Athletic Conference selections along with Nic Moore of Southern Methodist. The honor was well deserved for the senior who averages 15.7 points, 5.9 rebounds and 2.6 assists for Fran Dunphy's team. DeCosey's leadership helped Temple win 13 of its final 17 games after an 8-7 start.
Storyline: In early February, Iowa appeared headed for a Big Ten title and a high seed tournament seed. It all came crashing down with a road loss to Indiana that triggered a 2-8 finish to the season, culminating in an embarrassing 68-66 loss to Illinois in the Big Ten tournament. If there was a silver lining to the defeat, Jarrod Uthoff and Peter Jok showed signs of coming out of their prolonged shooting slumps. The Hawkeyes will need their veteran leaders to knock down shots if they want to make the kind of run they still believe they are capable of over the next few weeks. Iowa is a senior-dominated team that certainly doesn't want to waste one of the best starts in school history. It won't be easy, but this won't be their last game of the season.
Pick: Iowa 71, Temple 66
(2) OKLAHOMA (25-7) VS. (15) CAL STATE BAKERSFIELD (24-8)
When, where: 1 p.m., Oklahoma City
Line, total: Oklahoma -14, 139
Player to watch: Buddy Hield. If Valentine doesn't win player of the year, Hield certainly will. The senior is averaging 25 points and scoring from all over the court. He has hit nearly 50 percent from the field and 3-point line, as well as 90 percent from the line. Even more important for the Sooners' title hopes, he has hit big shots late in games.
Storyline: Like Michigan State, Oklahoma is a No. 2 seed with a favorable draw, and former UNLV coach Lon Kruger has his sights set on a return to the Final Four. The Sooners may get a test from the Roadrunners' stout defense, at least for a while. But Cal State Bakersfield doesn't have the firepower to challenge Oklahoma. The Roadrunners are 202nd in the country in effective field-goal percentage and are dreadful from the free-throw line. Rod Barnes should be commended for a remarkable job building a solid program in a barren wasteland like Bakersfield, but the Sooners will pull away down the stretch.
Pick: Oklahoma 81, Cal State Bakersfield 61
(5) MARYLAND (25-8) VS. (12) SOUTH DAKOTA STATE (26-7)
When, where: 1:30 p.m., Spokane, Washington
Line, total: Maryland -9½, 143½
Player to watch: Mike Daum. It's not often a freshman leads an NCAA Tournament team in scoring and rebounding. What makes the feat even more impressive is he did so for South Dakota State in mostly a reserve role, starting two games. The Nebraska native averages 15.2 points and 6.1 rebounds in 20 minutes per game. The 6-foot-9 forward will give the Maryland defense fits with his ability to make shots all over the court and to get to the free-throw line. He' s connecting on 45 percent from 3-point range and hit 82 percent of his team-leading 172 free-throw attempts. " The Dauminator" will post up smaller players, then pull big guys outside and force them to cover him on the perimeter. He's a matchup nightmare.
Storyline: The Terrapins have a pretty talented freshman of their own. Diamond Stone continues to improve on offense to give Maryland a formidable inside-outside combo along with star point guard Melo Trimble. This is a loaded team that had visions of competing for a national title at the start of the season. The Terrapins still have the talent to make that happen, though they haven't shown the consistency to make it likely.
Pick: Maryland 78, South Dakota State 72
(7) WISCONSIN (20-12) VS. (10) PITTSBURGH (21-11)
When, where: 3:50 p.m., St. Louis
Line, total: Wisconsin -1½, 130½
Player to watch: Cameron Johnson. This one is a bit off the board, as nothing about the freshman's stats warrant inclusion in this space. He's averaging fewer than five points and two rebounds in fewer than 12 minutes per game. But the Panthers, who went 9-9 in the Atlantic Coast Conference, need contributions from everyone to advance. During the conference tournament games, he hit four 3-pointers on his way to a 24-point explosion as Pittsburgh beat Syracuse in its first game to essentially seal an at-large berth to this tournament. The next day, Johnson tumbled bac k to earth with an 0-for-4 effort from beyond the arc and scored just four points in 29 minutes as the Panthers were eliminated from the league tourney by North Carolina. Johnson and the rest of the Pitt role players need to step up.
Storyline: Bo Ryan is gone, so there may not be an excuse-filled news conference to listen to if the Badgers make an early departure. That didn't look at all likely as the Badgers caught fire late in the season, winning 11 of 12 from mid-January through early March, with the loss at Michigan State. But the Badgers lost the regular-season finale at Purdue, then were upset by Nebraska in the Big Ten tournament. If Greg Gard's team can regain some of the fire it was playing with as recently as two weeks ago, it can be dangerous. If not, a Wisconsin team may get bullied out of the tournament by a more physical group. That hasn't happened in awhile.
Pick: Wisconsin 66, Pittsburgh 61
(3) WEST VIRGINIA (26-8) VS. (14) STEPHEN F. AUSTIN (27-5)
When, where: 4:10 p.m., Brooklyn, New York
Line, total: West Virginia -7½, 146½
Player to watch: Thomas Walkup. The first thing that will stand out about Walkup when he takes the floor for what may be the final time in his historic career is the full beard he has grown that may enable him to become the Lumberjacks' mascot when he is done playing. Why not? He does pretty much everything else for the team, leading Stephen F. Austin in minutes (29.3 per game), points (17.5), rebounds (4.5), steals (2.1) and field-goal percentage (.598). Walkup does it all and he will need a big game if one of the trendiest upset picks of the tournament is going to be able to fulfill that promise.
Storyline: Both teams force a ton of turnovers. "Press Virginia" likes to guard the entire length of the floor and wear down the opposition. Stephen F. Austin mixes in the full-court defense with several different half-court traps and zone presses. The Lumberjacks forced turnovers on 25.9 percent of opponent possessions, the highest rate in the nation. The Lumberjacks are the real deal, and their confidence should be soaring after mauling the rest of the Southland Conference. The biggest question for Stephen F. Austin will likely to be whether it can rebound with West Virginia. It could be a major concern. Look for the Mountaineers to finally take control of the game late and pull away. That's when the real fun begins. After three spectacular seasons and with a senior-laden team, it seems the ideal time for Lumberjacks' coach Brad Underwood to take a high-profile job. He is likely to be offered by every big school with a vacancy, even potentially UNLV. Underwood is more likely to end up in a major conference, but fans of teams looking for a coach should take note of his team's style .
Pick: West Virginia 79, Stephen F. Austin 73
(3) TEXAS A&M (26-8) VS. (14) WISCONSIN-GREEN BAY (23-12)
When, where: 4:20 p.m., Oklahoma City
Line, total: Texas A&M -13, 155
Player to watch: Danuel House. While Jalen Jones is the steady leader who garnered first-team All-Southeastern Conference honors, House can carry the Aggies. His explosiveness was on full display as he scored 32 points in a thrilling overtime loss to Kentucky in the conference title game. House is prone to the occasional clunker, but he will have to score often for Texas A&M to make a deep run.
Storyline: Texas A&M appears to have gotten over the horrid stretch of basketball it played in January and February. The Aggies won the regular-season title in the SEC before losing to the Wildcats in the tournament. Anyone who watched Texas A&M play Louisiana State in the SEC semifinals knows what this team is capable of when it clamps down defensively. But the Aggies are capable of enduring the type of difficult night on the offensive end that can open the door to an upset. Fortunately for Billy Kennedy's team, Texas A&M drew a Green Bay team that struggled to a fourth-place finish in the Horizon League and only made it this far by shocking a far-superior Valparaiso team in the conference semifinals. Green Bay can light up the scoreboard, but not against a defense this good.
Pick: Texas A&M 80, Green Bay 61
(1) OREGON (28-6) VS. (16) HOLY CROSS (15-19)
When, where: 4:25 p.m., Spokane, Washington
Line, total: Oregon -23, 133½
Player to watch: Chris Boucher. A quick look at his shot-blocking stats reveal exactly what would be expected of a 6-foot-10-inch center with a long wingspan who is affectionately referred to by one columnist as "The Montreal Mutombo." Oregon's Boucher, the 2015 national junior college player of the year, swats away 3.1 shots per game to place in the top five nationally. But where the Saint Lucia-born, Canadian-raised Boucher truly stands out is on offense. He averages more than a 3-pointer made per game and shoots 36 percent from beyond the arc. He went 3-for-4 from long range in the Pac-12 championship game blowout of Utah. Boucher, who averages 12.1 points and 7.6 rebounds per game, also runs exceptionally well for a big guy and consistently beats his man down the court for easy buckets. He is a truly unique player in college basketball.
Storyline: What a run it has been for the Crusaders. Bill Carmody has done a remarkable job of leading Holy Cross to five straight wins after a disappointing season in the Patriot League. Carmody never could get Northwestern over the final hurdle to earn that elusive tournament berth in his 13 seasons in the Big Ten. It took him just one to get here at the helm of Holy Cross and the Crusaders made the most of it with an opening-round win over Southern. It was fun while it lasted.
Pick: Oregon 79, Holy Cross 55
(2) XAVIER (27-5) VS. (15) WEBER STATE (26-8)
When, where: 6:20 p.m., St. Louis
Line, total: Xavier -13½, 147½
Player to watch: Joel Bolomboy. Most casual observers of college basketball have at least heard the names of Ben Bentil of Providence, A.J. Hammons of Purdue, Jakob Poeltl of Utah and Domantas Sabonis of Gonzaga. All are in the tournament and will almost certainly play in the NBA. They are four of the five finalists for the Kareem Abdul-Jabbar award, which goes to the nation's top center. Bolomboy is the fifth. The Big Sky Most Valuable Player and defensive player of the year ranks third nationally in rebounding (12.6 per game) and double-doubles (24). The projected second-round pick in the NBA Draft will leave Ogden, Utah, as Weber State's all-time leader in rebounding and blocked shots.
Storyline: Xavier is a deep team with six players averaging at least 9.4 points and nine playing at least 10 minutes per game. That depth enables the Musketeers to wear down opponents and overcome off nights from their top players. Trevon Bluiett hasn't had many of those. The sophomore guard is scoring 15.5 points per game and will be looking to put a horrid postseason from a year ago behind him. He went 3 of 14 from the field in three NCAA Tournament games last March and averaged 3.0 points a game.
Pick: Xavier 84, Weber State 68
(6) NOTRE DAME (21-11) VS. (11) MICHIGAN (23-12)
When, where: 6:40 p.m., Brooklyn, New York
Line, total: Notre Dame -3, 143
Player to watch: Zach Auguste. After the senior torched Duke for 19 points and 22 rebounds in the quarterfinals of the ACC tournament, Notre Dame coach Mike Brey said he didn't think there was a big man playing any better in the nation than Auguste. Auguste is averaging 15.7 points and 11.9 rebounds in the past 12 games and scored in double figures in all but one of those games. The problem for the Irish is Brey's words may have gotten to Auguste's head a bit. The one exception during Auguste's run of success came in the semifinal loss to North Carolina when Auguste had just six points in 27 minutes as Notre Dame got crushed. The Irish will need a huge performance from their big man.
Storyline: Fans of both schools have been pleading for a matchup on the gridiron, but this will have to do for now. The intense rivalry between two of the most storied programs in college football was suspended after the 2014 game. There should be no shortage of drama here. Michigan's John Beilein, 11-5 in the NCAA Tournament with the Wolverines, has worked wonders with this team to get them into the tournament despite the loss of star Caris LeVert. Michigan, which leads the all-time basketball series with Notre Dame 15-7 and has NCAA Tournament wins over the Irish in 1974 and 1976, will stay in the game if it can hit 3s. That will be the difference.
Pick: Notre Dame 68, Michigan 67
(6) TEXAS (20-12) VS. (11) NORTHERN IOWA (22-12)
When, where: 6:50 p.m., Oklahoma City
Line, total: Texas -4½, 124½
Player to watch: Cameron Ridley. There is no doubt Texas is a better team with Ridley in the lineup. The Longhorns' senior center averaged 11.8 points and 9.2 rebounds through the first 11 games before sitting out the next 20 because of a broken foot. Ridley returned on a limited basis to make a two-minute cameo in a Big 12 tournament loss to Baylor. Coach Shaka Smart said he thinks Ridley could play 15 to 20 minutes today.
Storyline: Northern Iowa was not the best team in the Missouri Valley. It probably wasn't even second, as Evansville slid into that spot just behind Wichita State. Northern Iowa even finished behind Illinois State in the standings. But the Panthers claimed early-season wins over North Carolina and Iowa State, then knocked off the Shockers and Aces on back-to-back days in St. Louis to earn the league's automatic bid. Northern Iowa is a well-coached, veteran team capable of beating anyone on a given night. Smart did well to mold his team, but he doesn't yet have the roster in place to do what he wants to do defensively.
Pick: Northern Iowa 66, Texas 64
(8) SAINT JOSEPH'S (27-7) VS. (9) CINCINNATI (22-10)
When, where: 7 p.m., Spokane, Washington
Line, total: Cincinnati -1½, 136½
Player to watch: DeAndre Bembry. The junior posted 17.0 points, 7.8 rebounds, 4.5 assists and 1.5 steals per game to earn the Atlantic 10 Player of the Year award. Bembry, who also made the all-defensive team, averages 37.1 minutes of playing time.
Storyline: Bembry had an outstanding sophomore campaign, but it went to waste in a losing season because there wasn't much help around him. Isaiah Miles accepted that challenge. The senior forward is one of the most improved players in the nation. He raised his shooting percentage from 39 to 53 percent and his scoring from 10.7 to 18.4 points per game. This will be a fascinating stylistic matchup. St. Joseph's loves to run, but Cincinnati can't score in the half court. The Bearcats win by defending for 30 seconds and making every possession a nightmare, then looking for fast-break opportunities off steals and long rebounds.
Pick: St. Joseph's 67, Cincinnati 66