Las Vegas still on outside looking in for hosting NCAA championships
Updated April 3, 2017 - 12:12 am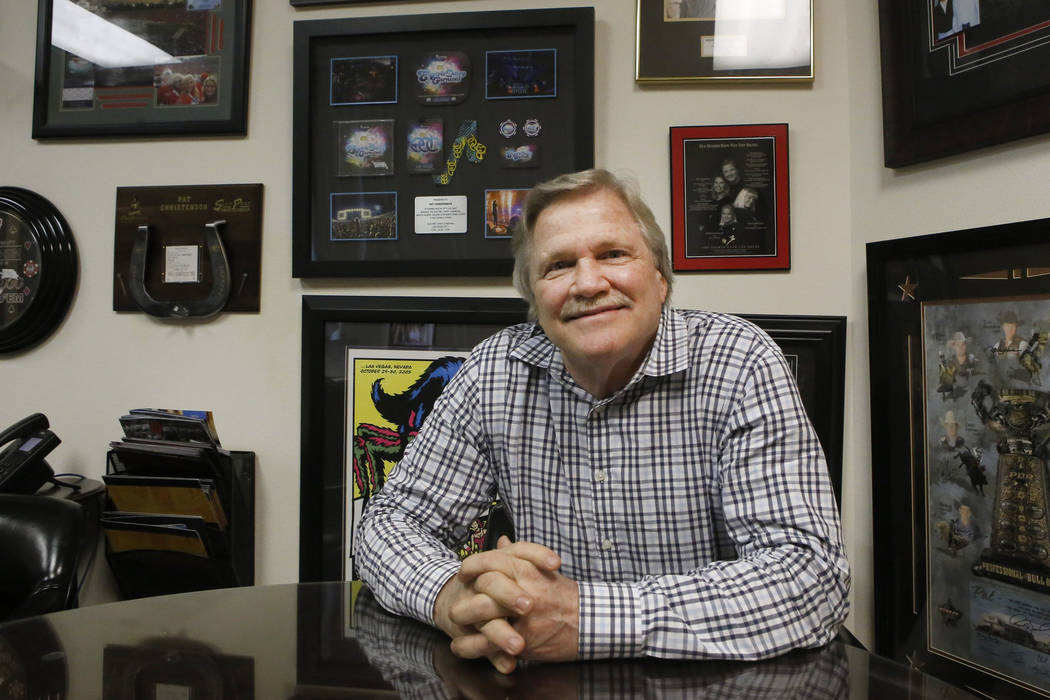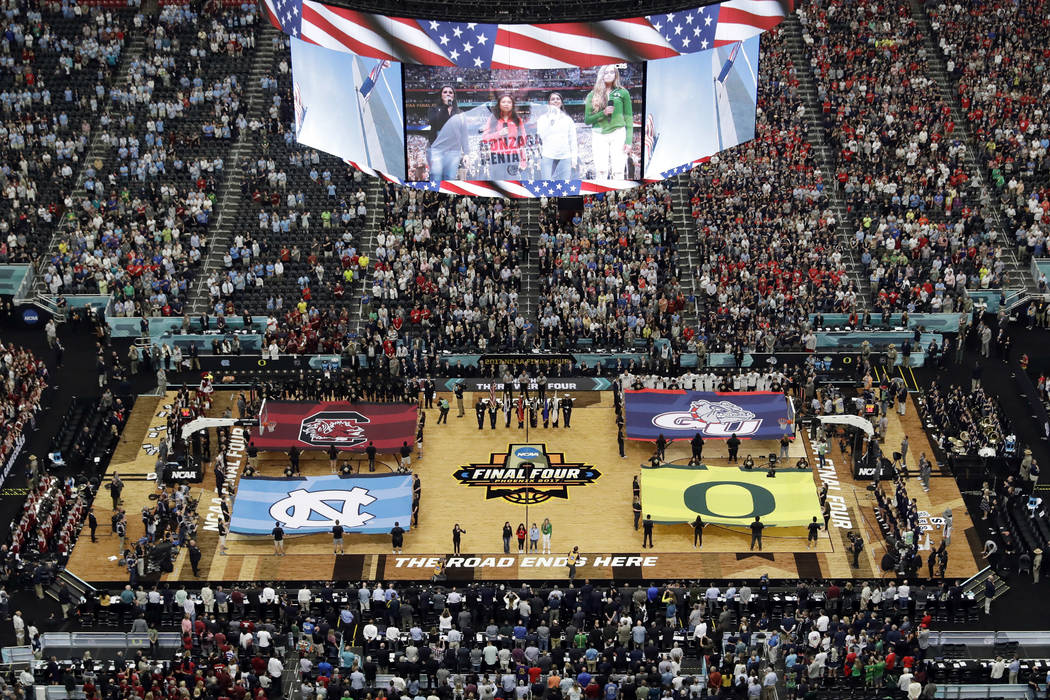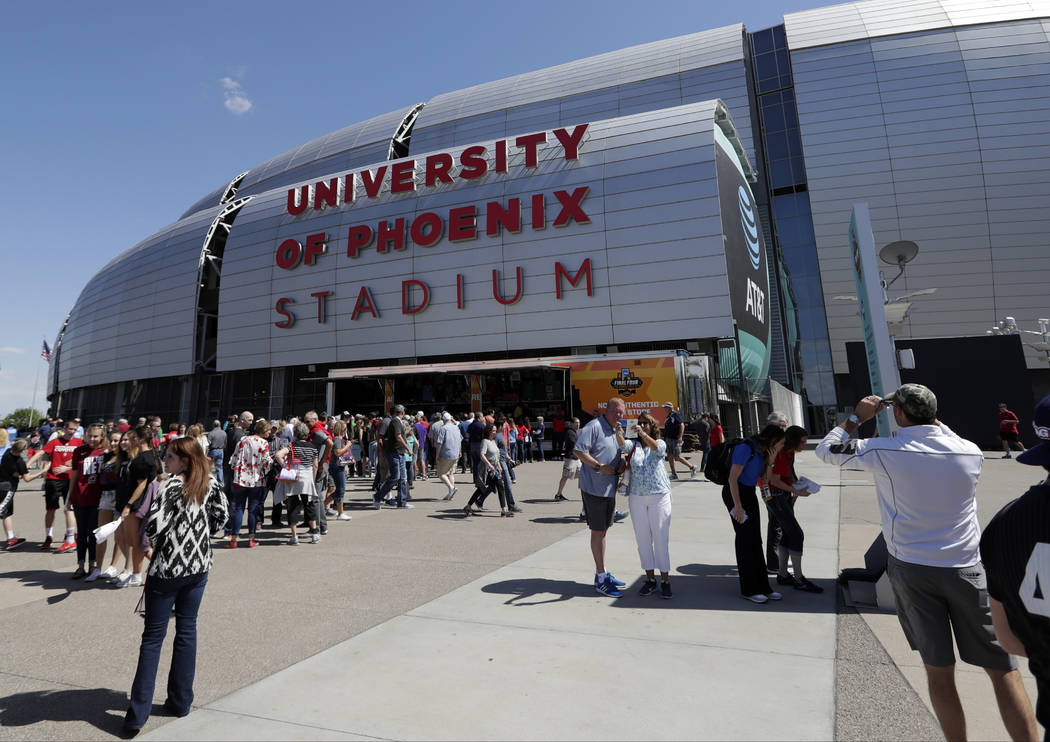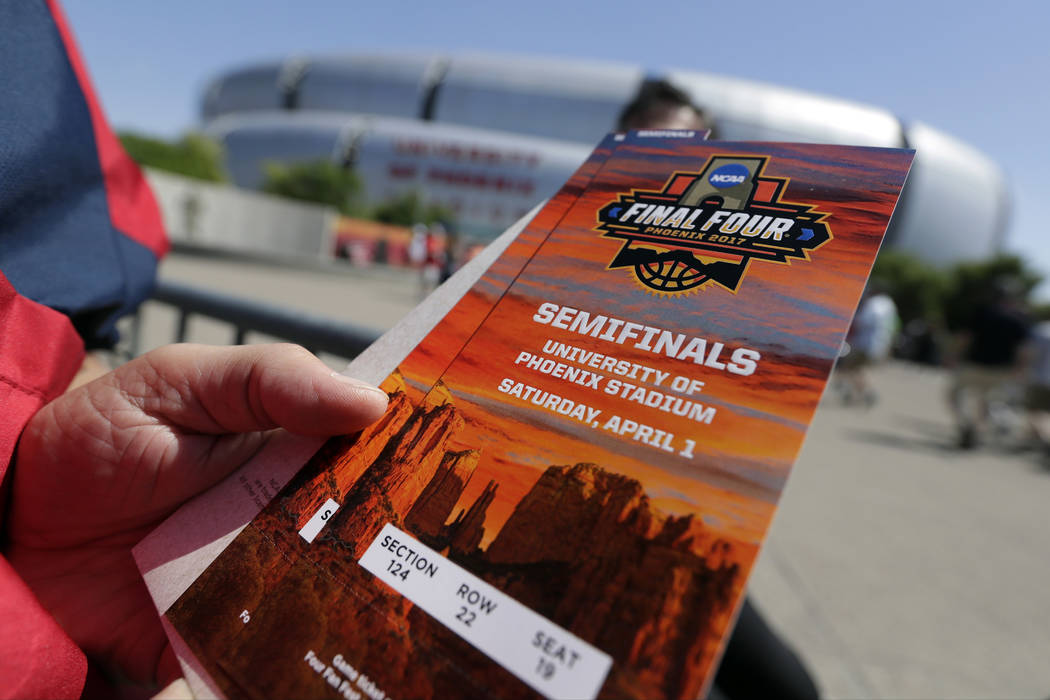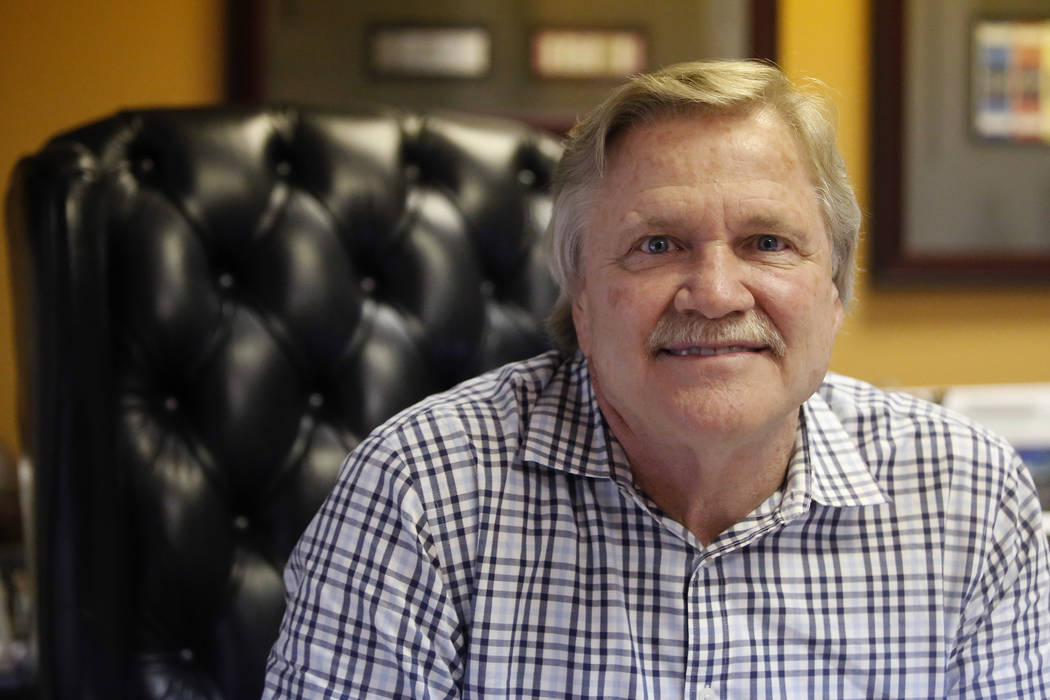 GLENDALE, Ariz. — Imagine several thousand kids dribbling basketballs down the Strip past T-Mobile Arena.
Imagine a refurbished Doolittle Center with new basketball courts and locker facilities.
Imagine Ed Sheeran playing his favorite hits under the stars on a perfect spring night.
Most of all, imagine the Final Four holding court just off Russell Road at the state-of-the-art football stadium the Las Vegas Raiders claim as their home.
But as University of Phoenix Stadium five hours away hosts the NCAA men's championship game Monday night, what is the reality of it happening anytime soon in Las Vegas? Don't bet on it.
Once considered unthinkable, the NCAA someday might bring its marquee event to the corner of Sodom and Gomorrah. But not when the NCAA is battling the state of New Jersey over that state's attempt to have legalized sports betting. To rescind the policy toward Nevada being unable to host an NCAA championship because of sports gambling while trying to bar another state would all but destroy the NCAA's case as it waits to see whether the U.S. Supreme Court will hear it.
NCAA president Mark Emmert said as much Thursday when he announced that a bid from Las Vegas Events for three championships — men's basketball, men's ice hockey and wrestling — would not be considered for the upcoming cycle of awarding sites for championships when the Board of Governors meets April 25.
"The board has been having active discussions on that issue," Emmert said."They have not changed the policy yet. And they won't be able to do so for this round of bidding.
"I've communicated this to some of the leadership in Las Vegas. Whether or not the board changes its mind before the next round, I can't say. Obviously, there's a lot of collegiate athletic events going on in Nevada, both regular season and tournament events and the board's acutely aware of that and they'll be considering it. Just not for this current bidding round."
Policy still in place
The policy, which is not a bylaw, states: "No pre-determined or non-predetermined session of an NCAA Championship may be conducted in a state with legal wagering that is based on single-game betting on the outcome of any event in a sport in which the NCAA conducts a championship."
Still, Las Vegas was allowed to submit a bid in the hopes the lawsuit with New Jersey would have been resolved by now. When the bid was denied, Pat Christenson was left frustrated.
Christenson, the longtime president of Las Vegas Events and a former collegiate wrestler, is used to brokering big deals to get big acts to town. He knows how big having the NCAA as a partner would be to the city.
"A Final Four would probably have an economic impact of close to $100 million on the city," he said. "We obviously know how to put on big events, and we know from our history how Las Vegas and basketball go together.
"What puzzles me is why is the NCAA fighting this? The NBA does business here. USA Basketball does business here. The NHL and NFL have put teams here. But the NCAA continues to refuse to bring its events here. I don't understand it."
Christenson wouldn't say exactly how much Las Vegas Events spent on its bids. But he said it was six figures plus a lot of man-hours.
"A lot of effort went into this," he said. "Tim (Keener) and Dale (Eeles) worked really hard to get the bids in. But if we can educate the NCAA and get them to change the policy, then it will be worth it."
Former UNLV athletic director Jim Livengood has spent the past two years trying to make the NCAA change its policy. He has been able to persuade much of the NCAA membership to look at rescinding it. But he has not been able to convince the Board of Governors.
"It's a matter of educating the presidents," Livengood said. "Mark Emmert has been to Las Vegas many times to watch the conference tournaments in March.
"He knows how things operate here. He has talked to the sports books about how they watch the betting and how it is a deterrent to cheating and maintains the integrity of the games."
Even last week's dramatic news that the NFL allowed the Oakland Raiders to move to Las Vegas wasn't enough to persuade the NCAA to change its tune quick enough to consider Las Vegas Events' bid.
Dan Gavitt, the NCAA's senior vice president for basketball who runs the NCAA Tournament, said this year's bid could affect future bids.
"It's certainly possible it could influence things," Gavitt said. "There's some relationship between the leagues and decisions that get made."
Glendale stadium perfect host
Meanwhile, in Arizona, the Final Four wraps up Monday at University of Phoenix Stadium with Gonzaga facing North Carolina for the national championship. More than 77,000 fans are expected, and they've come from all over the country to experience the Southwest hospitality, weather and culture that makes the Phoenix area such an attractive tourist destination.
"It's still a bit surreal now that it's here," said Dawn Rogers, the executive director and CEO of the 2017 Phoenix Local Organizing Committee. "It's such a unique event, just like the Super Bowl is unique and the (college football) national championship is unique.
"But having had the experience of hosting a Super Bowl and hosting a national football championship has been a big help in preparing to host a Final Four. We've got great cooperation from so many agencies across the city and state and the NCAA are great to work with."
Things have gone relatively smooth, save for some traffic issues. But when you're holding your event at a venue 40 minutes away from downtown Phoenix, where the majority of the attendees are staying, it's going to cause some problems.
Rogers said having the Final Four in Phoenix would create an economic impact for the area estimated to be approximately $274 million, which was what the college football national championship game between Alabama and Clemson did in January.
Gavitt believes Las Vegas would work as a regional or Final Four site because there just aren't many places in the West that can host a Final Four. He saw T-Mobile Arena in July when USA Basketball played Argentina in a pre-Olympic exhibition game that drew 18,000, and he loved the atmosphere.
In addition, everything will be closer to each other, especially for a regional where fans can walk to T-Mobile Arena from their Strip hotels or take the Monorail to the MGM Grand and walk across the street. A Final Four will require some transportation assuming the Russell Road site is chosen for the Raiders' stadium. But by 2028, there could be light rail or other public transit serving the site which would make getting to and from the event less congested.
"I think there's some interest within the membership to host championships given there's four conferences that play their championships in Las Vegas," Gavitt said, referring to the Pac-12, Mountain West, West Coast and Western Athletic.
Still, despite the most recent setback and being forced to wait until 2028 or longer, Livengood is convinced the day is coming when the NCAA and Nevada will be partners on championship events.
"It's not a matter of if anymore, it's when," he said.
Contact Steve Carp at scarp@reviewjournal.com or 702-387-2913. Follow @stevecarprj on Twitter.