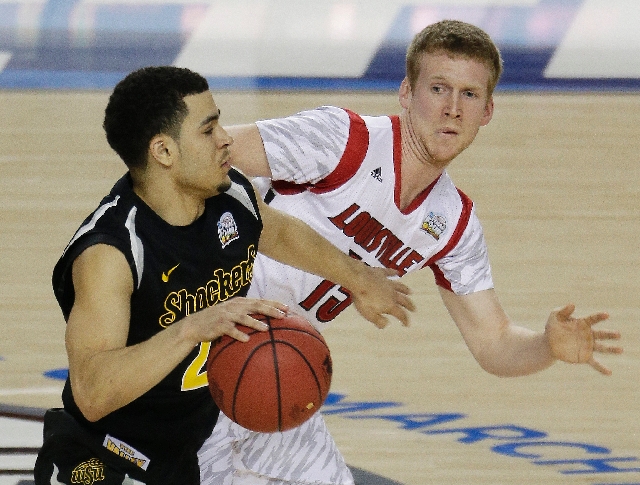 ATLANTA — The idea was to not miss left. If he did, Tim Henderson would be forced to retrieve the basketball by running down the long ravine that bordered the driveway of his family home, the one sitting on 10 acres of rural Louisville land, the one with a backdrop of nothing but open space and woods, the one where a Final Four hero was born from thousands of jump shots launched into another bright orange sunset.
"We finally built a fence, but if you look down that hill, you will probably see 15-20 basketballs," Henderson said. "I just got tired of chasing them."
The two biggest shots of his life, thankfully, came from the right side Saturday night, when the backdrop was more than 75,000 people in the Georgia Dome and a worldwide television audience and the weight of his hometown and boyhood idols directly on his shoulders.
In a college season distinctive in almost every way, who better to become a media darling and make some of the most memorable shots than a junior walk-on who only earned a uniform after flooding the Louisville coaching office with letters while in high school?
Henderson was put in this position — to take and make two 3-pointers in a 42-second span with his team trailing Wichita State by 13 with 12 minutes remaining — because of the broken leg suffered by guard Kevin Ware in the Elite Eight.
These are the sorts of fate that find different players each March, both the good and bad of it, the awful and awesome, the excruciating and exhilarating.
"The college game is so much about the team," Michigan coach John Beilein said. "More than 75,000 people … I bet some people can't even tell whether the ball goes in or not, but they want to be at the event where they can see the shining moments. It's incredible what the little guy has meant to college basketball, how it keeps being so exciting."
Henderson is one of those little guys with a huge heart that beats for his program. He is more Louisville than sipping mint juleps on the porch of a Victorian home. His father swam for the Cardinals and his mother played tennis for them, and he could recite you the annals of a basketball program that plays Michigan for the NCAA championship tonight while not missing a syllable.
"Every year growing up, I filled out a (tournament) bracket and picked Louisville to win it all, no matter how high or low the seed," Henderson said. "I always had them winning it and now, to be part of it … incredible."
His career high is six points. He has scored in just six games this season. When told by coach Rick Pitino in an open gym his freshman year that he would be rooming with a scholarship player, Henderson wasn't sure if that meant he had made the team or would be its manager.
Some teammates call him "Red Mamba." Others prefer "Timmy the Tooth," because someone thought it would be funny to give him a mafia nickname.
To see him, you would know how funny it is.
Henderson is all kinds of Jimmy Chitwood, but probably not as good a player.
He is the kid who usually gets into games when the outcome is decided, who the home crowd implores to shoot, who more accomplished teammates jump up and down for, who sometimes clanks his only attempt off the side of the backboard, which he did earlier this season and has heard about in the locker room ever since.
He is the most unlikely of Final Four heroes who spends his summer days mowing the lawns of neighbors to stash away spending money for the next school year. He couldn't sleep Saturday night, couldn't stop his mind from racing, couldn't guess who most of the hundreds of voice and text messages he received came from, couldn't stop envisioning those two 3-pointers and more that could come tonight.
His dream always has been to earn a scholarship, to validate those thousands of jump shots launched into another bright orange sunset.
"We have two horses, four dogs, a nice pond and a basketball goal," Henderson said. "We're just out there in the country. All you do is shoot. I've been a fan of Louisville my entire life. If I wouldn't earn a scholarship, it would be OK and I'll just keep working.
"I'm soaking it all in and enjoying the moment. I'm just a kid living a dream."
The best part: He found out Saturday that when shots don't go left and instead hit nothing but net, even on the game's biggest stage, you don't have to chase the ball down any hill.
Las Vegas Review-Journal sports columnist Ed Graney can be reached at egraney@reviewjournal.com or 702-383-4618. He can be heard from 11 a.m. to 2 p.m. Monday through Friday on "Gridlock," ESPN 1100 and 98.9 FM. Follow him on Twitter: @edgraney.