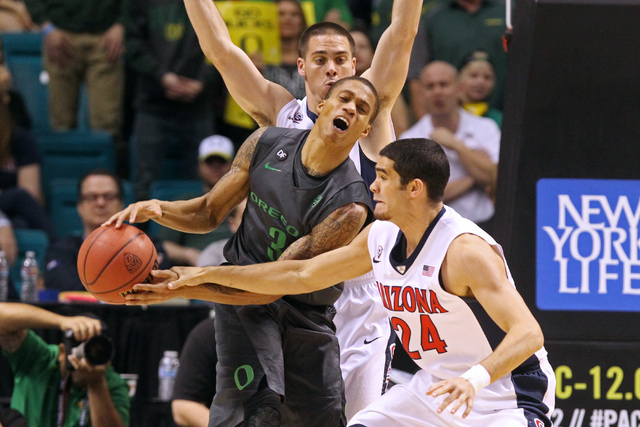 When Oregon stumbled in losing to UNLV at the MGM Grand Garden back on Dec. 6, it was shrugged off as one of those early-season bumps in the road and the Rebels were actually a pretty decent team at that point.
Thursday, the Ducks return to the Grand Garden and a far different landscape. They were the regular season Pacific 12 Conference champions and are the top seed in the Pac-12 Tournament, which tips off Wednesday with four games. Oregon (25-6) and ranked No. 8 in the nation, will face the winner of today's Stanford-Washington game at 12:10 p.m. Thursday.
That UNLV loss is ancient history as Oregon blazed an impressive trail in winning the Pac-12, taking 11 of its final 13 conference games and making the Ducks the team to beat. Oregon is one of six teams from the Pac-12 projected to receive a bid to the NCAA Tournament on Sunday though some bracketologists have as many as seven going from the conference.
The other top seeds are Utah (No. 2), California (No. 3) and Arizona at No. 4. All will play Thursday after what figures to be a competitive opening day Wednesday that includes crosstown rivals UCLA an Southern California meeting at 6:10 p.m. and Oregon State and Arizona State facing each other at 8:40 p.m.
Utah coach Larry Krystkowiak is hoping his team is primed for a big run this week.
"It can be daunting when you have to play four days in Vegas so that is where we set our mind," he said. "We didn't talk about winning the league. I've said that before. You get your ticket punched by winning the tournament and cutting the nets down in Vegas. That's been a goal."
Colorado could be one of those teams to keep an eye on. Tad Boyle also has a different team than the one he brought to town in December when the Buffaloes split at the Las Vegas Classic by beating Penn State 71-70 and falling to Southern Methodist 70-66 at the Orleans Arena. CU had swept the Arizona schools late in the season, but fell to Utah last Saturday and finds itself playing today as the No. 5 seed against No. 12 Washington State.
"I want our guys to be angry, disappointed … and ready to go take it out on whoever we play in Las Vegas," Boyle said after the Utah loss. "We have to play with this kind of energy and toughness, but we also have to finish 40 minutes. We can't play only 33 or 32 minutes."
While Colorado has to work today, California waits for Thursday before it tries to make its run. Like Oregon and Colorado, the Golden Bears also took an early trip to Las Vegas and it didn't work out any better than it did for Boyle's team as Cal was beaten by San Diego State and Richmond in the Las Vegas Invitational over Thanksgiving at the Orleans.
However things have changed dramatically for coach Cuonzo Martin and his program. His young, talented freshmen have grown up and with Jaylen Brown leading the team in scoring with a 15.3 average and Ivan Rabb not far behind at 12.2 points, Cal is in position as the No. 3 seed to make some noise at the MGM.
"I think it helps from a standpoint of fresh legs on the team," said Martin of the Golden Bears, who've won eight of their last nine. "It's just a matter of what we do and how we do it at the level we are capable of doing it as a team. Ninety percent of what we do from the last month or so is really about us."
Contact reporter Steve Carp at scarp@reviewjournal.com or 702-387-2913. Follow him on Twitter: @stevecarprj