USF comes back to beat BYU for WCC title, earns NCAA tourney bid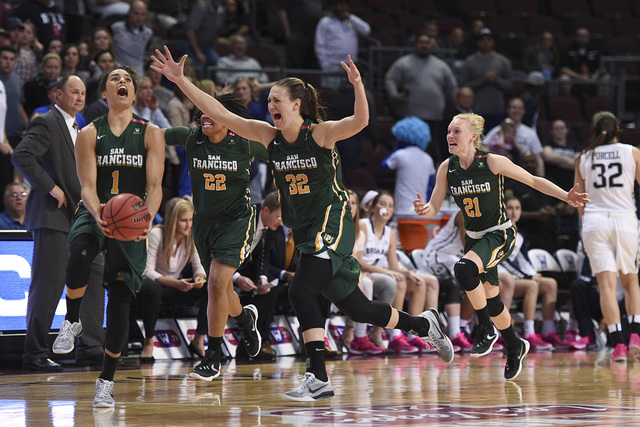 Zhane Dikes' two free throws with 14 seconds to play gave San Francisco a one-point lead and the sixth-seeded Dons held off No. 1 Brigham Young, 70-68, to win the West Coast Conference women's basketball tournament Tuesday at Orleans Arena.
USF (21-11) will represent the WCC in the NCAA Women's Tournament next week. It is the Dons' first tournament appearance since 1997.
The Cougars (26-6), who led by as many as 15 late in the first quarter, found themselves in a battle in the fourth as USF ratcheted up its defense and held BYU to just 10 points for the quarter. Led by Dikes and Taylor Proctor, the Dons kept chipping awasy until they caught the Cougars in the final seconds.
Proctor, the tournament's Most Valuable Player, finished with 27 points while Dikes had 21. BYU was led by Lexi Rydalch with 23 points and Kalani Purcell had 17 points along with 16 rebounds.
Contact reporter Steve Carp at scarp@reviewjournal.com or 702-387-2913. Follow him on Twitter: @stevecarprj