Virginia clobbers Hampton 81-45 in NCAA Tournament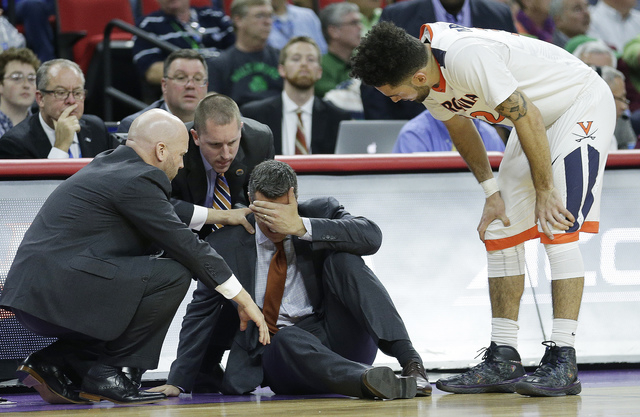 RALEIGH, N.C. — Anthony Gill scored 19 points and Virginia beat Hampton 81-45 on Thursday in the first round of the NCAA Tournament.
London Perrantes had 12 points and Malcolm Brogdon finished with 11 for the top-seeded Cavaliers (28-6).
They shot 55 percent, hit 12 3-pointers and put this one well out of reach with a 20-3 run late in the first half before coach Tony Bennett collapsed and was taken to the locker room a few seconds early.
Virginia reported that Bennett was dehydrated, and he was back for the second half. His team had no problems advancing to face ninth-seeded Butler (22-10) on Saturday.
Quinton Chievous scored 17 points and Reginald Johnson Jr. had 10 for 16th-seeded Hampton (20-11), which was just 4 of 20 from 3-point range and shot 32 percent.
The most buzzworthy moment of this game came when Bennett fell to the floor with 34.1 seconds left. He sat on the bench talking to his assistants for a few moments, appearing to be in noticeable pain. Team trainers helped the 46-year-old to the locker room with 5.3 seconds left in the half and both teams still on the court.
Virginia fans gave him a loud ovation when he returned. Bennett spent the rest of the game sitting either on the bench or on a stool near the scorer's table instead of crouching on the sideline.