Xavier continues magical March by knocking off Arizona
March 23, 2017 - 10:16 pm
Updated March 23, 2017 - 10:27 pm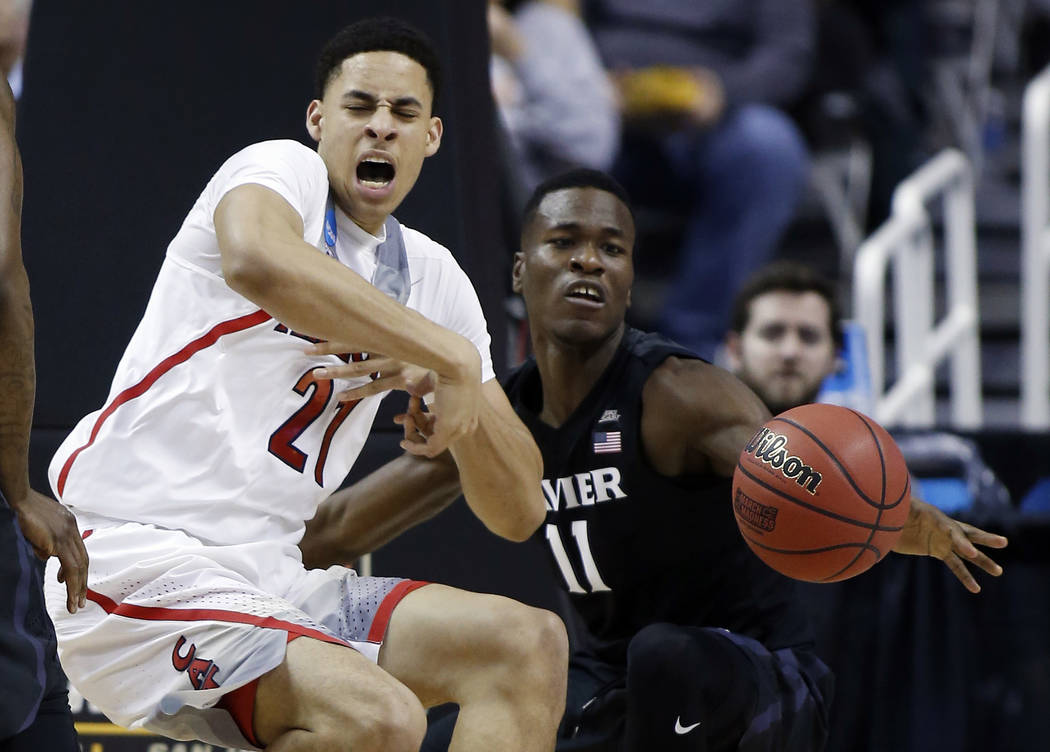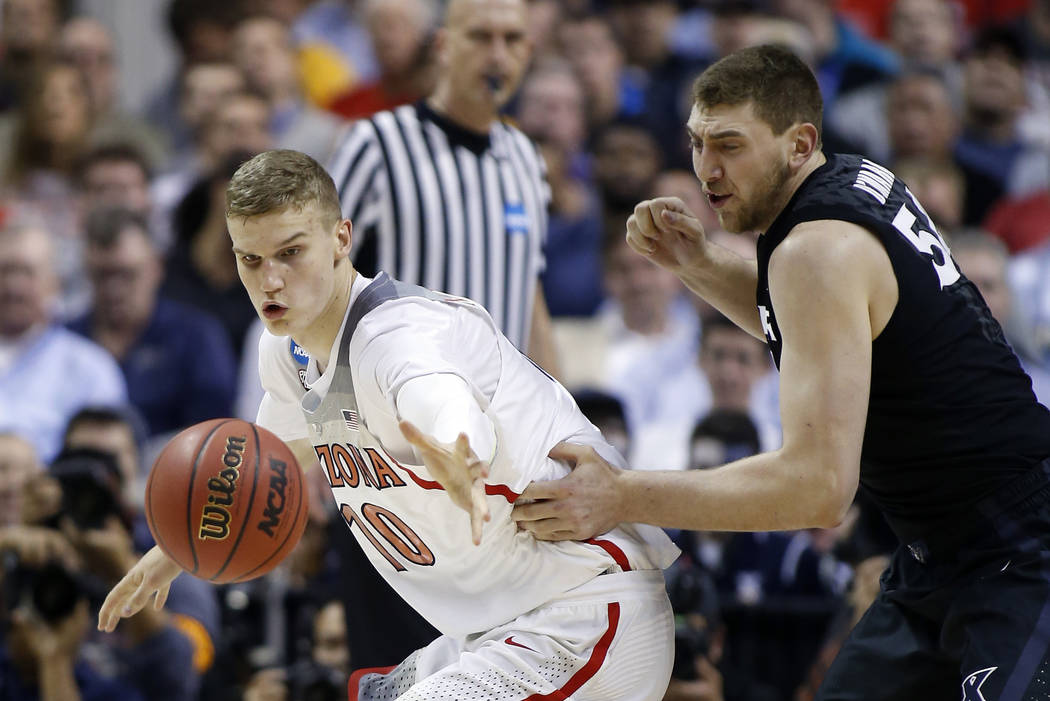 SAN JOSE, Calif. — We can confirm: They're not just rolling out the basketballs at Xavier and hoping for the best.
Maybe we should have known something was up when Chris Mack's team opened the NCAA Tournament by defeating Maryland. Maybe we should have known a lot more when it not only beat, but dominated Florida State in the Round of 32.
There are no more maybes.
Mack has coached a superb March and his Musketeers are still dancing, their latest trick having beaten second-seed Arizona 73-71 in a West Regional semifinal on Thursday night before 16,884 at SAP Center.
All the Musketeers did was overcome an eight-point deficit over the final 3:44 and finished on a 12-3 run, busting brackets all across the country as the Wildcats struggled trying to solve Xavier's zone.
One of the final at-large teams selected into the field now stands 40 minutes from a Final Four, meaning the winner of Saturday's regional final between Gonzaga and 11th-seeded Xavier will reach college basketball's grandest weekend for the first time.
This has also been a month for America to meet Xavier wing Trevon Bluiett, who is more than taking advantage of the bright light March can shine on those willing to bask in it.
The junior from Indianapolis scored 25 points on 9-of-17 shooting against the Wildcats, and it was certainly an appropriate total. He now has 75 in three tournament games for a 25-point average.
"We have never looked at ourselves as an underdog," Bluiett said. "It was just all about making the tournament. Once we made it, it didn't really matter who was in front of us. We were just going to go play our game. To get to the Elite Eight … it's surreal."
Mack is the former top assistant to Arizona coach Sean Miller, who coached Xavier for five seasons before heading to Tucson in 2009. The Musketeers looked only to their bench for his replacement, where Mack led Xavier to three previous Sweet 16s before advancing at least one step further this time.
How in the world doesn't Indiana, in search of a new coach, grab Mack the instant his season ends instead of messing around chasing Steve Alford at UCLA?
"Chris is a great coach," Miller said. "He is awesome. He had his way with us. We could not guard them."
Consider the game-winning basket.
The score was tied at 71 with 50.4 seconds remaining when officials reviewed a play for out of bounds possession. They deemed it Xavier ball.
During the stoppage, Mack drew up a set play that had point guard Quentin Goodin advance the ball, pass to senior Malcolm Bernard in one corner and Bluiett fake a cross screen on the baseline. He popped to the top of the key and received a pass from Bernard.
Arizona forward Lauri Markkanen — who amazingly didn't take a shot in the final 11 minutes — was covering Xavier junior Sean O'Mara on high side away from the basket.
Freshman mistake.
O'Mara spun and rode the off-balanced Markkanen up the free-throw lane, allowing space for Bluiett to throw the ball over the top.
Layup, O'Mara.
Gigantic victory, Cinderella.
"It's never easy when it ends, epecially if you have a great team that had a great season," Miller said. "But our goal and aspiration is to always challenge for a Final Four and get there. We pulled up short. I cannot say enough good things about Xavier."
This run through the bracket hasn't occurred by accident for the Musketeers.
It's the byproduct of terrific coaching and great buy-in from veteran players.
"I personally have so much love for (Miller) and his staff," Mack said. "I know it's heartbreaking for them because they had a special year, a special season. But this is Xavier's day. Our guys battled tooth and nail. I have no thoughts about Gonzaga at this point. I'm not being flip. We put all our effort into Arizona."
And it produced yet another magical victory.
The slipper hasn't fallen off yet.
No maybes about it.
Contact columnist Ed Graney at egraney@reviewjournal.com or 702-383-4618. He can be heard on "Seat and Ed" on Fox Sports 1340 from 2 to 4 p.m. Monday through Friday. Follow @edgraney on Twitter.