Prep coaches face discipline, players suffer in lopsided basketball games
January 28, 2016 - 1:35 pm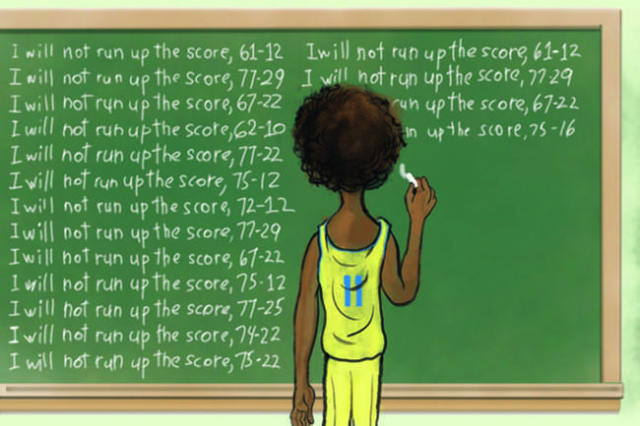 Scoreless quarters, or even halves. Consecutive 3-second violations. Free throws simply chucked off the backboard.
They're cringe-worthy elements of bad basketball games.
Worse, though, they're being committed deliberately by some of the state's best basketball teams in an effort to not be accused of running up scores.
Five years ago, the Nevada Interscholastic Activities Association instituted two policies in a response to some basketball scores getting too lopsided for comfort.
Yet, few Southern Nevada coaches think the 40-point differential running-clock rule and the 50-point differential policy that requests that winning coaches detail in a letter what they did to keep the game from getting out of hand are having anything near the desired effect.
If anything, they say, it's turning the game into a mockery.
"It's ludicrous to think that we are still going through this," said Centennial girls basketball coach Karen Weitz, whose team is ranked seventh nationally by USA Today and has had a running clock in 14 of its 15 games against Nevada opponents this season. "To make kids not be able to score over a certain number of points, miss free throws on purpose, it's crazy."
Weitz has won seven state titles, and her Centennial teams were one of the main reasons for the policies.
Though the Bulldogs weren't and still aren't the only team winning by large margins, then-NIAA executive director Eddie Bonine sent out a memo during the 2010-11 season, threatening sanctions against coaches whose teams won by 50 or more points after the Bulldogs won games by margins of 82, 77, 75, 73 (twice) and 70 that year.
Since then, Centennial has won only two games by more than 50 points (both during the 2011-12 season), though it's been a challenge to not break the magic ceiling.
One of the key reasons: Weitz said her job was threatened.
"I was called in by an administrator and given the directive that I could be relieved of my duties if we were to beat anyone by more than 50 points," she said. "I guess it's the white elephant. We don't even try to challenge it."
Since the start of the 2012-13 season, Centennial has had 50 games go to the running clock. Twenty-six of those were decided by 47-49 points, including a 53-4 win over Bonanza earlier this year in a game that had a scoreless second half.
"You go out every single day to be the best and do the best you can do, and that's where I feel like my kids are getting punished and we look like the bad guys," Weitz said. "My players are expected to practice and play a certain way every day. We should be allowed to play our game."
It has gotten so bad that Weitz said a coach this year told his team to score into its own basket to try to get Centennial's margin above 50 points.
"Those players came and told my players that's what they were instructed to do," Weitz said. "That's ludicrous. Are we playing basketball or what?"
Bigger problem
The issue exists for many other schools.
Through Jan. 23, of the 575 girls basketball games this season that involved at least one Southern Nevada team, 87 (15.1 percent) went to the running clock. Twenty-four games were decided by 47-49 points.
In boys basketball, there have been 39 running-clock games, but only two that were decided by 47-49 points.
Twenty-nine Southern Nevada girls basketball teams have won a game in which the running clock was used this year, including Liberty, which has won seven running-clock games (four by 47 or more points) and Bishop Gorman, which has won six running-clock games and three by 47-49 points.
"It's sad to say you apologize for having a good team," said Gorman coach Sheryl Krmpotich, who has three Division I signees on her roster. "It's not fair because we all work very hard, and from our kids, we demand perfection. It's not conducive to what our ultimate goal is. In the end, you're preparing your kids for February."
Gorman won its first three league games by more than 40 points and likely is headed for a showdown with Centennial for the Sunset Region title, but won't have many chances to fully prepare for the Bulldogs if it has to worry about not winning by too many points.
"I have a lot of good kids, and it feels like you're punishing them for being talented," said Krmpotich. "I understand that to humiliate a team is not what anyone wants. There's going to be a time when Liberty, Gorman and Centennial aren't all that. We may be on the other end of this (someday). We're the ones really getting hammered."
Liberty, likely the favorite to win the Sunrise Region, is in the same boat.
Earlier this season, the Patriots took a 48-point lead against Valley and deliberately committed rules violations on eight consecutive possessions.
"When we have to stand in the key to get a 3-second call because I don't want turnovers and I don't want to be just handing them the ball, we don't get better," said Liberty coach Chad Kapanui. "How is it fair to tell your players to run the offense but don't score?"
Palo Verde has been on both ends of blowouts this year, going 4-2 in running clock games, including accidentally building a 50-point lead against Cimarron-Memorial last week before settling for a 74-32 win.
The Panthers didn't attempt a shot for more than seven minutes of the fourth quarter.
"When you're playing basketball, you always want to attack," said Palo Verde senior guard Paulina Silcox. "I don't know that it's unfair that you can't score, but what do you do when you get to that point, hold the ball for seven minutes?
Silcox and the Panthers also have experienced two lopsided losses this year and didn't take offense.
"It shows you what you need to work on and get better at," Silcox said. "Sometimes it just can't be helped. The other team is playing better or they just have more talent."
Valley's girls have struggled and have lost three games by 47-49 points. Two games had a running clock for the entire fourth quarter, including one that had a running-clock second half.
"I'm trying to get my kids better and to play harder," said Valley coach Orlando Glover. "I need my kids to understand how deep the water is. If I'm in their position, I would still do what I do. I'd run my system with my third group. If they kept their best kids in (the whole time), that would be one thing."
Often teams with big leads, afraid to make them even larger, will hold the ball, or dribble around the court without attempting a shot. That's also taking time away from the losing team's ability to run its offense.
"I don't really feel like anyone is trying to run up the score," said Palo Verde senior guard Brooklyn Cruz. "Teams are just playing. Sometimes it's hard to restrain yourself from doing that. It's worse to have it how it is now, to not be able to go over 50. You're almost toying with the other team. It's like playing keep-away instead of actually playing basketball."
Why just basketball?
Mercy rules exist in football, baseball and softball, and the NIAA is working on a mercy rule for soccer, but coaches in those sports have not been asked to write letters or been threatened with sanctions for blowout wins.
In football this season, nearly 25 percent of games involving Southern Nevada teams went to a running clock, which comes into play when a team holds a 45-point second-half lead. And a whopping 41 of 298 games were decided by 50 or more points.
"We see it in a lot of other sports, too, but it usually goes around and comes back," said Ray Mathis, executive athletic director of the Clark County School District and a member of the NIAA's Board of Control. "We never look at a mercy rule in any sport until it becomes a sportsmanship issue. It got to the point where it was embarrassing teams and embarrassing kids."
The letter
NIAA executive director Bart Thompson said his office has not required letters from coaches the last two seasons, but some coaches say they were never told that.
"I haven't seen any letters," Thompson said. "I don't track every score. I do know that when coaches write a letter, we have evidence that you're not trying to embarrass the other team. It's trying to get an idea of what you did."
Mathis, though, does require CCSD coaches to submit letters and has required it of some football coaches, also.
"It's not an intent for punishment," Mathis said. "You could still end up beating someone by more than 50 points. What we want to make sure of is that you are still using safeguards to avoid running up the score. If you can show you made an effort by pulling your starters in the second half, not pressing, playing a zone defense, that's what we're trying to make sure of. That's all we're trying to do.
"Nobody will fault you if you used the safeguards."
Yet coaches still are under the impression they're being singled out because their teams are good and that once they're within striking distance of 50 points, they must drastically change their game plan.
"That's a misinterpretation of what the rule is about," Mathis said. "We want coaches to make adjustments early enough, before it gets to that point. If they wait until it gets to 45 and think, 'Now I have to play keep-away,' that's making a mockery out of the rule.
"If there are no guidelines, then where do you draw the line? I don't think we can avoid (mismatches). We have to have something in place so we don't end up in the national news for having games that are 100-2."
Mathis said that under the direction of the NIAA board when the letter-writing policy went into effect, the first time a team won by 50, the coach was required to submit a general statement. A second occurrence meant a coach had to fill out a more detailed form that includes how many minutes starters played, what kind of defense was played and the score after each quarter.
The third time, a coach may or may not be recommended for suspension.
"Over the time we have been doing this, nobody has been suspended, nobody has been fired," Mathis said. "I don't know what the concern is. The consequences aren't even real consequences."
Thompson also admits that wide margins don't always equate to running up the score.
"We look for solutions that are quantifiable. If you ask me how I know when a team is trying to run up the score, I know it when I see it. But if you ask me to define it, I'm not sure I could."
The answer
One thing nearly everyone involved with the sport agrees with is that there is no easy answer.
"I don't have a silver bullet for this," Thompson said. "I wish I did. In a way, we're trying to enforce morality. I don't know if there is an answer out there; if there were, every state would be using it."
Some have suggested that when a team knows it is far superior to an opponent that the better team should start and play the majority of the game with its usual reserves.
But coaches argue that it sends the wrong message as their starters usually are in that position because of their work ethic and knowledge of the game.
"People say it will give you time to play your bench more," Weitz said. "But if we could have a running clock against 80 percent of the teams, then what, my bench gets to play 80 percent of the time and my starters get to play 20 percent? That's where it makes no sense to me because my starters get punished."
Said Palo Verde coach Phll Clarke: "The athletes there have earned their spot. It's not their fault they're more talented."
Currently, the running clock only comes into effect in the second half. Some suggest allowing it to happen in the first half and lowering the threshold.
"Something has to change because it's just not fair to the kids on either team," Krmpotich said. "When we were in California and playing the No. 1 team in the nation four or five years ago, we were losing in the first half by 25, and I wanted them to run the clock. When you know you're not as talented or you don't have the guns, as a coach, I was like, 'We need to get better.' "
And still others just want to play the full 32 minutes and let whatever happens, happen.
"I think they should just take it away," Kapanui said. "I understand why it's there, but is either side getting any better? If you lose by 60, you just have to get better the next time. This is hurting every team."
Mathis said the board of control plans to look at mercy rules in all sports during its April meeting. Among the options it might consider are lowering the mercy rule threshold or even terminating a game after three quarters.
"We would all hate to see that because it reduces the amount of time kids have to play," Mathis said.
And none of it is really helping to close the gap between the elite teams and the average teams or even the average and below average teams. It won't stop mismatches from happening.
"I'm tired of us sounding like we're trying to demoralize these other teams," Weitz said. "That's not the case at all. We're trying to just be the best team we can be and challenge our kids every day, too. I'm not saying everybody can change the world or anything, but we can't have mercy rules for everything and think we're going to get better at anything."
Complete coverage of high school sports.