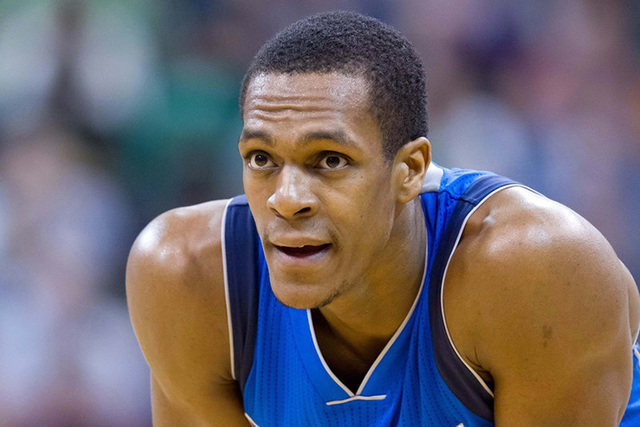 If the Dallas Mavericks are going to rally from a 2-0 deficit to overtake the Houston Rockets in the best-of-seven Western Conference playoffs matchup, they might need to climb back into it without point guard Rajon Rondo.
Rondo, according to reports, is out indefinitely with a back injury. He played 10 ineffective minutes in the Mavericks' Game 2 loss at Houston when he picked up four fouls isolated in one-on-one matchups with Rockets' guard James Harden. The injury was not previously disclosed, and it's one of a number of personnel issues denting the rotation of coach Rick Carlisle.
Forward Chandler Parsons (right knee) sat out Game 2, as did reserve point guard Devin Harris, who is scheduled to be re-evaluated for turf toe on Wednesday. Carlisle said the decision not to play Parsons was based on the team's belief that it needed to consult its own medical team in Dallas. Harris also sat out the second half of Game 1.
Dallas dug deep into its bench in Tuesday's loss. From Al-Farouq Aminu to Raymond Felton to Stoudemire, Dallas found solutions to its hamstrung rotation. While inspired, the Mavericks didn't have enough to claim victory.
"I liked the way they played," Carlisle said. "It's not about one guy. It's about the team and the organization and the franchise. We have to collectively play our butts off. That's what the playoffs are about."
Even if Rondo is cleared to return, his impact could be negligible.
Parsons could miss the rest of the series.
"I'm concerned — period," Carlisle said Tuesday night. "That (Parsons sitting out the entire series) does loom as a possibility, but we'll know more (Wednesday)."