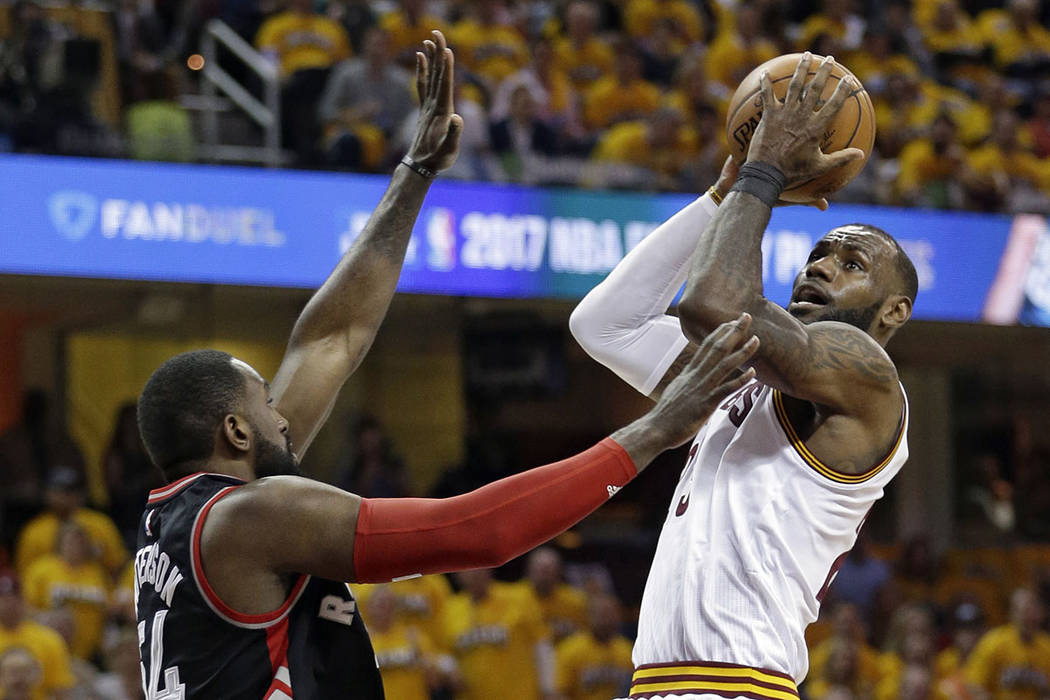 SAN ANTONIO — Trevor Ariza scored 23 points, and James Harden added 20 points and 14 assists as the Houston Rockets jumped on the San Antonio Spurs in the opening minutes and rolled to a 126-99 victory on Monday night in Game 1 of a Western Conference semifinal series.
The Rockets led by 11 after the first quarter, by 30 at halftime and by 29 at the end of the third quarter, after which Harden and Ariza were removed from the game.
Houston reserve center Nene was ejected at the end of the third quarter after a verbal altercation with San Antonio's Dewayne Dedmon. Dedmon was later ejected as well.
Houston's 22 made 3-pointers were a playoff high for a San Antonio opponent. The Rockets' starters outscored the Spurs' first-line players 77-44 in the first three quarters.
Kawhi Leonard led the Spurs with 21 points and 11 rebounds. He also sat out the fourth quarter with no hope that San Antonio could mount a comeback.
Cavaliers 116, Raptors 105
CLEVELAND — LeBron James scored 35 points, and Cleveland continued its playoff dominance of Toronto with an easy win in Game 1 of an Eastern Conference semifinal.
James added 10 rebounds and four assists. He also tied Kobe Bryant for second place in league history with his 88th playoff game scoring at least 30 points.
Kyrie Irving had 24 points and 10 assists for Cleveland. Tristan Thompson contributed 11 points and 14 rebounds, and Kevin Love finished with 18 points and nine rebounds.
The Raptors, who were bounced by the Cavs from the Eastern Conference finals in six games last season, were led by 20 points from Kyle Lowry and 19 from DeMar DeRozan. P.J. Tucker finished with 13 points and 11 rebounds, Serge Ibaka added 15 points, and Lowry had a game-high 11 assists.