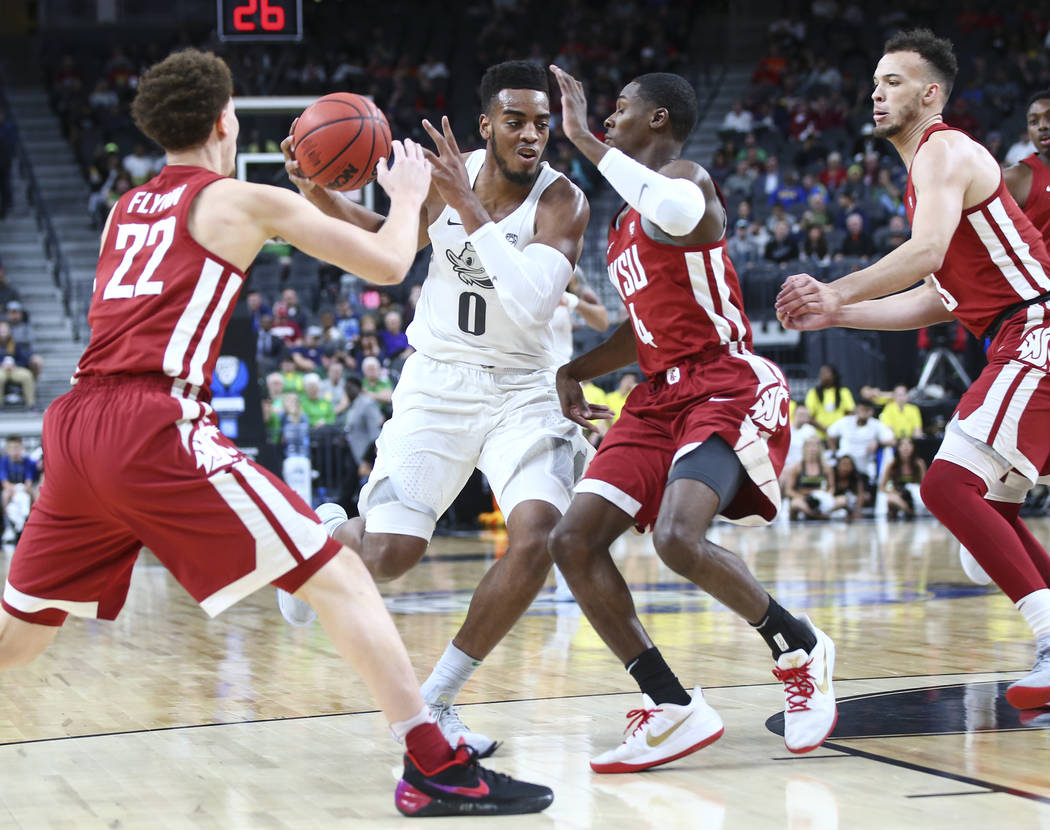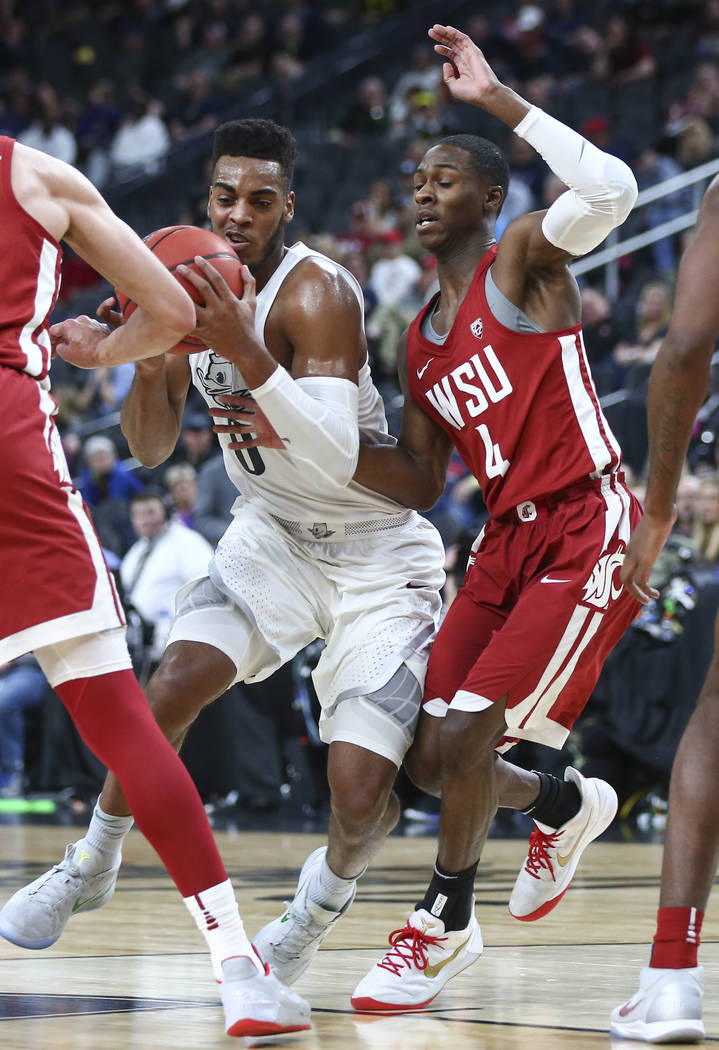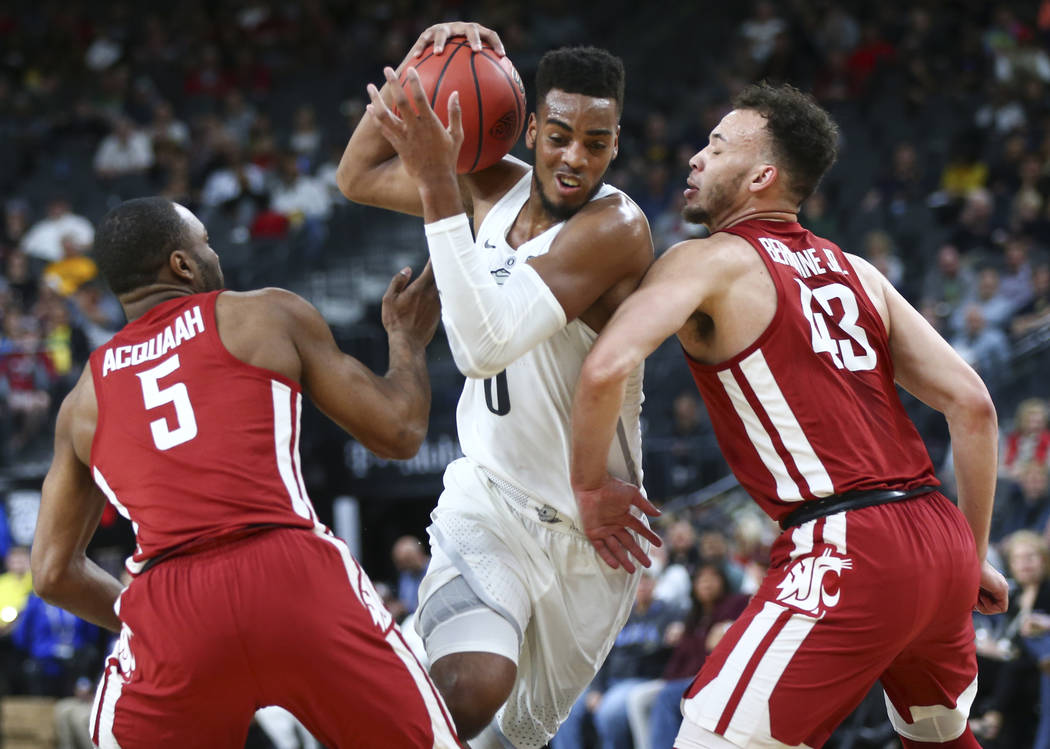 It wasn't the homecoming game Oregon freshman Troy Brown envisioned after starting 0 for 8 from the field Wednesday against Washington State at T-Mobile Arena in the Pac-12 tournament.
Brown, a star player at Centennial High last year, didn't make his first basket until the final minute of regulation as his team struggled against the No. 11 seed in the first round.
That first bucket, however, displayed why Brown is projected as a first-round pick in June's NBA draft despite an inconsistent year with the Ducks. ESPN has the Las Vegan ranked as the 17th best prospect in the draft.
Brown, a 6-foot-7-inch wing, used his length and athleticism to swipe the ball from Washington State's Drick Bernstine and ran it back for a one-handed dunk to give Oregon a three-point advantage with 56 seconds left in the second half. It was one of four steals by Brown.
The former Bulldog was out-of-sync offensively, but he found other ways to help Oregon into the quarterfinals. Brown sealed the 64-62 victory for the Ducks with an offensive rebound after a missed free throw from teammate Payton Pritchard with nine seconds left in overtime.
Brown finished with eight points and 11 rebounds in 41 minutes.
"He (Brown) wanted to play good," Oregon coach Dana Altman said. "He's back home, and he did rebound the ball really well. … So he did some really good things there, but he did struggle offensively. It just wasn't his night.
"He's a freshman and puts a lot of pressure on himself."
Brown's versatility turned him into a five-star recruit at Centennial, but the all-around game made it difficult for Altman to figure Brown's role on the team. Brown has started every game as a forward.
"Personally, I feel comfortable with the ball in my hands, but being able to play versatile in multiple spots is huge for me, and I feel like it gives me a better advantage than most players," Brown said.
Brown has accepted his role and embraced the challenge of finding ways to contribute without the ball.
"That's the big key," Brown said. "It's not settling and just stop doing stuff. I gotta make plays for everybody else."
When the ball is in his hands, Brown thinks like a point guard by feeding his teammates with flashy passes. The playmaking ability is what makes scouts covet Brown, who hasn't made a decision on whether to enter the draft.
"Haven't really thought about my future," Brown said Wednesday. "We're still playing, so it's hard to say, 'Hey, I'm looking at this or I'm looking at that,' when we have so much more to play for."
Brown joined a program coming off a Final Four run in 2017. It's been a shaky season for the Ducks, who entered the Pac-12 tournament as the sixth seed.
"I felt like it was kind of an inconsistent year, but I'm just taking it slow," Brown said. "I have no regrets (about playing at Oregon)."
Brown said he had many friends and family in attendance for Wednesday's game. He said he misses spending time with family and having cookouts at home.
Brown is hoping for more family time after the season, but he might be too busy with the draft around the corner.
Contact Gilbert Manzano at gmanzano@reviewjournal.com. Follow @GManzano24 on Twitter.
Thursday's Pac-12 quarterfinal scores
No. 1 Arizona 83, No. 8 Colorado 67
No. 4 UCLA 88, No. 5 Stanford 77
No. 2 USC 61, No. 10 Oregon State 48
No. 6 Oregon 68, No. 3 Utah 66
Friday's Pac-12 semifinal games
Arizona vs. UCLA, 6 p.m. (Pac-12 Network)
USC vs. Oregon, 8:30 p.m. (FS1)
Pac-12 quarterfinals
No. 1 Arizona 83, No. 8 Colorado 67 — Arizona went on a big run midway through the second half to cruise into the semifinals. The Wildcats' 14-0 run gave them a 58-41 lead. Senior center Dusan Ristic gave Arizona fans plenty to cheer about with his 16-point performance. Deandre Ayton contributed 10 points and six rebounds. Las Vegan Tyler Bey had seven points and nine rebounds for Colorado.
No. 4 UCLA 88, No. 5 Stanford 77 — Aaron Holiday scored 34 points to lead UCLA. The Bruins will play top-seeded Arizona on Friday in the semifinals. Holiday also had eight assists and seven rebounds. It's the fourth time in five years UCLA advanced to the semifinals.
No. 2 Southern California 61, No. 10 Oregon State 48 — Chimezie Metu scored a game-high 22 points to send USC into the semifinals. The Trojans never trailed and led by as many as 15 points.
No. 6 Oregon 68, No. 3 Utah 66 — For the second straight game, Kenny Wooten had a game-saving block to send the Ducks into the semifinals. Elijah Brown scored 21 points for Oregon. Las Vegan Troy Brown had four points for the Ducks.