Fredette's 52 points too much for Lobos
March 10, 2011 - 12:02 pm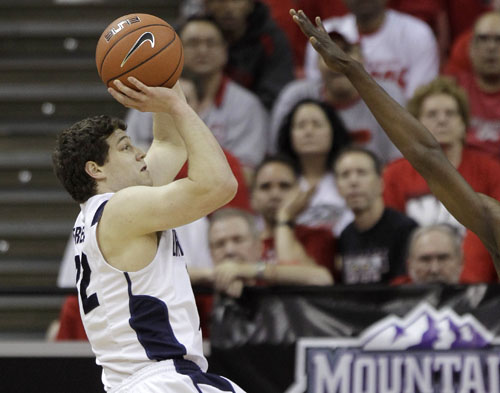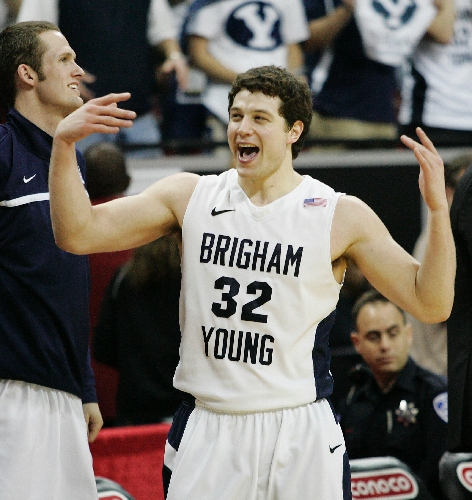 In the absence of a key player, coaches like to say the entire team must pick up the slack instead of the responsibility falling on one person.
When that one man is named Jimmer, though, throw out conventional wisdom.
Eighth-ranked Brigham Young has looked downright ordinary since starting forward Brandon Davies was suspended for the season, but Jimmer Fredette was extraordinary Friday in leading the Cougars to an 87-76 victory over New Mexico in a Mountain West Conference tournament semifinal at the Thomas & Mack Center.
Fredette broke his own tournament record of 45, set last year and scored a conference-record 52 points on 22 of 37 shooting. He shot 7-for-14 from 3-point range and made his only free-throw attempt.
"You can kind of see the score, the points, because it's right next to the scoreboard. They put it up there for you. I don't know if it's always correct or not, but you can kind of tell where you're at," Fredette said of watching his point total rise on the scoreboard like his own personal Pop-a-Shot game. "I knew I was having a good game."
Fredette scored the first 10 points of the game for top-seeded BYU (30-3), which will face second-seeded and seventh-ranked San Diego State (31-2) at 4 p.m. today in the championship game.
Cougars coach Dave Rose said Fredette and the rest of the team knew the importance of getting off to a good start after the Lobos swept the regular-season series, including an 18-point rout in Provo just over a week ago.
"It was so important for us to get off to a good start because we played maybe one of the first games we've played in Jimmer's career behind all 40 minutes the other night. They got off to a lead and we never caught them," Rose said. "I think he took that upon himself to score and get a lead, and our players responded to it."
Despite the senior guard's scoring barrage, New Mexico (21-12) stayed close much of the way. The Lobos simply wore down late in the absence of point guard Dairese Gary, who left with what appeared to be a serious knee injury early in the second half.
"We missed him a lot, obviously. He's our leader. He's our senior. He's been able to put us on his back throughout the hard times this season," said forward Drew Gordon, who had 17 points and 15 rebounds. "Having him go down and seeing him in a wrap really kind of hurt the team, but it's the middle of the game, so you need to keep focusing."
Even with Gary in the lineup, New Mexico had no answer for Fredette. The national player of the year candidate scored 33 points in the first half, breaking the tournament record for field goals made in a game with 14 before halftime.
"It was a very exciting game. I just shot the ball really well," said Fredette, who passed Danny Ainge to become BYU's all-time leading scorer with 2,417 points.
With BYU leading 62-61 with 8:24 to play, Fredette hit a 3-pointer and followed it up with a mid-range jumper. After the teams traded baskets, Fredette hit another 3 and then converted a 3-point play after a pair of New Mexico free throws.
"Earlier in his career, we would kind of shake our heads. Now we really kind of expect that, which is probably not the right thing," Rose said. "But when he's in that rhythm where he believes everything he's going to shoot is going to go in, he's really hard to guard."
"They tried length, they tried quickness, they tried a combination of pressure and double teams. Tonight Jimmer just found space, got into space and made shots."
Fredette helped BYU to a 74-65 lead with just over four minutes remaining. New Mexico got no closer than five the rest of the way.
"He's very special. Everyone knows that. The country knows that," New Mexico coach Steve Alford said. "Special players can have special evenings like this, especially in March. He had one of 'em."
Jackson Emery had 14 points, five rebounds, five assists and five steals for BYU. Kyle Collinsworth added 11 points and nine rebounds.
Gary had nine points and seven assists in just 21 minutes before his injury. Jamal Fenton had 14 points, but five turnovers, filling in at the point.
Fredette's previous career high was a 49-point effort against Arizona in December 2009. Only Kentucky's Jodie Meeks, who scored 54 in a game in 2009, has scored more points in a Division I game since 1990.
Fredette stopped short of calling Friday's performance the best game of his college career.
"It's right up there," he said. "It was a great team effort and something I'll never forget."
Contact reporter Adam Hill at ahill@reviewjournal.com or 702-224-5509.
MWC TOURNAMENT BRACKETS
BRIGHAM YOUNG — 87
NEW MEXICO — 76
KEY: Cougars star Jimmer Fredette scored an MWC-record 52 points on 22 of 37 shooting.
NEXT: BYU vs. San Diego State, 4 p.m. today, MWC tournament final, Thomas & Mack Center, Versus (38), KWWN (1100 AM, 98.9 FM)