Rebels advance on final surge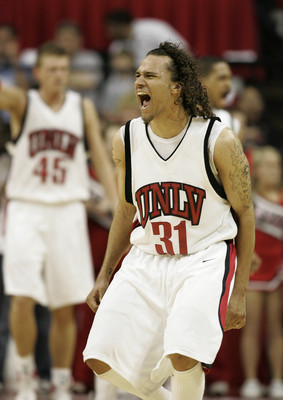 Once again, UNLV senior Curtis Terry displayed his remarkable flair for the dramatic.
Terry made deep 3-pointers and showed off his impeccable sense of timing to help the Rebels pull off another narrow escape Friday night in the Mountain West Conference Tournament.
"I was just being aggressive and trying to do everything I can to help our team be successful," he said. "We're playing with a lot of confidence right now."
Terry scored 20 points and made the game's most important basket as UNLV held on for a 61-55 semifinal victory over Utah at the Thomas & Mack Center.
Junior guard Wink Adams made 5 of 6 free throws in the final minute and finished with 20 points and eight rebounds.
The game was up for grabs when Terry sliced down the lane and scored on a layup to put the Rebels ahead 53-49 with 1:20 remaining.
The championship showdown between second-seeded UNLV (25-7) and top-seeded Brigham Young (27-6) is set for 4 p.m. today. An automatic bid to the NCAA Tournament is on the line.
"We're there now, and we've got to rest up and get ready for BYU," said Terry, who played 40 minutes for the second straight night.
It's a rematch of last year's championship game, which the Rebels won, 78-70.
In Friday's first semifinal, the Cougars defeated San Diego State 63-54 behind 20 points from Lee Cummard and 19 from Trent Plaisted.
UNLV advanced not only because of Terry and Adams. The hustle of Rene Rougeau was equally as important. Rougeau grabbed two key offensive rebounds down the stretch.
Joe Darger missed a 3-pointer, but Rougeau chased down the rebound with 2:16 to go. After Adams missed a 3, Rougeau soared through the lane and again got the rebound, leading to Terry's layup that put the Rebels ahead by four points.
"The credit goes to Rene for just hustling and flying around," Terry said.
The 6-foot-6-inch Rougeau finished with 12 points and 11 rebounds while battling the Utes' 7-1 center, Luke Nevill, who had 15 points and five rebounds.
"Nevill was a tough matchup all night long," UNLV coach Lon Kruger said.
Utah (17-14) trailed by four when the Rebels' Corey Bailey knocked the ball off Lawrence Borha's leg and out of bounds with 49 seconds remaining. Utes coach Jim Boylen marched 10 feet onto the court to protest the call and had to be restrained by two players.
Adams followed by making two free throws as UNLV pulled away.
"To get Curt and Wink scoring like that on the same night helps our chances," Kruger said.
Terry shot 8-for-13 and made three 3-pointers. Adams shot 6-for-14 and made two three pointers
The Rebels led by one at halftime, and Terry pushed the advantage to 36-32 with a 3-pointer five minutes into the second half.
With the shot clock about to expire, Terry hit all net on a 26-foot jumper to put UNLV on top 42-41 with 9:19 to go. Terry incited the crowd of 13,913 by pumping his fists and screaming as he jogged down the court.
Rougeau took over from there, spinning around Nevill and scoring over him to make it 46-41 with 7:05 to play.
After Nevill hit a turnaround bank shot, Rougeau worked him over again. Rougeau was short on a 15-foot jumper but beat Nevill to the rebound and dropped in a layup.
One night after barely escaping with an 89-88 victory over hot-shooting Texas Christian, the Rebels tightened up their perimeter defense and rebounded better against Utah.
The Utes were running early, and Borha's 3-pointer put them in front 20-12 with 9:39 left in the first half.
But Adams and Rougeau led the Rebels on a 10-2 run. Rougeau worked his way inside and scored over Nevill to tie it at 22 with 5:15 remaining.
Terry buried a 25-foot jumper in the last minute to send UNLV into halftime with a 25-24 edge.
The Rebels trailed most of the half but strung together several solid defensive possessions, allowing only two field goals in the final nine minutes.
Adams had 10 points and seven rebounds at the half. Terry had nine points and four rebounds.
UNLV 61
Utah 55
UTAH Min FG-A FT-A R A PF TP
Tillie 22 3-6 0-0 7 2 3 6
Green 29 1-7 0-0 7 1 2 2
Drca 27 3-5 2-2 1 4 2 9
Borha 31 4-7 0-0 2 3 4 10
Brown 18 0-2 0-0 3 0 1 0
Bryant 31 4-9 0-0 2 0 0 10
Kepkay 13 1-4 0-0 2 0 1 3
Nevill 29 6-11 3-4 5 2 2 15
TOTALS 200 22-51 5-6 30 12 15 55
Field goals–43.1%. Free throws–83.3%.
Three-point goals–6-19 (Bryant 2-4, Borha 2-4, Drca 1-2, Kepkay 1-3, Tillie 0-1, Brown 0-1, Green 0-4). Team rebounds–1. Blocked shots–6 (Green 3, Nevill 3). Turnovers–10 (Brown 2, Borha 2, Nevill 2, Tillie, Kepkay, Bryant, Green). Steals–None.
UNLV Min FG-A FT-A R A PF TP
Bailey 30 1-4 2-2 3 2 2 4
Darger 27 1-5 0-0 4 0 3 2
Adams 37 6-14 6-8 8 1 0 20
Rougeau 33 5-15 2-2 11 1 3 12
Terry 40 8-13 1-2 5 0 0 20
Wallace 13 0-1 0-0 0 0 1 0
Shaw 20 1-4 0-0 0 1 1 3
TOTALS 200 22-56 11-14 34 5 10 61
Field goals–39.3%. Free throws–78.6%.
Three-point goals–6-18 (Terry 3-6, Adams 2-4, Shaw 1-3, Wallace 0-1, Bailey 0-1, Darger 0-3). Team rebounds–3. Blocked shots–None. Turnovers–5 (Rougeau 2, Terry, Darger). Steals–5 (Terry 2, Shaw, Wallace, Bailey).
A–13,913. Officials–David Hall, Verne Harris, Stanley Reynolds. Technical fouls–Utah: None. UNLV: None.
Utah 24 31 — 55
UNLV 25 36 — 61
UNLV – 61
UTAH – 55
KEY: Curtis Terry scored 20 points and put UNLV ahead by four on a layup with 1:20 remaining.
NEXT: MWC tournament final, UNLV vs. Brigham Young, 4 p.m. today, Versus (67), KWWN-AM (1100)