2018 NFL betting breakdown: Week 11
November 17, 2018 - 3:39 pm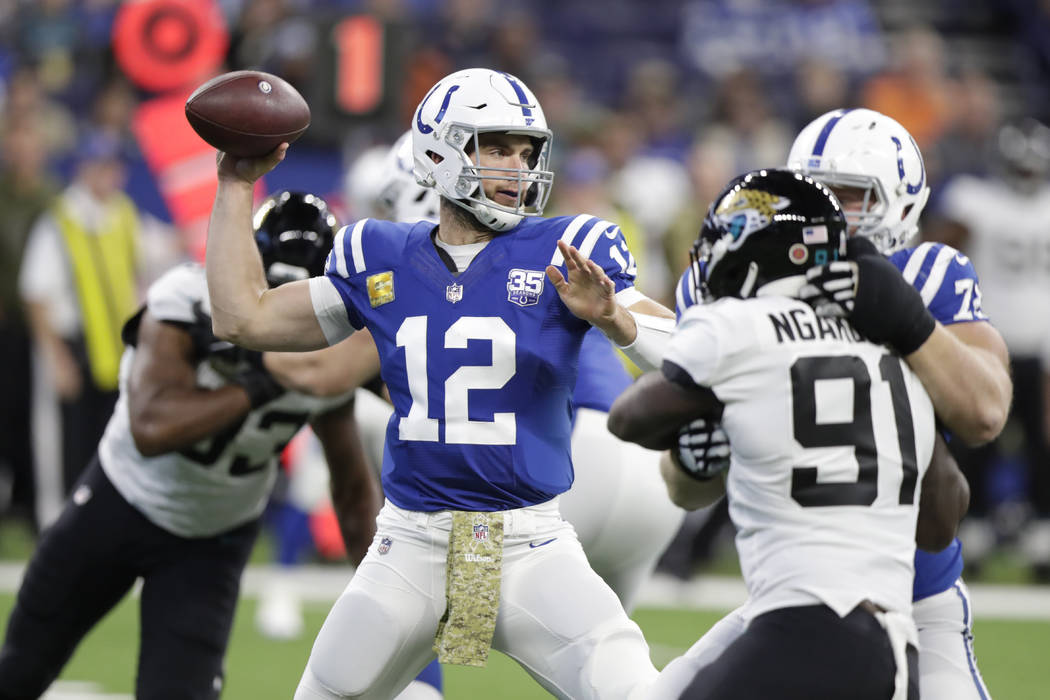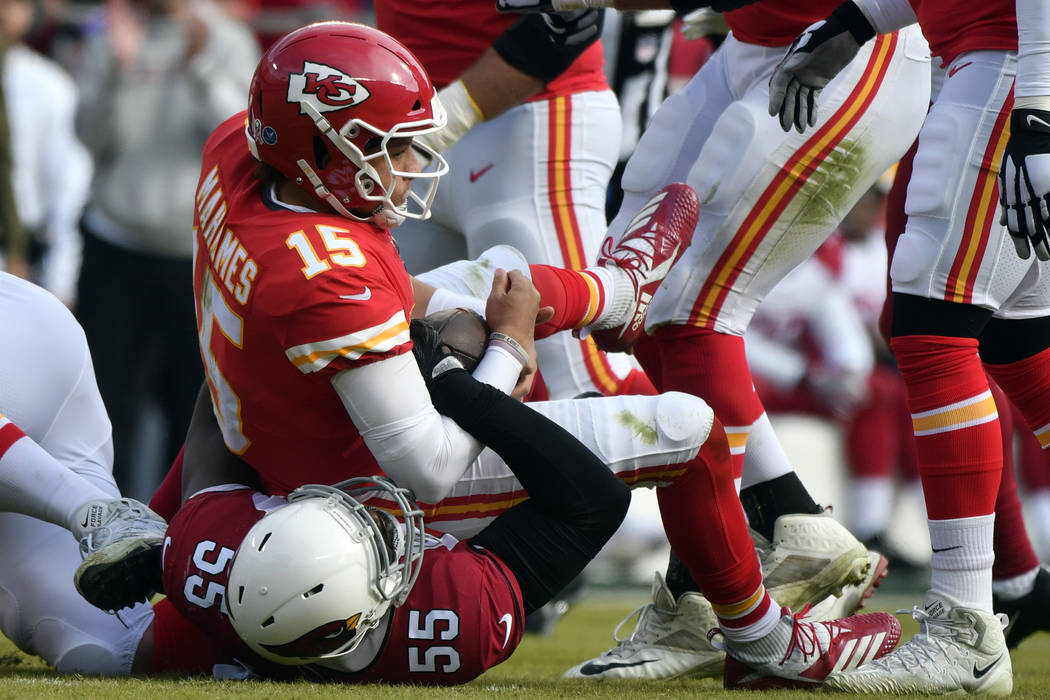 BETTING BREAKDOWN
Eric Parkila, Sportsmemo.com
Panthers (6-3) at Lions (3-6)
Time: 10 a.m.
Line/Total: Panthers -4½, 49½
Analysis: The Lions are a mess right now, having lost three in a row both straight up and against the spread. Detroit has shipped receiver Golden Tate to the Eagles and Mavin Jones is out, leaving Kenny Golladay as the leading receiver with 61 targets. Matthew Stafford was sacked six times in last week's loss to the Bears. The Panthers on extra rest after the Thursday night game in Pittsburgh.
By the numbers: Carolina was blown out 52-21 in Pittsburgh last week. … This is their second back-to-back road trip of the season. After losing at Washington in Week 6, the Panthers won at Philadelphia in Week 7.
Pick: Panthers 31, Lions 21
Cowboys (4-5) at Falcons (4-5)
Time: 10 a.m., KVVU-5
Line/Total: Falcons -3½, 50
Analysis: The Falcons fell into the classic trap game last week against the Browns. After winning three straight and looking great at Washington, they found themselves on the second game of a back-to-back road trip at improved Cleveland. The Cowboys played one of their better games of the season last week against the Eagles. The home-road splits for both teams are drastic and the Falcons will have too much offense for Dallas.
By the numbers: The Falcons are averaging 30.2 points per game at home this season versus just 20.8 ppg on the road. … The Cowboys are averaging just 16.2 ppg on the road this season.
Pick: Falcons 28, Cowboys 20
Bengals (5-4) at Ravens (4-5)
Time: 10 a.m.
Line/Total: Ravens -4, 43½
Analysis: This game was off the board most of the week as the Ravens played cat and mouse with their starting quarterback. Joe Flacco is injured, Lamar Jackson has the flu and it could be Robert Griffin III — yes, RGIII — making his first start since 2016. Regardless of who lines up at quarterback for the Ravens, the Bengals have one of the worst defenses in the NFL, ranking last in total defense. A.J. Green has been ruled out and a myriad of other injuries for the Bengals makes its tough to back them.
By the numbers: After starting the season 4-1, Cincinnati has lost three of its last four. The Bengals are also 0-4 ATS in their last four. … The Ravens are also on a three-game SU and ATS slide, but a home game against the struggling Bengals could be just what they need.
Pick: Ravens 26, Bengals 20
Titans (5-4) at Colts (4-5)
Time: 10 a.m.
Line/Total: Colts -2, 51
Analysis: Is Andrew Luck finally healthy again? It seems that way as the Colts QB has thrown for 2,472 yards and 26 TDs against nine interceptions. Offensive line play has been an issue for Indianapolis over the last few seasons but not this year. The Colts are averaging 4.6 yards per carry, up from 3.7 in 2017, and Luck has been sacked just ten times, which is the second fewest for a full time starter behind Drew Brees (nine). Tennessee had the blowout win over New England last week but now goes on the road, where it's 2-2 this season.
By the numbers: The Titans are scoring 17.6 points per game on the road this season while the Colts are averaging 30.2 points per game at home.
Pick: Colts 28, Titans 20
Texans (6-3) at Redskins (6-3)
Time: 10 a.m.
Line/Total: Texans -3, 42½
Analysis: It seems as though all Alex Smith does is win, but win quietly as the Redskins lead the NFC East. Houston is the hot team right now and riding a six-game win streak. However, Deshaun Watson has not thrown for 300 yards since Week 5 against Dallas. All streaks must come to an end at some point and Washington is going to keep moving along, albeit boringly.
By the numbers: Houston has not beaten a team with a winning record during its win streak. The Texans' past six opponents are a combined 22-34 (39.3 percent).
Pick: Redskins 24, Texans 20
Buccaneers (3-6) at Giants (2-7)
Time: 10 a.m.
Line/Total: Giants -2½, 53½
Analysis: Has there ever been more combined drama at the quarterback position between two teams than Tampa Bay and the New York Giants? We were treated to Fitzmagic during the Jameis Winston suspension, but when the magic ran out we got Winston back until it was time for Fitzmagic again. And, of course, there is Eli Manning who is consistently inconsistent. In a game of unknowns, here is what we do know: The Bucs' defense will be terrible and Eli will probably get sacked a few times.
By the numbers: Tampa Bay gives up 4.6 yards per carry on the road and Giants rookie RB Saquon Barkley is averaging 4.5 yards per carry.
Pick: Buccaneers 28, Giants 24
Steelers (6-2-1) at Jaguars (3-6)
Time: 10 a.m.
Line/Total: Steelers -5, 46½
Analysis: Since Blake Bortles was benched for Cody Kessler in the third quarter of Jacksonville's 20-7 loss to the Texans, Bortles has thrown for an average of 303 yards, three touchdowns and no interceptions in the last two games. Unfortunately, the Jaguars still lost both games. The Steelers looked great on Thursday night against the Panthers but a good rule to remember when betting the NFL is that no team is ever as good or as bad as they appeared the week prior. The Jaguars still have a top defense and last week's return of Leonard Fournette could finally get this offense going in the right direction.
By the numbers: Assuming three points for home-field advantage, this line implies the Steelers would be 8-point favorites on a neutral field and 11-point favorites at home.
Pick: Steelers 23, Jaguars 21
Broncos (3-6) at Chargers (7-2)
Time: 1:05 p.m.
Line/Total: Chargers -7, 46
Analysis: If it weren't for Patrick Mahomes and the Chiefs, everyone would be talking about the Los Angeles Chargers. Los Angeles needs some help but they are still alive in the race to win the AFC West at 7-2, with its two losses coming to Kansas City and the Rams. Denver has not put up terrible numbers this season but they've been terribly limited by coach Vance Joseph.
By the numbers: The Chargers are 1-3 ATS in the home favorite role this season. But the Broncos are on a 3-9 spread slide on the road.
Pick: Chargers 26, Broncos 14
Raiders (1-8) at Cardinals (2-7)
Time: 1:05 p.m., KLAS-8
Line/Total: Cardinals -5½, 41
Analysis: The Raiders are tanking. Jon Gruden can't come out and say it but there is no other reasonable explanation for the moves this team has made. The Cardinals have their franchise quarterback in Josh Rosen and will look to build the offense around him and running back David Johnson. Arizona's two wins have come against the 49ers, while its seven losses have come against teams with a combined 38-17 record.
By the numbers: Six of the Cardinals' seven losses have been to teams with winning records, including five division leaders.
Pick: Cardinals 21, Raiders 10
Eagles (4-5) at Saints (8-1)
Time: 1:25 p.m., KVVU-5
Line/Total: Saints -7½, 57
Analysis: The defending Super Bowl champions have a 4-5 record and currently sit in third place in the NFC East. New Orleans is a team firing on all cylinders, winning eight straight and covering seven in a row. The Saints have NFC South rival Atlanta on tap next week and while it is highly unlikely they will overlook the Eagles, three of their last four games have been on the road and the travel could take its toll.
By the numbers: The Saints have won their last eight games by an average score of 31.6-23 and are 7-1 ATS during that streak.
Pick: Saints 31, Eagles 28
Vikings (5-3-1) at Bears (6-3)
Time: 5:20 p.m., KSNV-3
Line/Total: Bears -2½, 44½
Analysis: The Vikings' three losses have come to the Bills, Rams and Saints. Two of those can be easily forgiven. Minnesota is coming off its bye week and should be prepared for Chicago's pass rush that is averaging 3.3 sacks per game. With the Vikings leading the league in sacks at 3.4 per game, it could be Mitch Trubisky who finds himself on the ground.
By the numbers: The Bears have won and covered three consecutive games, but Chicago has yet to defeat a team with a winning record this season.
Pick: Vikings 21, Bears 20
Chiefs (9-1) at LA Rams (9-1)
Time: 5:15 p.m. Monday, ESPN
Line/Total: Rams -3½, 63½
Analysis: The game that has been hyped as a potential Super Bowl preview with the highest total in NFL history has been moved from Mexico City to the Los Angeles Memorial Coliseum due to poor field conditions in Mexico. Two of the top three scoring offenses face off and fans will be expecting fireworks. Rams coach Sean McVay has already been labeled an offensive genius, but can his defense, which is allowing 355.2 yards per game, slow down a Chiefs team that is gaining 423.1 ypg? The total is high, but betting the under means you will be in for a 3½-hour sweat.
By the numbers: Kansas City is allowing 289 passing yards per game while Rams QB Jared Goff is throwing for 302 ypg. … The Rams are allowing 233.1 passing ypg and Patrick Mahomes is throwing for 305.5 ypg.
Pick: Rams 35, Chiefs 31