2018 NFL betting breakdown: Week 16
December 22, 2018 - 4:40 pm
Updated December 22, 2018 - 4:45 pm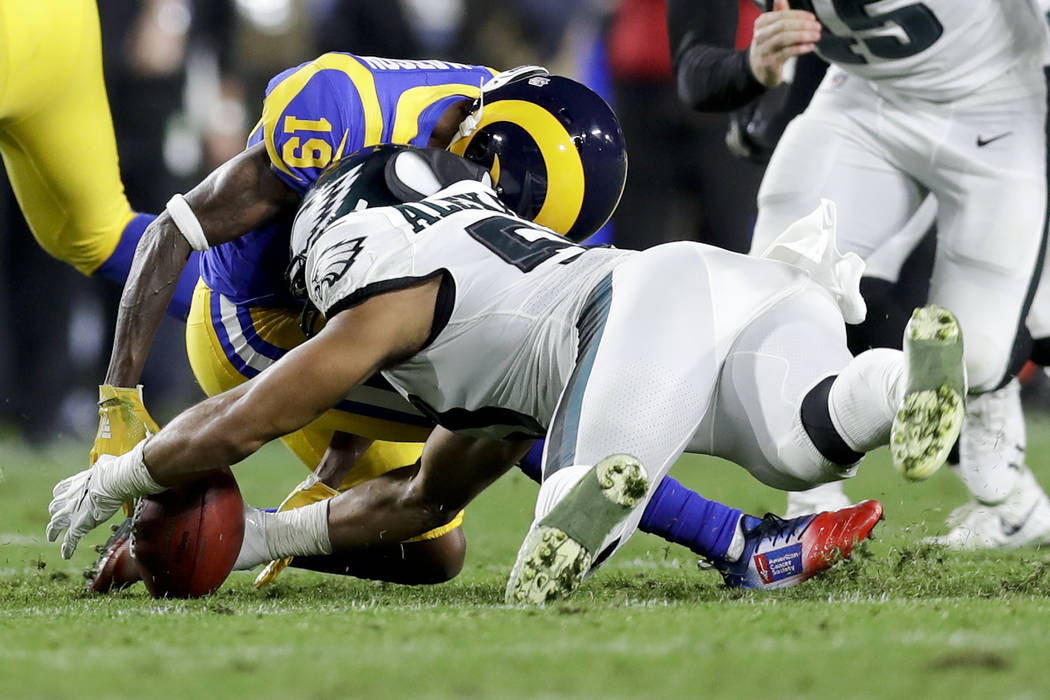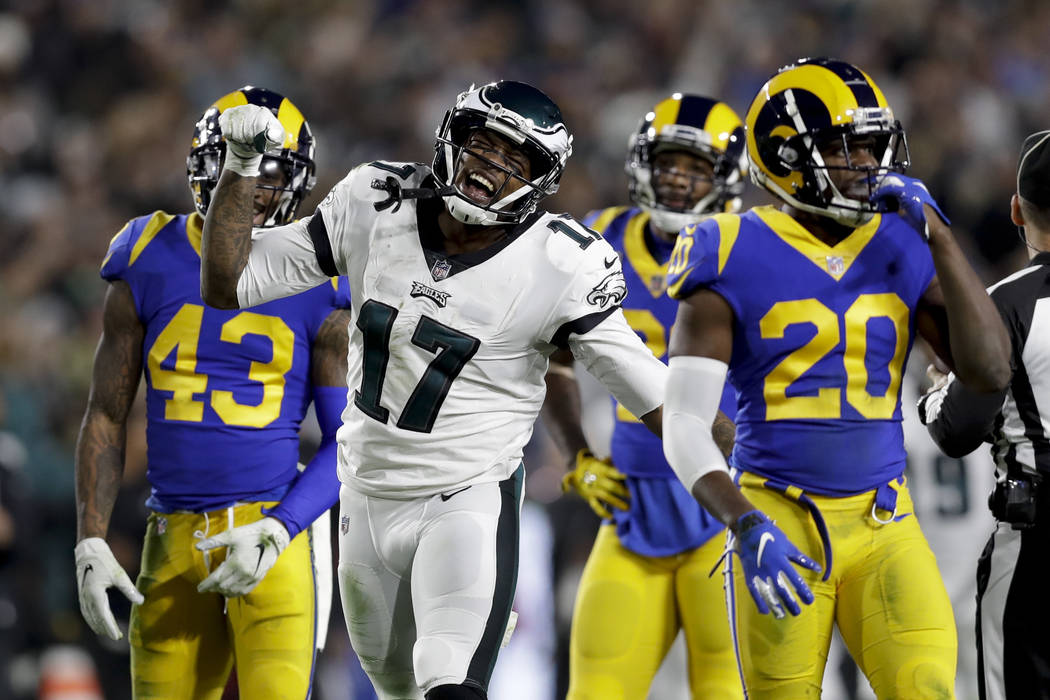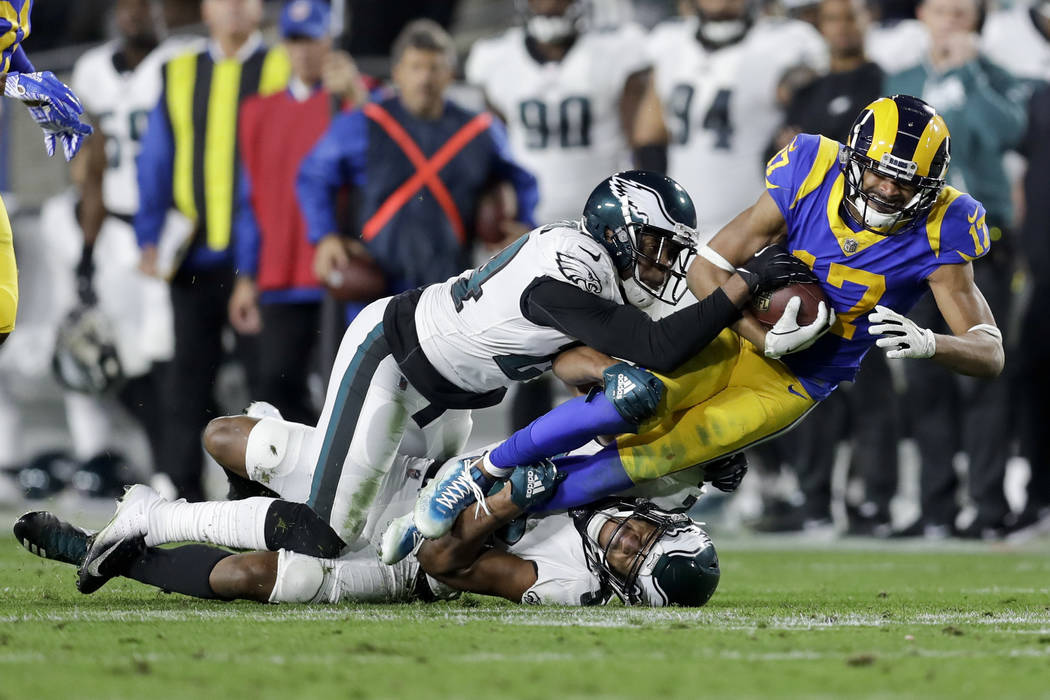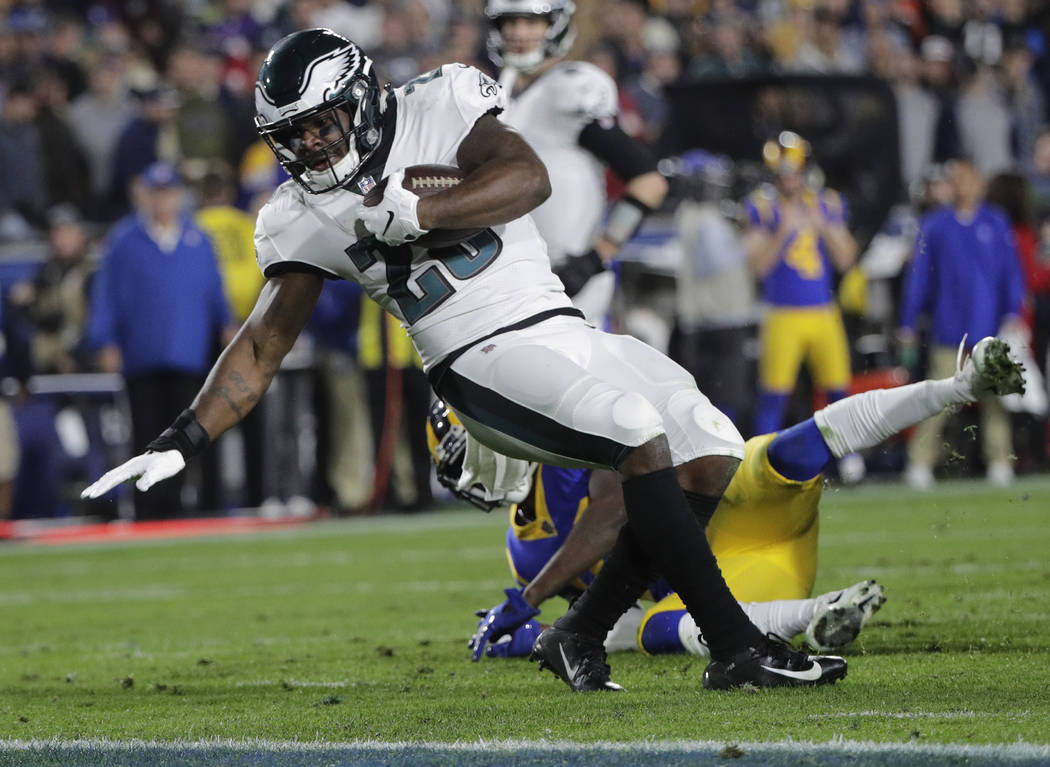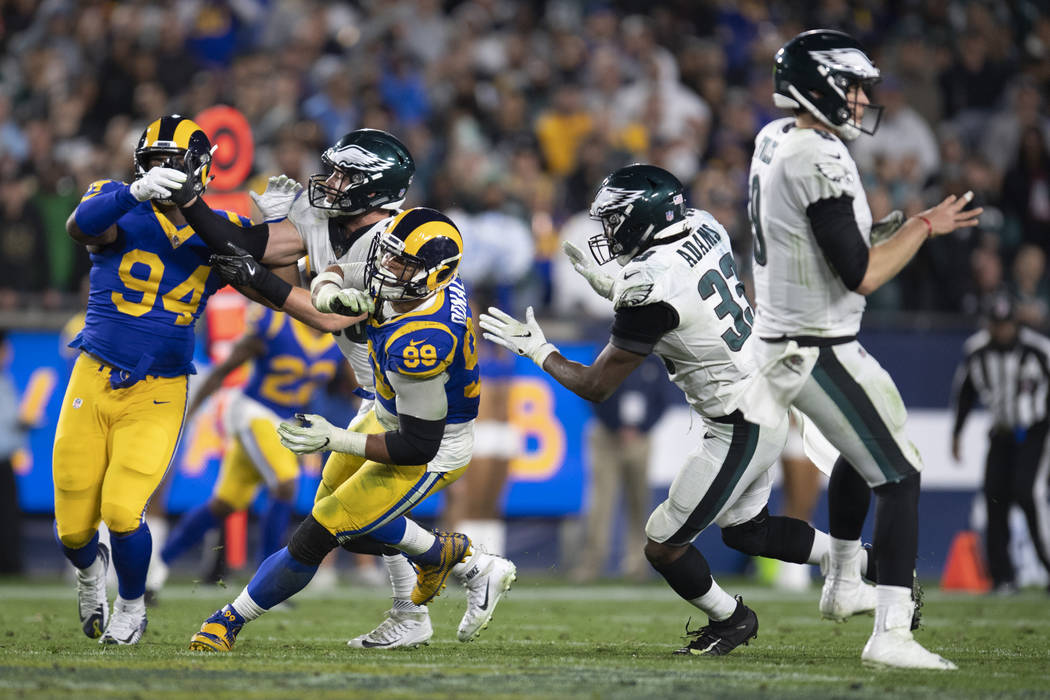 Dana Lane, @DanaLaneSports
Texans (10-4) at Eagles (7-7)
Time: 10 a.m., KLAS-8
Line/Total: Eagles -1½, 46
Analysis: It looks as if there's renewed confidence in the public's eye after Nick Foles regained control of the Eagles offense. You knew the action was coming in on the Eagles after Foles picked apart the Rams on the road last week. If I've learned anything betting sports, it's that you must forget what you just saw because previous success doesn't automatically equate to future wins. The Texans have 39 sacks and haven't given up more than 124 yards on the ground this season.
By the numbers: Houston has covered three straight games, two as an underdog, and is 5-2-1 ATS in its past eight. … The Eagles are on a 1-5 ATS skid at home.
Pick: Texans 26, Eagles 23
Jaguars (4-10) at Dolphins (7-7)
Time: 10 a.m.
Line/Total: Dolphins -3½, 38½
Analysis: It might be hard to believe, but Jacksonville has the NFL's No. 6 defense and faces a team that is horrible on offense (29th). Records are deceiving with both of these teams because the Jaguars have averaged more yards per game than their opponent this season and Miami has been outgained by an average of 100 yards a game.
By the numbers: Jaguars coach Doug Marrone is 3-1 against Miami. … The Dolphins have been a horrible December team, going 7-16 ATS in their past 23 games in the month. They also never seem to get up for home games against bad road teams, going 19-49 ATS at home against teams with losing road records.
Pick: Jaguars 20, Dolphins 14
Bengals (6-8) at Browns (6-7-1)
Time: 10 a.m.
Line/Total: Browns -8½, 44½
Analysis: There's no doubt that the culture of football in Cleveland is heading in the right direction. This is usually the time of year when you can start speculating who will be the next Browns quarterback. Not this year. Despite Cleveland's relative success, this is still a 6-7-1 team that faces a Bengals team looking for revenge after their 35-20 loss to the Browns in a Week 12 game fueled by trash talking.
By the numbers: The Bengals have covered 20 of their past 28 December games. … Cincinnati has covered four straight in Cleveland.
Pick: Browns 23, Bengals 17
Bills (5-9) at Patriots (9-5)
Time: 10 a.m.
Line/Total: Patriots -13½, 44½
Analysis: There is little doubt that the Patriots won't finish off their 14th season sweep of the Bills in the past 18 seasons to win their 10th straight AFC East crown. New England should see plenty of Buffalo's ground game led by LeSean McCoy, who said he will play after missing last week with a hamstring injury. The Bills' No. 9 rushing offense keeps them in this one until late.
By the numbers: The Bills have covered five of their past seven road games against teams with winning home records. … The Patriots are on a 6-1 under streak.
Pick: Patriots 26, Bills 14
Falcons (5-9) at Panthers (6-8)
Time: 10 a.m.
Line/Total: Falcons -3, 44
Analysis: The first step I use to handicap a game is simply to determine which team is in a better frame of mind. It's simple but effective, especially when you're receiving points. The Panthers defense kept the team in Monday's game against the Saints long enough to give it a shot to win. It was Carolina's best defensive performance all season, and now they stay home, where they've allowed opposing quarterbacks an 82.7 rating.
By the numbers: The Falcons have failed to cover their past six games after scoring 30 points or more in their previous game. … The Panthers have covered nine of their past 12 home games.
Pick: Panthers 28, Falcons 21
Giants (5-9) at Colts (8-6)
Time: 10 a.m.
Line/Total: Colts -9½, 48
Analysis: The Colts handed it to the Cowboys in last week's 23-0 win, but that was against a Dallas team in a bad spot. It was a good win, but I'm not going to put too much emphasis on it because Indianapolis wouldn't make the playoffs if the season ended today. Now that the Giants are eliminated from the postseason, most people think they are a "go-against" team. But they still have star running back Saquon Barkley, and that will be good enough to keep the game within reach.
By the numbers: New York has covered six straight road games overall, and the road team has covered four of the past five meetings. … The Colts are on an 8-1 over run the week after they rush for at least 150 yards.
Pick: Colts 30, Giants 23
Buccaneers (5-9) at Cowboys (8-6)
Time: 10 a.m., KVVU-5
Line/Total: Cowboys -7, 48
Analysis: What we saw from the Cowboys in last week's 23-0 loss to the Colts wasn't a real example of the Dallas offense. You can count on a bounce-back effort this week, but that doesn't mean you can count on a cover. Under Jason Garrett, you can never really count on consistent results from a wagering perspective. Garrett's Cowboys are on a 4-8-1 ATS slide the week after scoring 10 points or fewer.
By the numbers: The Buccaneers have covered five of their past six December games, and the road team has covered four of the last five meetings. … Dallas is 2-5-1 ATS the game after it allows at least 150 yards rushing.
Pick: Cowboys 30, Buccaneers 26
Packers (5-8-1) at Jets (4-10)
Time: 10 a.m.
Line/Total: Packers -3, 46½
Analysis: I try to have an opinion on all games, but I'm stuck on this one, so it's going to be a pass for me. This is the time of year when some games are just a guess, and I don't want to do that. With nothing on the line, it feels like a glorified preseason game in which you're not sure how either team will treat it. Aaron Rodgers is still nursing a sore groin, and the Packers have lost nine straight road games.
By the numbers: If there was any lean, it would be to the over. The Packers are on a 13-3 over streak against teams with a losing record. The Jets are on a 5-1 over surge in their past six home games.
Pick: Jets 27, Packers 21
Vikings (7-6-1) at Lions (5-9)
Time: 10 a.m.
Line/Total: Vikings -6, 42½
Analysis: If the Vikings are to make the playoffs, they must win this week and get help or win out with Chicago on deck. This might be a look-ahead spot against the Lions, whom the Vikings dominated earlier this season with a 10-sack effort. Despite the obvious difference in class, Minnesota has not been a reliable wager in Detroit, where it has lost six of its past nine meetings.
By the numbers: The Vikings are on a 1-4-1 ATS skid after a straight-up win, and the Lions are 5-2 after a cover. … Minnesota is on a 20-7 under run against the NFC North.
Pick: Vikings 21, Lions 17
Rams (11-3) at Cardinals (3-11)
Time: 1:05 p.m.
Line/Total: Rams -14, 44
Analysis: I have a difficult time laying 14 points, especially with the Rams coming off back-to-back losses to the Bears and Eagles. They were sloppy against Chicago while barely producing 200 yards of total offense. Running back Todd Gurley is battling a knee injury for Los Angeles, which has at least two turnovers in four straight games.
By the numbers: The Rams are 9-23-2 ATS the week after accumulating at least 250 yards passing. … The Cardinals are on a 6-0 cover streak the week after allowing 30 points or more.
Pick: Rams 23, Cardinals 17
Bears (10-4) at 49ers (4-10)
Time: 1:05 p.m.
Line/Total: Bears -4½, 43½
Analysis: Chicago clinched the NFC North title with last week's win over the Packers and could improve their playoff seed with a win. But it won't be easy after taking the long trip to Northern California to face a Niners team that is playing well, coming off back-to-back home wins over the Broncos and Seahawks. The Bears haven't fared well at San Francisco, going 1-5 straight up and ATS in their past six games there.
By the numbers: The 49ers covered their final four games last season and have covered their past two this season. … The Bears are 7-1 at home but 3-3 on the road. … Chicago is third in the NFL in scoring defense, allowing 18.9 points per game.
Pick: Bears 21, 49ers 17
Steelers (8-5-1) at Saints (12-2)
Time: 1:25 p.m., KLAS-8
Line/Total: Saints -6, 53
Analysis: The Saints have clinched the NFC South title, but have home-field advantage in their sights heading into their first home game since Thanksgiving. The Steelers beat the Patriots in Week 15 to end a three-game losing streak, but that win will be forgotten if they lose this one. Both teams feature prolific offenses.
By the numbers: Pittsburgh is on a 5-1 cover run after a straight-up win. The Steelers also are on a 10-3-1 ATS streak after rushing for more than 150 yards in their previous game.
Pick: Saints 31, Steelers 26
Chiefs (11-3) at Seahawks (8-6)
Time: 5:20 p.m., KSNV-3
Line/Total: Chiefs -2½, 54
Analysis: This number is the same as mine, so I don't see a lot of value. I'll pass on this game with a lean to the over. I would like to play the Seahawks, but their secondary looked confused at times against the 49ers, and if that happens against Patrick Mahomes, it's game over. The truth is the game against San Francisco was a bad spot for Seattle, but I still don't feel comfortable speculating that it will be better against Kansas City.
By the numbers: The Chiefs are on a 4-0 over run, and the Seahawks are on a 5-1 over uptick.
Pick: Seahawks 30, Chiefs 26
Broncos (6-8) at Raiders (3-11)
Time: 5:15 p.m. Monday, ESPN
Line/Total: Broncos -3, 43
Analysis: This could be the final time you see the Raiders play a home game in Oakland. The Broncos have handed the Raiders more losses than any other team except the Chiefs and Chargers. I'm not one for betting intangibles, but if the Raiders can't muster their best effort here, I will question whether they can get it together before a move to Las Vegas.
By the numbers: The Broncos are on an 8-17-1 spread slide and are 3-12 coming off an ATS loss. … The home team has covered four of the past five meetings.
Pick: Raiders 26, Broncos 13
More betting: Follow at reviewjournal.com/betting and @RJ_Sports on Twitter.