2019 NBA title odds hint at LeBron's next team
Updated June 10, 2018 - 11:06 pm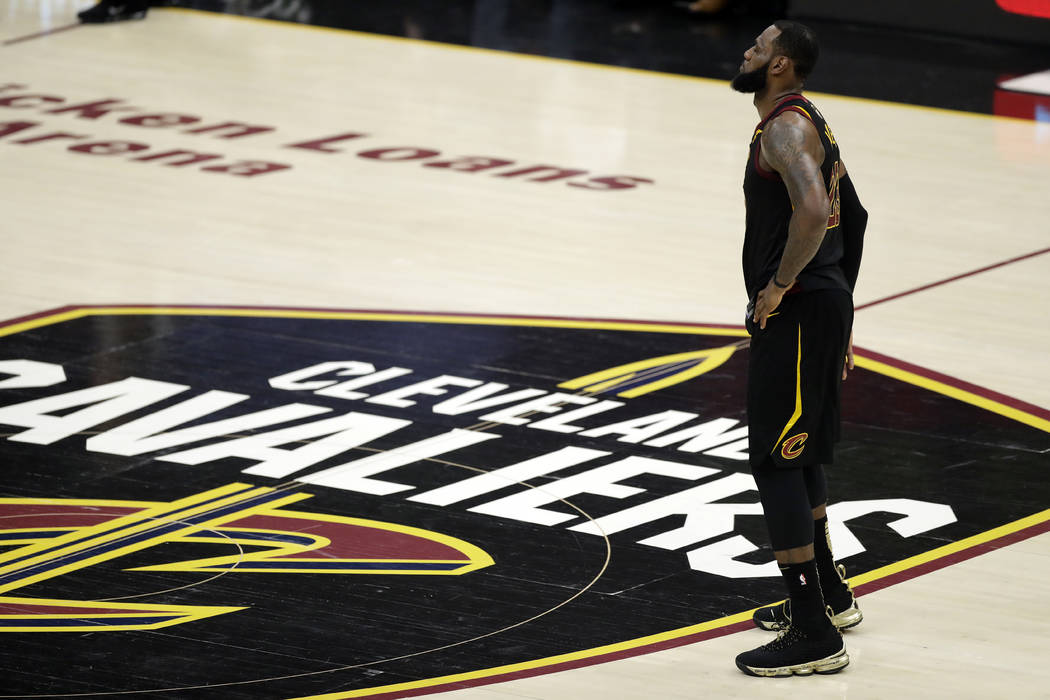 Las Vegas sports books aren't permitted to take wagers on which team LeBron James will play for next season.
But the odds to win the 2019 NBA title posted at the Westgate sports book reflect the most likely landing spots for the four-time NBA MVP and imminent free agent.
The Golden State Warriors are the 6-5 favorites to win the championship. The Houston Rockets and Philadelphia 76ers — James' two leading suitors — are next at 7-2.
The Boston Celtics are 7-1 and the Los Angeles Lakers, another suitor, are the 14-1 fifth choice.
The Cleveland Cavaliers, whom James has led to four consecutive NBA Finals, are at 30-1.
"We put in as many teams as he could possibly go to and raised the Cavaliers, thinking he won't go there," Westgate sports book manager and NBA oddsmaker Jeff Sherman said. "We're taking a chance putting Cleveland at 30-1 and letting people bet that. We took some money on Cleveland at 20-1. Obviously if he came back, they won't be 30-1."
BetOnline.ag, an offshore sports book, has posted odds on where James will start the 2019 season. The Rockets are the 2-1 favorites, followed by the Lakers at 5-2, the Sixers at 9-2, the Cavaliers at 5-1 and the Celtics at 10-1.
But Sherman believes Philadelphia is the most likely landing spot.
"We would make Philadelphia the favorite," he said. "That's aggressively reflected in Philadelphia's odds being so short (to win the 2019 title).
"He has the opportunity to stay in the Eastern Conference and go to a young team with a great chance of winning. It makes too much sense, and he's a smart guy."
The Celtics' odds have improved slightly after they opened at 8-1 to win the 2019 title.
"If he doesn't go to Philadelphia, I would raise Philadelphia and lower Boston and Boston would be the Eastern Conference favorite," Sherman said. "But even if Philadelphia doesn't get LeBron, they have enough cap space to add another free agent and there's a chance they can trade (Markelle) Fultz and (Dario) Saric and draft picks and get Kawhi Leonard.
"There are so many things that can happen. Once free agency settles, you'll see some drastic changes in these odds."
The Lakers opened at 20-1 before action on them moved the odds to 14-1. But Sherman, a lifelong Lakers fan, doesn't see it happening.
"It's going to be tougher (to win a title) if he goes to the West," Sherman said. "Especially if he goes to the Lakers. Then he has to go through Houston and Golden State."
The Miami Heat opened at 20-1 but have since been bumped up to 50-1. Sherman said their odds would shoot up to 100-1 if James, as expected, doesn't sign with his former team.
"That's probably the longest shot of it happening," Sherman said of Miami. "Philadelphia, Houston and the Lakers look like the three most likely landing spots."
If James doesn't sign with the Lakers, Sherman said their odds will skyrocket to 100-1.
Contact reporter Todd Dewey at tdewey@reviewjournal.com. Follow @tdewey33 on Twitter.
2019 NBA championship
Posted at Westgate sports book
Golden State Warriors; 6-5
Houston Rockets; 7-2
Philadelphia 76ers; 7-2
Boston Celtics; 7-1
Los Angeles Lakers; 14-1
San Antonio Spurs; 30-1
Cleveland Cavaliers; 30-1
Miami Heat; 50-1
Toronto Raptors; 50-1
Utah Jazz; 60-1
Oklahoma City Thunder; 60-1
Portland Trail Blazers; 80-1
New Orleans Pelicans; 80-1
Minnesota Timberwolves; 100-1
Denver Nuggets; 100-1
Milwaukee Bucks; 100-1
Washington Wizards; 100-1
New York Knicks; 100-1
Indiana Pacers; 100-1
Los Angeles Clippers; 100-1
Phoenix Suns; 200-1
Charlotte Hornets; 300-1
Detroit Pistons; 300-1
New Jersey Nets; 300-1
Sacramento Kings; 300-1
Chicago Bulls; 300-1
Dallas Mavericks; 300-1
Orlando Magic; 500-1
Memphis Grizzlies; 500-1
Atlanta Hawks; 1,000-1