Avid bettors help sports-gambling business grow
January 30, 2013 - 3:39 pm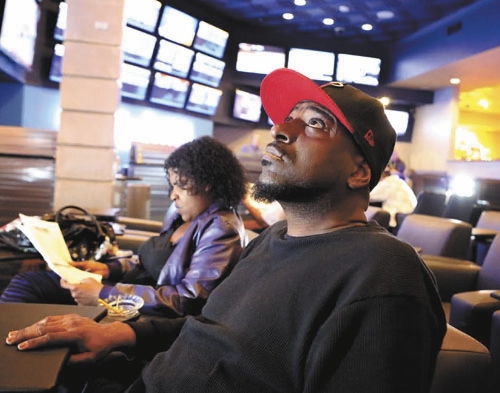 Michael Ciasco was quickly considering whom to bet on in the third race at Tampa Downs.
It was Friday morning, and Ciasco, who has bet on horse racing almost every day since he arrived in Las Vegas 36 years ago, took his seat at William Hill's sports book at Terrible's.
Armed with a small coffee, a pencil and the Player's Edition of the Daily Racing Form, Ciasco was ready for his day at the office.
"I come here around 9 a.m., have breakfast, bet until about 1 p.m. and then I go home," Ciasco said. "I do it every day. I only bet dollars on each race and I'm only a horse player."
Ciasco said he isn't comfortable betting more than $3 or $4 dollars per race. That adds up to $18 or $19 a day, making Ciasco a cautious if not thrifty gambler.
"Money management in this town is very important," he said. "I don't have a system of my own, so I'm pretty much picking horses at random."
Sports bettors all have their own reasons for why they might put anywhere from $5 to $50,000 on a game.
"It's exciting," said Kandace Allman. "I watch every minute and really get into the game when I have money on it. Sometimes, I yell at the TV telling them what they should be doing."
Allman sounds like a lot of people you meet at Las Vegas sports books.
"I win a lot," she said. "I like to bet on NBA and NFL games, but I've started (betting) on hockey and college games. I'm really into betting on the Oklahoma City Thunder."
Allman also likes to put a few dollars on the Golden State Warriors, Los Angeles Clippers, and Detroit Pistons. Both Allman and her friend, Connie Martin, took the 4 points and the Baltimore Ravens to defeat the San Francisco 49ers in the Super Bowl on Sunday.
As of Thursday, the over-under on the game is 47.5 points.
"I can't predict the future, but I like the Ravens," Martin said.
While it might be a marginal addition to Nevada's total gaming revenues, gambling on sports is big business. In 2011, casino visitors wagered more than $2.8 billion on sporting events, with sports books taking home $140.7 million, according to the Nevada Gaming Control Board.
"It's mostly football," said David G. Schwartz, director of the Center for Gaming Research at the University of Nevada, Las Vegas. "Football has declined though and basketball is gaining in popularity. That's because the NCAA is getting a lot more attention than it did years ago."
Schwartz said $57.3 billion has been bet on sports in Nevada since 1984, with sports books winning $2.6 billion.
It's been a profitable career for Joe Asher, a former attorney turned bookmaker.
Asher founded Brandywine Bookmaking LLC in 2008. His company operated Lucky's Race and Sports Books at Terrible's and 15 other sports books statewide, and set odds for the Delaware State Lottery's parlay bets on NFL games.
Today, Asher is CEO of William Hill U.S. in Las Vegas, overseeing the company's 160 sports books and kiosks, 400 employees and an oddsmaking business in Delaware. Brandywine, along with American Wagering Inc. and Club Cal Neva's business in Northern Nevada were purchased in June for $49 million by British bookmaker William Hill Plc.
"Without question, it was the right thing to do," Asher said. "Brandywine had grown pretty rapidly since its start (in 2008), and I was trying to think about where we go from here."
Asher said originally he wasn't interested in selling, but William Hill made him a $15.7 million offer he couldn't refuse.
"I was looking for a strategic partner who would invest in the business to give us some additional capital," he said. "But from William Hill's perspective, they came up with the idea of buying the three companies and didn't seem to have that much interest in making a minority investment."
William Hill, a publicly traded company on the London Stock Exchange, is expecting its investment to yield results.
Neil Cooper, group finance director at William Hill in London, recently told analysts the company "expects earning enhancement" from its first full year in Nevada. On Wednesday, William Hill said the company's U.S. business was in the red, "impacted by weak sporting results, particularly the NFL in November, and as a result delivered a modest operating loss."
William Hill spent $10 million upgrading sports books statewide and expanding its mobile and product offerings. The company is also investing in upgrading mobile sports betting applications and expanding its kiosks statewide.
"Mobile and kiosks are so important to the future of this business in Nevada because (we) need to keep up with technology," Asher said. "Customers also want the convenience."
At Terrible's, the sports book has been remodeled and features William Hill's blue, yellow, white and gray color scheme, and a dozen new chairs in front of a wall of 10 televisions showing sports. It also has separate televisions and a section of betting carrels dedicated to horse racing, while 12 televisions posting and updating odds on everything from NBA and college basketball games to European soccer matches.
A TV is also dedicated to "Future Bets," with Team USA a 5-2 favorite to win the 2013 World Baseball Classic in March.
Asher said William Hill will continue to invest in its U.S. business.
"Now that the Terrible's sports book has been entirely redone, work is under way at Buffalo Bill's (in Primm) as well," Asher said. "We are in the final planning stages of upgrades to the Plaza in downtown Las Vegas."
Contact reporter Chris Sieroty at csieroty@reviewjournal.com or 702-477-3893. Follow @sierotyfeatures on Twitter.
INSIDE LOOK
Company: William Hill U.S.
Headquartered in: Las Vegas
Employees: 400
Sports books: 101
Kiosk locations: 59
Parent company: William Hill Plc.
Ticker symbol: WMH (London Stock Exchange)
Company info: William Hill U.S. began operating in June after the Nevada Gaming Commission granted its parent company a gaming license. William Hill U.S. includes the former companies Brandywine Bookmaking LLC, American Wagering Inc. and Club Cal Neva's sports book business in Northern Nevada. The British bookmaker spent $49 million to enter the Nevada gaming business. William Hill also is the bookmaker or "risk manager" for the NFL parlay betting system operated by the Delaware lottery.