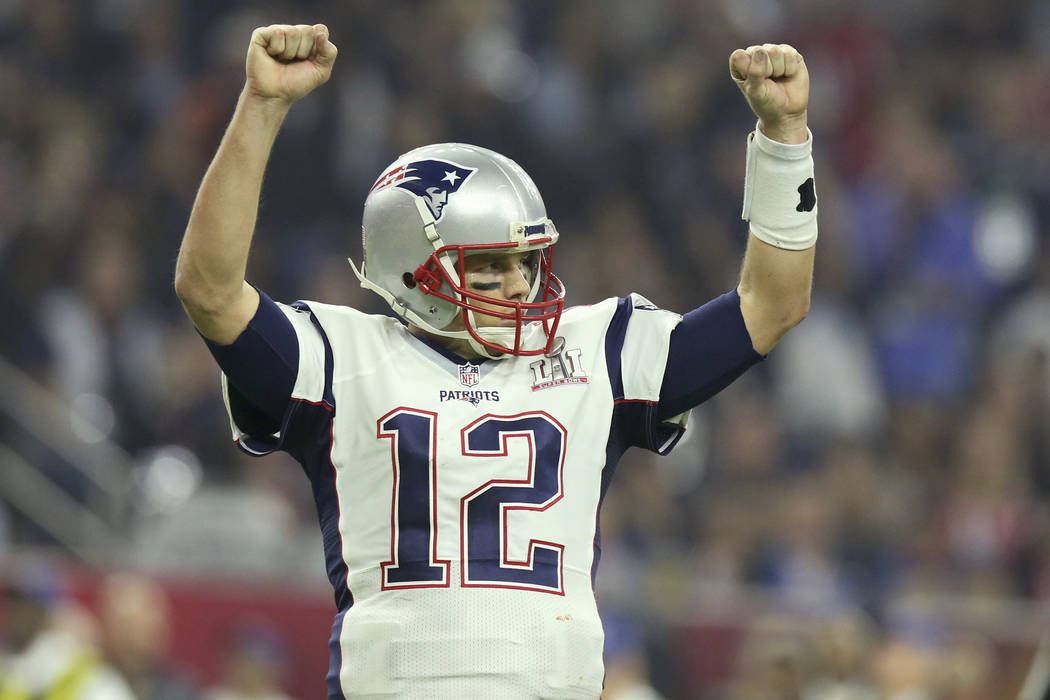 Football season is still more than three months away, but lines already are available for wagering on all but a handful of the 2017 NFL regular season's 256 games.
Division, conference and Super Bowl LII odds also are on the board at Las Vegas sports books, along with team season win totals, which have generated plenty of action.
"These are so popular with the public," Westgate sports book manager Ed Salmons said.
Salmons said he's written the most action on unders for the Browns (4½, -130), Chargers (7½, -135) and Jets (5, -140), and overs on the Raiders (9½, -140), Dolphins (7, -150), Buccaneers (8, -110), Colts (8½, -110) and Vikings (8½, even).
"The public will always take the perceived worst teams and bet them under. It worked for them last year," he said. "I'm on the opposite end of that. I think teams like Cleveland can always get better. With all the draft picks they got, how can Cleveland possibly play to the level they did last year? It would almost be impossible."
The Browns finished 1-15 last season, but lost two games in overtime and three others by five points or fewer. They added three first-round picks, including defensive end Myles Garrett (Texas A&M) with the No. 1 overall selection, and quarterback DeShone Kizer (Notre Dame) in the second round.
Point taken
Miami went 10-6 last season with a minus-17 point differential while the Chargers finished 5-11 with a minus-13 point differential.
"That happens in a small sample. Looking at the point differential, you'd say the team that went 10-6 was very lucky and the team that went 5-11 was very unlucky," Salmons said. "With San Diego going to Los Angeles now, they'll be in a smaller stadium and will get good support there. This will be a positive, fresh start for them.
"They've just been decimated by injuries the last couple of years and it's staggering how many games they've lost in the fourth quarter."
Scheduling issues
Salmons expects the Jets to improve on last season's 5-11 mark after they went 10-6 in 2015 and made the playoffs.
"The Jets are the definition of why teams go up and down. Now they go back to a last-place schedule," he said. "The schedule is huge. It's so underrated as far as who you play."
On the flip side, Salmons said brutal schedules will make it difficult for the Raiders and Cowboys (Over 9½, -130) to reach double-digit wins for the second consecutive season.
"I like the Raiders team, but they're definitely playing one of the hardest schedules in the NFL. There's not a lot of easy games," he said. "They play the NFC East and all the trips to the East Coast will be very difficult.
"The Raiders also had all those close games last year. One year, you win the close games and the next year you lose them. If they can win 10 given their schedule, that would be a pretty good achievement."
The same can be said of the Cowboys.
"We definitely think Dallas benefited from close wins and a last-place schedule last year. This year, it's the opposite. They play the first-place schedule," Salmons said. "Given their schedule, the Cowboys are definitely a team we look at for regression."
Record win total
The Patriots' win total of 12½ is not only the highest number on the board, but the highest total Salmons has seen in 24 years behind the counter.
"There's not one game I see them being a 'dog in," he said. "New England has upgraded their skill positions so much. They'll have way more weapons offensively this year."
Short division
New England is a minus-1400 favorite at the Westgate to win the AFC East for the ninth straight season and 15th time in 17 years. The CG Technology sports book opened the Patriots at the bargain rate of minus-330 to win their division. The line has since climbed to minus-800 after one bettor wagered $6,000 to win $1,000 on New England.
Contact reporter Todd Dewey at tdewey@reviewjournal.com or 702-266-6080. Follow @tdewey33 on Twitter.
NFL betting
2017 division odds courtesy of the Westgate sports book
NFC East
Dallas Cowboys; +125
New York Giants; +275
Philadelphia Eagles; +350
Washington Redskins; +450
NFC North
Green Bay Packers; -250
Minnesota Vikings; +325
Detroit Lions; +600
Chicago Bears; +5000
NFC South
Atlanta Falcons; +160
Carolina Panthers; +200
Tampa Bay Buccaneers; +400
New Orleans Saints; +400
NFC West
Seattle Seahawks; -400
Arizona Cardinals; +325
Los Angeles Rams; +1500
San Francisco 49ers; +4000
AFC East
New England Patriots; -1400
Miami Dolphins; +800
Buffalo Bills; +1500
New York Jets; +10000
AFC North
Pittsburgh Steelers; -150
Baltimore Ravens; +275
Cincinnati Bengals; +325
Cleveland Browns; +8000
AFC South
Indianapolis Colts; +225
Houston Texans; +225
Tennessee Titans; +200
Jacksonville Jaguars; +500
AFC West
Oakland Raiders; +180
Kansas City Chiefs; +200
Denver Broncos; +350
San Diego Chargers; +400