Bookmakers, LaVar Ball at odds over Lakers' playoff chances
Updated June 26, 2017 - 10:49 pm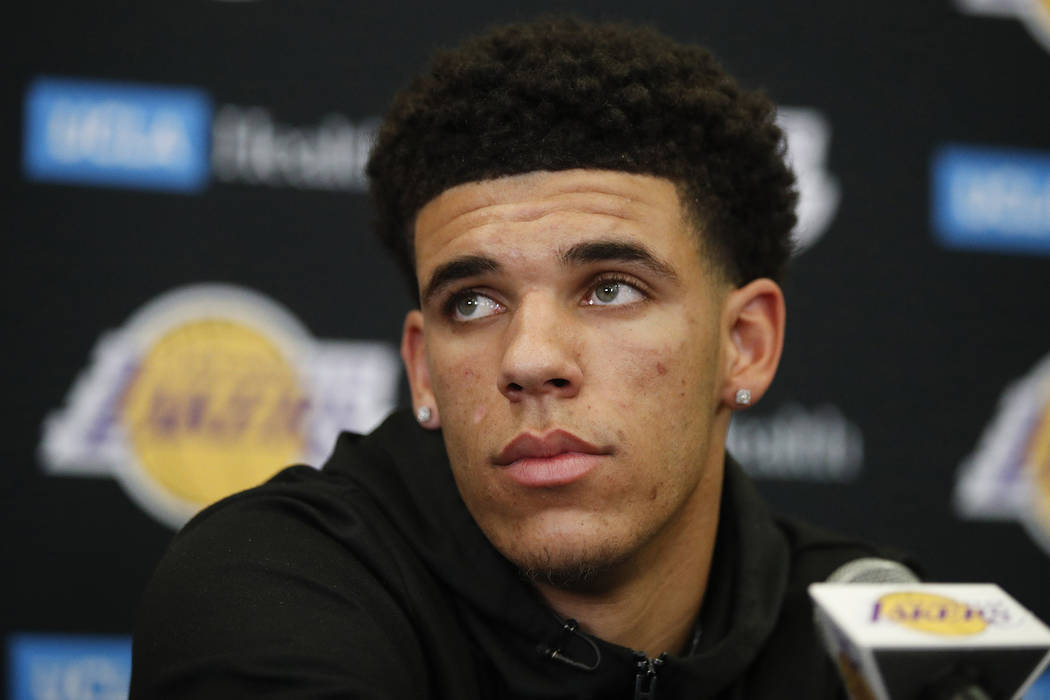 Divine intervention wasn't needed to predict that the Los Angeles Lakers would select UCLA point guard Lonzo Ball with the second pick in the NBA draft. But that didn't stop Ball's bombastic father, LaVar Ball, from invoking a pair of higher powers during a predraft interview on ESPN.
"I told you. From the words of Zeus, Jesus, everybody said he gonna be a Laker," he said.
Following his son's selection at No. 2, LaVar Ball made another prediction that might require divine intervention.
"Lonzo Ball is going to take the Lakers to the playoffs his first year," he said. "Come see me when he does. I'll say I told you so."
LaVar Ball can back up his bold prediction with his wallet at the Westgate sports book, which posted props on the Lakers and three other teams making the 2017-18 NBA playoffs.
Los Angeles had the third-worst record in the NBA last season at 26-56 while missing the playoffs for the fourth straight year. Will the Lakers make the playoffs next season? Yes is the plus-500 underdog. No is the minus-700 favorite.
"Not under their current construction," said Westgate sports book manager Jeff Sherman, a lifelong Lakers fan. "It's going to be tough this year because they're going to let the kids go and play.
"I think Lonzo Ball is one of the most ready-made rookies coming in. He will have a big impact and make everyone better. But it's his first year and he's going to have to get adjusted to the speed and size of these players. It's going to take him some time to get acclimated."
The Lakers will be led by Ball, Brandon Ingram, Julius Randle and Brook Lopez next season, after which they'll have about $50 million in cap space to sign two marquee free agents. Indiana Pacers All-Star Paul George has said he wants to sign with Los Angeles.
If the Lakers acquired George next season, Sherman said the odds would still be minus-200 against them making the playoffs. But he envisions a future core of Ball, Ingram and George turning Los Angeles into contenders again in relatively short order.
"The next contract Paul George gets, he'll be in the prime of his career," he said. "If they had Ball, Ingram and George and a couple other guys like that, they could look in a few years at being in the top four in the West."
Will Timberwolves end NBA's longest playoff drought?
Yes is a minus-300 favorite after a bettor placed two wagers Monday on Minnesota, which opened at minus-260 following its acquisition Thursday of All-Star Jimmy Butler from the Bulls. Sherman expects the trio of Butler, Andrew Wiggins and Karl-Anthony Towns to end the Timberwolves' 13-year playoff drought next season under former Chicago coach Tom Thibodeau.
"They were an underachieving team last year. Their win total was 40½ and they won 31. They blew a lot of games in the second half," he said. "They've had a year under coach Thibodeau and integrating Butler shouldn't be difficult since he played for him before."
Will 76ers make playoffs?
Yes is a minus-125 favorite for Philadelphia, which will feature the past two No. 1 overall draft picks in Markelle Fultz (2017) and Ben Simmons (2016) and Joel Embiid, the third pick in 2014.
"We just see them ascending in a positive direction while other teams in the East are taking a step back," Sherman said.
The oft-injured Embiid has played only 31 games in three seasons for the 76ers, who went 28-54 last season. But that hasn't stopped the 7-footer from talking smack on social media.
In a tweet to Simmons, Embiid took a shot at Lonzo Ball and his father, writing, "Please dunk on him so hard that his daddy runs on the court to save him."
Contact reporter Todd Dewey at tdewey@reviewjournal.com or 702-383-0354. Follow @tdewey33 on Twitter.