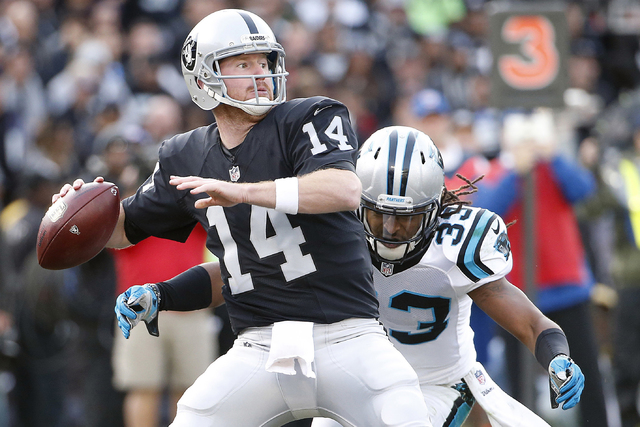 A broken finger on quarterback Derek Carr's passing hand put a question mark behind the Oakland Raiders' postseason potential. But while Carr was adapting to and seemingly overcoming one injury, he suffered another bad break that ended his season and put the team in double jeopardy.
How far can the Raiders go in the playoffs with backup Matt McGloin replacing a Most Valuable Player candidate?
"I would say the perfect scenario is the Raiders beat Denver this week and find a miracle against Pittsburgh at home, and that would be it," Westgate sports book manager Ed Salmons said.
Carr had surgery Tuesday on his broken right leg and is expected to be sidelined six to eight weeks. Only in a miracle scenario could he play in the Super Bowl, and it's difficult to imagine the Raiders getting there without him.
At the Westgate, Oakland's odds doubled — from 6-1 to 12-1 to win the AFC, and from 12-1 to 25-1 to win the Super Bowl — after Carr went down in the fourth quarter of a victory over Indianapolis in Week 16.
The line adjustment from Carr to McGloin initially was about five points. The Raiders opened as 3-point underdogs at Denver in Sunday's regular-season finale. Salmons said Oakland would have been favored by 2½ or 3 with Carr healthy.
But with the Broncos (8-7) eliminated from playoff contention and the Raiders (12-3) in need of a win to clinch the AFC West title, the line is sitting at Denver minus-1.
In the AFC, only Pittsburgh (No. 3) and Houston (No. 4) are locked into their seeds. Oakland can clinch the No. 2 seed with a win at Denver, and it can move to No. 1 if New England, a 9½-point favorite, loses at Miami. The Raiders also could fall to No. 5 if they lose Sunday and Kansas City takes the division title by winning at San Diego.
"It's a huge game for the Raiders," Salmons said. "It's just hard for McGloin to come in this late in the year."
McGloin has experience in Oakland's offense, although most of it has come in meeting rooms and practices. McGloin is 1-5 as a starter, beating the Texans in his first career start, and his last start came in Week 16 of the 2013 season, when the Raiders finished 4-12.
"I didn't think McGloin was that bad," Salmons said, "but the Raiders were atrocious at the time."
McGloin is working with more support this time. Oakland's offensive line boasts three Pro Bowlers and is among the best in the NFL. Amari Cooper and Michael Crabtree are playmaking receivers. Latavius Murray, a 777-yard rusher this season, ran for 114 yards and three touchdowns in a 30-20 victory over the Broncos on Nov. 6.
"I've seen McGloin make big plays and good throws," said John Tournour, also known as JT the Brick, a national radio host who lives in Las Vegas and is a radio broadcaster for the Raiders. "I'm backing McGloin. I would be surprised if he plays poorly."
Tournour said he expects the Raiders to emphasize their running attack against a Denver defense that has been shredded on the ground at times. Offensive coordinator Bill Musgrave eliminated play-action passes because of Carr's finger injury, but that aspect of the offense is back in play with McGloin.
Carr passed for 3,937 yards and 28 touchdowns with six interceptions to enter the MVP debate this season. McGloin, undrafted out of Penn State, has attempted only 55 passes in the past three seasons, including four this season.
It's unlikely McGloin can knock off Tom Brady and the Patriots in the AFC Championship Game. Still, just getting to New England would be a huge step for the Raiders, who can secure a first-round bye by winning at Denver. After that, Oakland probably would host Ben Roethlisberger and the Steelers.
"If the Raiders win Sunday, they get 13 days off to get McGloin prepared, and I like their chances in a home playoff game," Tournour said. "If they don't beat Denver and they have to win three road playoff games, that really looks like uphill sledding."
Most analytics-based handicappers have downgraded Oakland all season, even as the wins kept piling up. The Raiders, with five wins by three points or fewer, rank 27th in the league in total defense. Carr covered for some of the team's shortcomings.
The Patriots are minus-200 favorites in the AFC, with the Steelers and Chiefs each at 9-2 odds. Salmons said if McGloin "looks anything like a competent quarterback" this week, the Raiders' odds will improve
"The Raiders have seemingly had the most lucky wins of any team all year," Salmons said. "They have had a lot of fortunate things go their way."
Carr's leg injury was the unlucky break that makes the Raiders an unrealistic bet to reach the Super Bowl.
Contact sports betting reporter Matt Youmans at myoumans@reviewjournal.com or 702-387-2907. Follow @mattyoumans247 on Twitter.