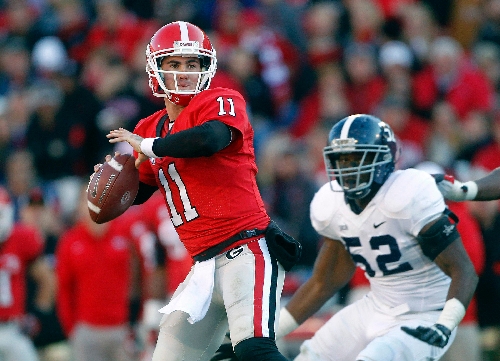 Play Q & A with handicapper Kelly Stewart, who will answer selected questions from Las Vegas Review-Journal readers. Email her at Askkelly@reviewjournal.com.
Q: Are we going to see Alabama in the BCS title game?
– Larry, Orlando, Fla.
A: Yes, if Alabama can find a way to beat Auburn – a 33-point underdog Saturday. All joking aside, the Crimson Tide must get by Georgia in the Southeastern Conference title game in Atlanta before they can seal their spot in the national championship game. That might not be as easy as it seems.
The Bulldogs (10-1) have looked much better lately, winning five straight since their collapse at South Carolina in early October. It's going to take great quarterback play to beat Nick Saban's defense, and Georgia could get that from junior Aaron Murray, who has passed for 2,986 yards and 28 touchdowns with only seven interceptions. I'm not completely sold on the upset, but you can bet I'll be taking the Bulldogs and the points in that one.
Q: Great job going 4-1 in your picks last week. Can you give me two good college bets for this weekend?
– Alan, Amarillo, Texas
A: My two favorite bets are Oklahoma State plus-7 and Stanford minus-2.
The Cowboys really have been good to me this season, covering in every game I bet on them and not covering against Kansas State. They go into Norman with a legitimate chance to upset Oklahoma, which is off a wild 50-49 win at West Virginia. Stanford reaches the Pacific-12 championship game with a win Saturday, and the Cardinals have owned UCLA the past three years.
Q: Being a rank amateur in the football betting world, I wonder if you could explain some of the things that I don't understand, like the money line?
– Jim, Las Vegas
A: For example, in last week's Ohio State-Wisconsin game, the Badgers were 2 1/2-point favorites and minus-130 on the money line. You had to wager $130 on Wisconsin to win $100.
The Buckeyes were plus-110 on the money line, so if you wagered $100 on the underdog, you won $110 (in addition to the $100 you bet) because Ohio State won the game.
Go to my website (Hottiehandicappers.com) and click on the "Betting 101" link. The betting basics for beginners are explained in more detail there.
Q: What's your best bet Sunday for the NFL?
– Steve, Las Vegas
A: Green Bay plus-3 against the New York Giants, who are 1-4 against the spread at home. The Giants are coming off a bye and are 3-8-1 ATS when doing so. Also, as we know, November just isn't their month. The Giants defense is stagnant, and I'll look more toward Packers quarterback Aaron Rodgers to have a big game than the slumping Eli Manning.
Kelly Stewart of Hottiehandicappers.com can be reached at Askkelly@reviewjournal.com. Follow her on Twitter: @kellyinvegas.
KELLY'S HOT TIPS
The weekend's five best bets:
• Texas Tech (+3) over BAYLOR
• OREGON STATE (+10) over Oregon
• USC (+6) over Notre Dame
• COLTS (-3) over Bills
• Seahawks (-3) over DOLPHINS
Last week: 4-1
Season: 17-17-1