Handicapper likes Golden Knights over Jets in Game 4
Updated May 17, 2018 - 7:13 pm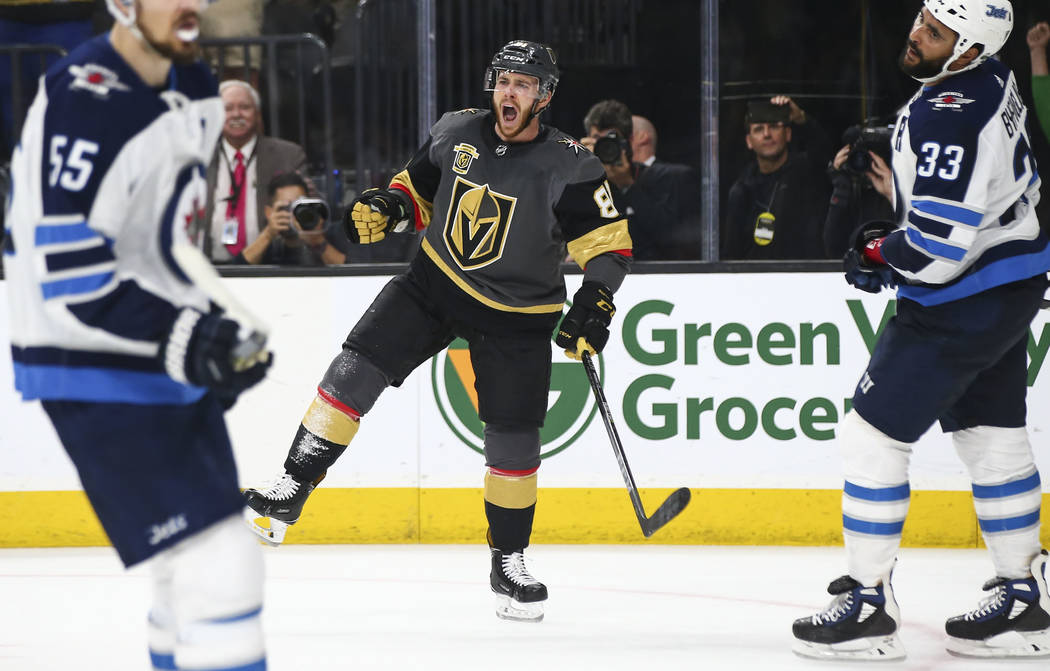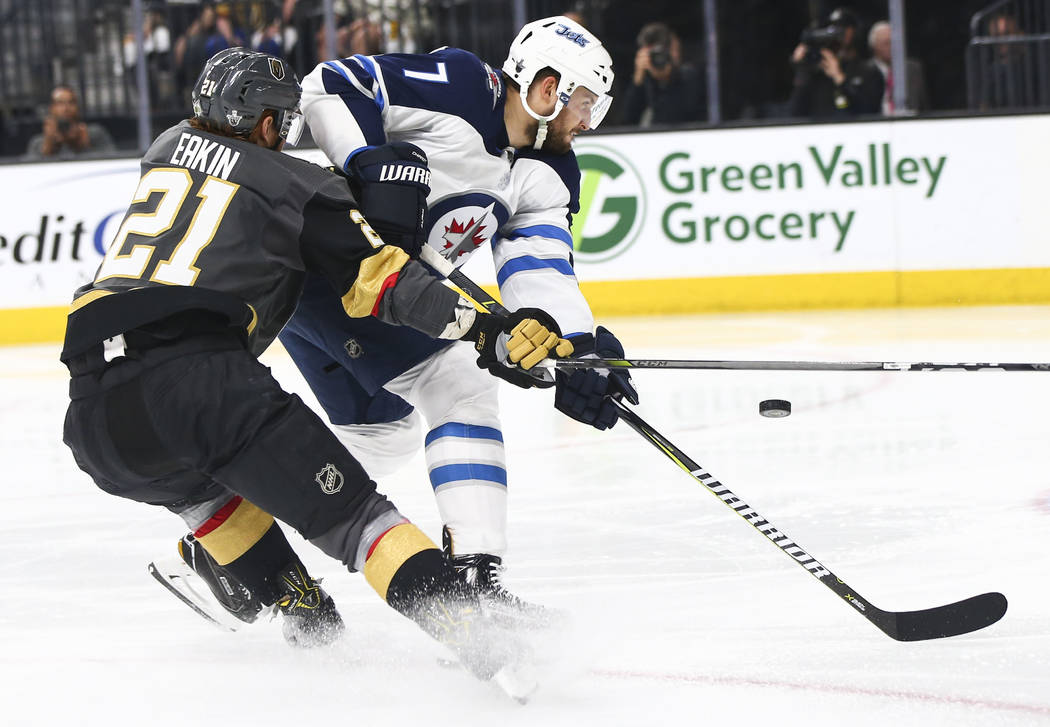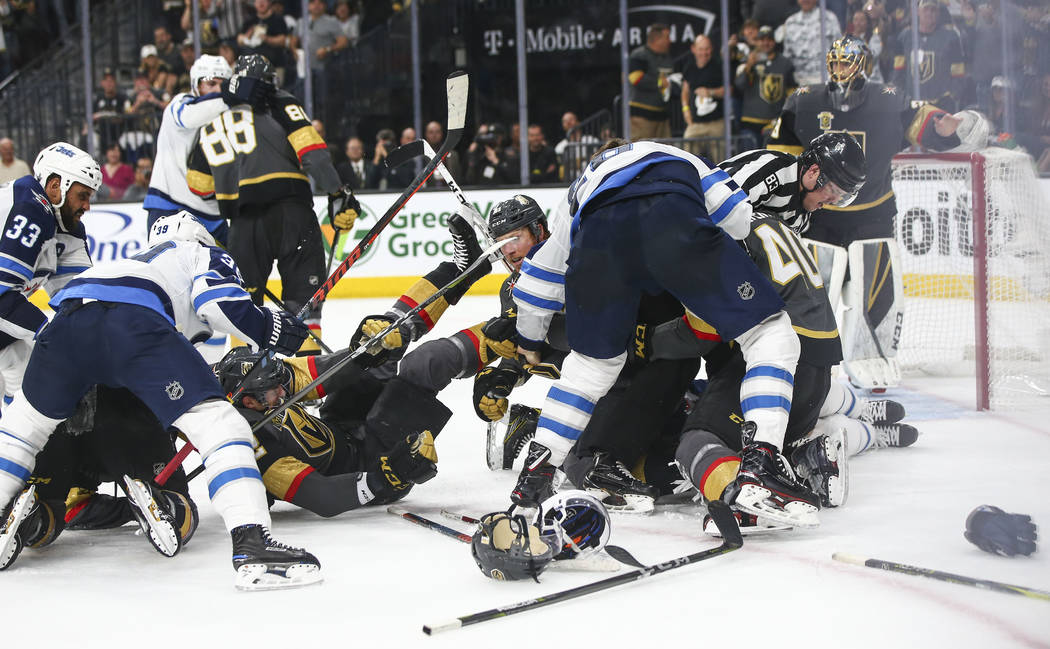 Like so many gamblers who have failed to crack the code at Las Vegas casinos, Winnipeg Jets coach Paul Maurice has struggled to find the winning formula against the Golden Knights.
After the Jets came out flying in a 4-2 win in the opener of the Western Conference Final, they tried to beat the Knights with speed and finesse in Game 2 but failed in a 3-1 loss in Winnipeg.
The Jets, the NHL's biggest team, attempted to impose their will physically in Game 3 but came up short in a 4-2 loss at T-Mobile Arena.
"They went from having 17 hits in Game 2 to having 48 in Game 3," handicapper Dana Lane said. "They're trying different things. That's an indication to me that Paul Maurice is still trying to find the right combination to unlock the key to Vegas' demise.
"He's a little frustrated. Vegas can play any way Winnipeg wants to play."
While road teams have a winning record in the Stanley Cup playoffs, the Knights are 5-1 at home, where they've outscored opponents 22-10 while winning three games by at least two goals.
Jonathan Marchessault scored 35 seconds into Game 3 and added an empty-net goal with 2.7 seconds left to cover the puck line (-1½) and push the game over the total in what CG Technology sports book director Jason Simbal said was a $60,000 swing for his book.
Lane expects the fast times at T-Mobile Arena to continue Friday night for the Knights, who are minus 130 favorites over the Jets in Game 4.
"Vegas is getting more comfortable. They're finding more things about Winnipeg to exploit than Winnipeg is finding about them to exploit," said Lane (@DanaLaneSports). "You can definitely see the momentum changing in this series. For about seven minutes in the third period (Wednesday), Winnipeg applied as much pressure as they possibly could have on Vegas and they still could not get the job done.
"I'm really thinking Vegas is going to win Game 4 and they're going to put a stranglehold on this series."
The total is 5½ (Over minus 115), and the Knights are plus 220 on the puck line. The Knights have won four of their past five playoff games by at least two goals.
When Knights goalie Marc-Andre Fleury wasn't amusing himself — and TV viewers — by tickling Blake Wheeler's ear during a scrum in front of the net, he put on a show between the pipes, robbing Mark Scheifele twice during one sequence midway through the third period to preserve the lead.
"I said Fleury had to steal one or two of these games, and that was his first one," Lane said. "Marc-Andre Fleury has gone from a top-10 goaltender to a top-3 one in Las Vegas."
Fleury and Scheifele, the league's leading goal scorer this postseason, are the 3-1 co-favorites to win the Conn Smythe Trophy as the playoff MVP.
Before the series, Lane said the biggest key would be staying disciplined, and the Knights allowed the Jets only two power plays Wednesday after giving them three in Game 2 and four in Game 1.
"Vegas just keeps on grinding, stays disciplined and keeps playing their system with a bunch of guys that really have something to prove," Lane said. "That's why they've been so successful this year."
Contact reporter Todd Dewey at tdewey@reviewjournal.com. Follow @tdewey33 on Twitter.
Prop bets
Game 4, Golden Knights-Jets
Posted at Westgate sports book
Will either team score in the first 10 minutes?
Yes -130
No +110
Will the game go into overtime?
Yes +300
No -400
Will either team score three straight goals?
Yes +190
No -240
Will the team that scores first win the game?
Yes -260
No +210
Will Patrik Laine score a goal?
Yes +180
No -220
Will Mark Scheifele score a goal?
Yes +170
No -200
Will Paul Stastny get a point?
Yes -130
No +110
Will Dustin Byfuglien get a point?
Yes -110
No -110
Will the Jets score at least one goal in the first period?
Yes -130
No +110
Will William Karlsson score a goal?
Yes +170
No -200
Will Jonathan Marchessault score a goal?
Yes +170
No -200
Will James Neal score a goal?
Yes +220
No -270
Will Erik Haula score a goal?
Yes +230
No -280
Will Reilly Smith get a point?
Yes -160
No +140
Will Erik Haula get a point?
Yes -125
No +105
Will the Golden Knights score at least one goal in the first period?
Yes -160
No +140
Total shots on goal by Jets 31½
Total goals by Jets
Over 2½ -125
Under 2½ +105
Total shots on goal by Golden Knights 31½
Total goals by Golden Knights
Over 2½ -150
Under 2½ +130
Player to score first goal
Mark Scheifele 6-1
William Karlsson 7-1
Jonathan Marchessault 7-1
Patrik Laine 7-1
James Neal 10-1
Erik Haula 15-1
Reilly Smith 18-1
Kyle Connor 18-1
Paul Stastny 18-1
Alex Tuch 18-1
Blake Wheeler 18-1
Dustin Byfuglien 20-1
Nikolaj Ehlers 25-1
Mathieu Perreault 25-1
Bryan Little 40-1
David Perron 40-1
Cody Eakin 40-1
Shea Theodore 40-1
Tomas Tatar 40-1
Colin Miller 50-1
Nate Schmidt 60-1
Joel Armia 60-1
Tyler Myers 60-1
Ryan Carpenter 80-1
Andrew Copp 80-1
Adam Lowry 100-1
Brandon Tanev 100-1
Josh Morrissey 100-1
Brayden McNabb 100-1
Deryk Engelland 100-1
Pierre-Edouard Bellemare 100-1
Jacob Trouba 100-1
Toby Enstrom 100-1
Ryan Reaves 200-1
Luca Sbisa 200-1
Ben Chiarot 200-1
Field (all others) 30-1