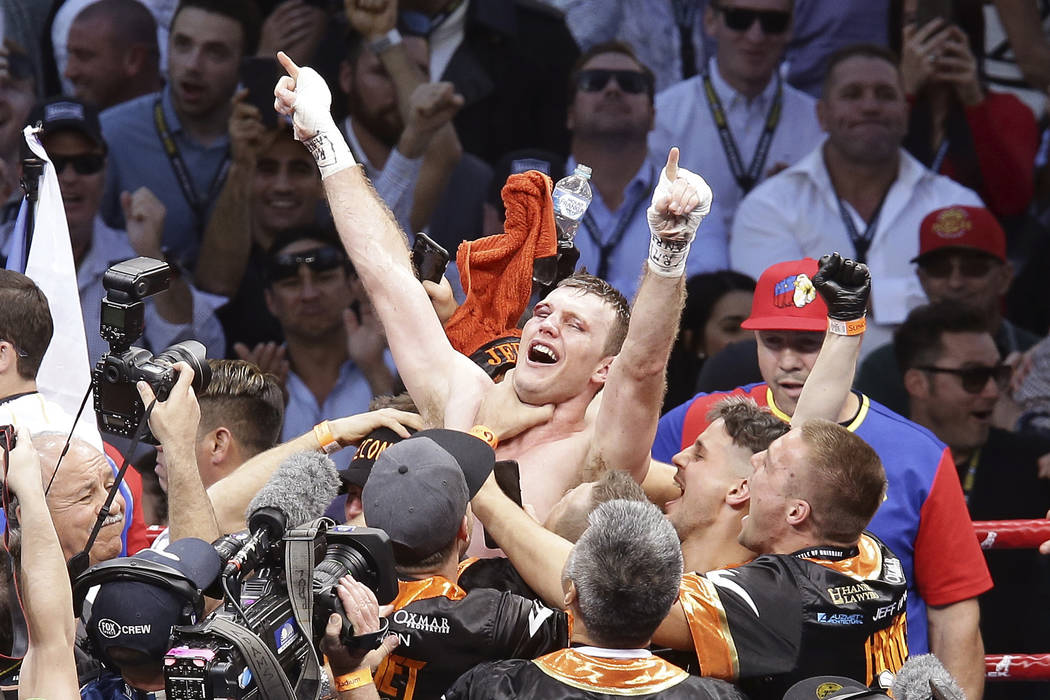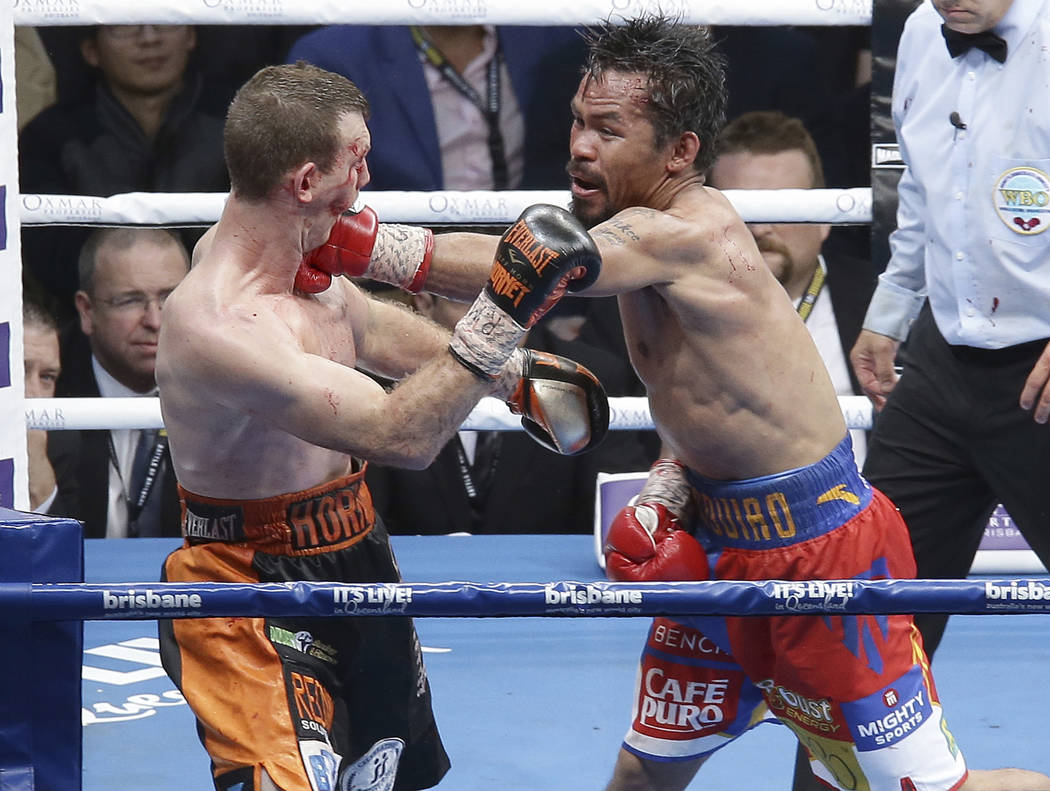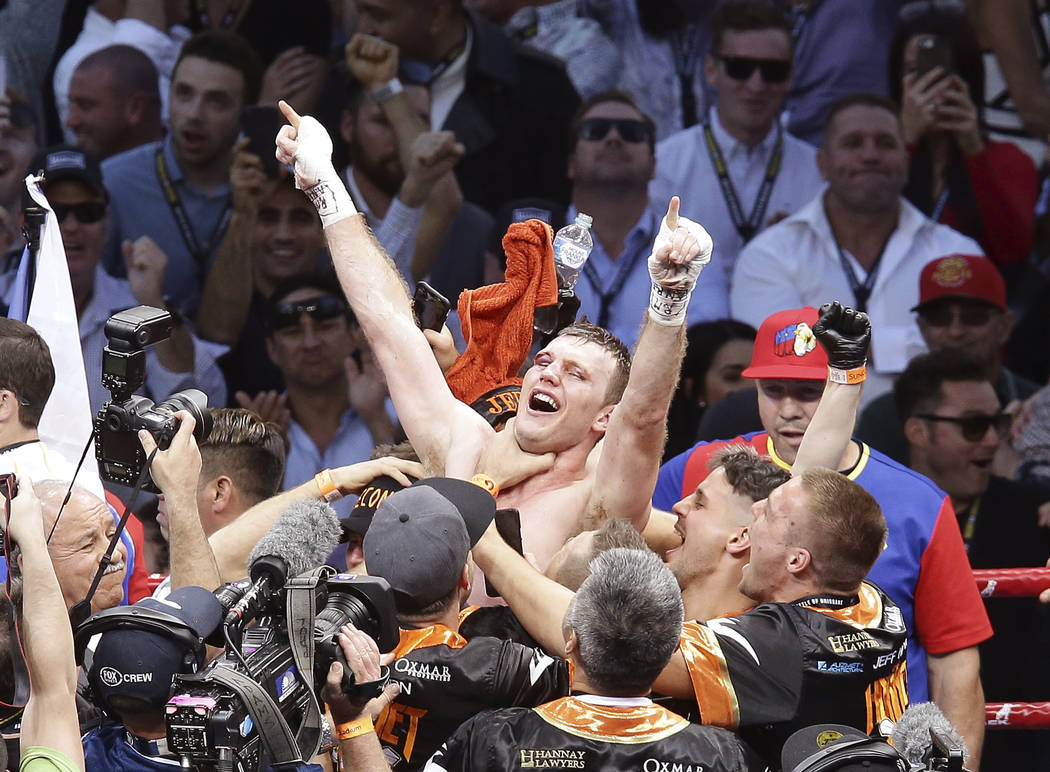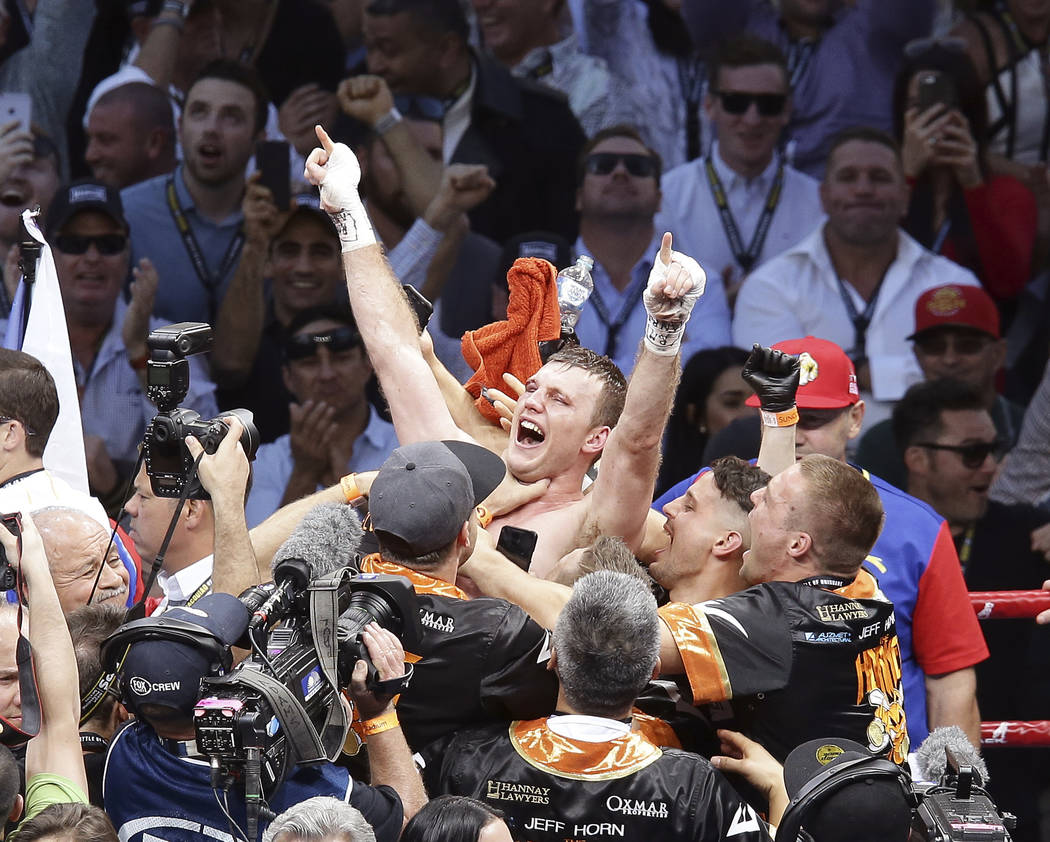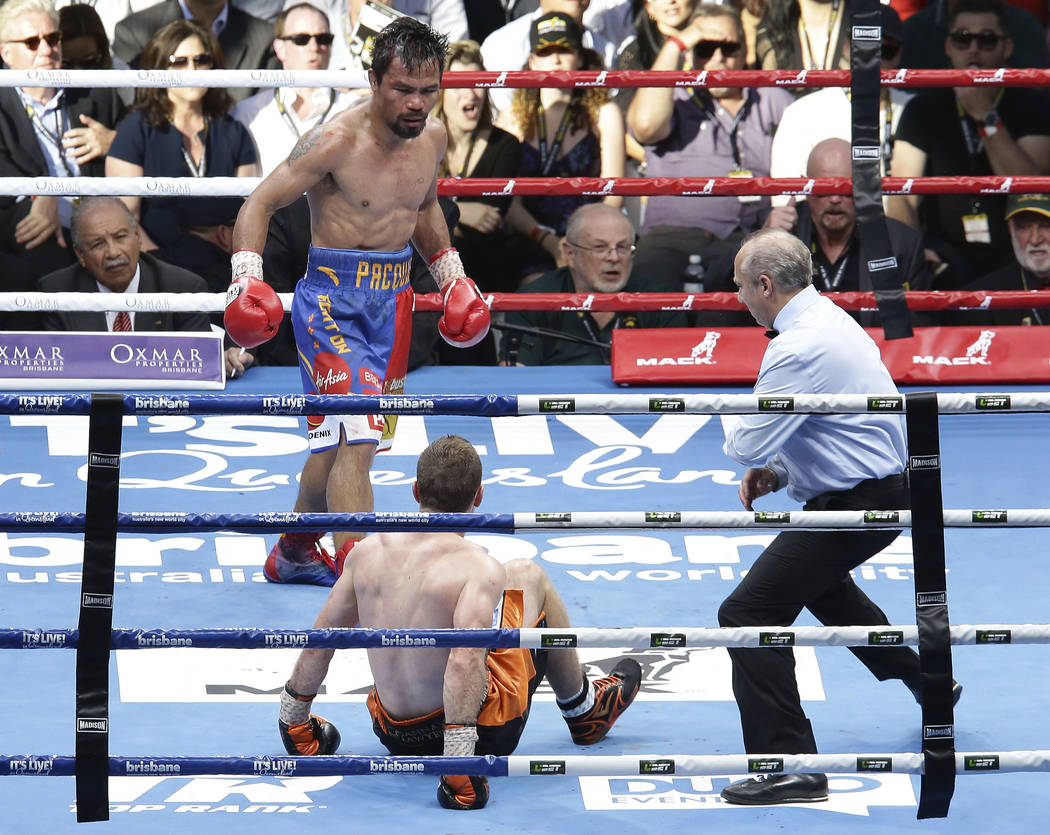 When the decision was announced for Sugar Ray Leonard-Thomas Hearns II, there was pandemonium at the outdoor arena at Caesars Palace.
The fight, for Leonard's WBC super middleweight title, was scored a draw.
"My co-worker, Lou D'Amico, and I crawled under the ring and escaped back to the book through the Italian restaurant's kitchen," former Caesars Palace sports book director Vinny Magliulo said. "That was how volatile the crowd was at that decision. Hearns knocked Leonard down twice in the fight, and the bout was declared a draw.
"There was almost a riot with that decision."
Magliulo, a VSiN host, recounted the June 1989 fight while discussing Jeff Horn's controversial unanimous decision over Manny Pacquiao on Saturday night in Horn's hometown of Brisbane, Australia. Pacquiao closed as a 7-1 favorite, and Horn was a 5-1 underdog at Wynn Las Vegas.
"As always with boxing, the moral of the story is buyer beware because your wager is at the mercy of the judges," Magliulo said.
Leonard was a 3-1 favorite for his rematch with Hearns, and Magliulo said most of the wagers were on the underdog at Caesars.
"We spent most of the night refunding the fight," he said. "Typically, the draw would range from 30-1 to 50-1, and people would always bet the draw. But that night, for some reason, there were very few tickets on the draw."
The referee almost stopped Saturday's fight after the ninth round, when Pacquiao battered and bloodied Horn, and Pacquiao landed almost twice as many punches (182-92) overall. But Horn, a 5-1 underdog, was still declared the winner.
"He won the fight as much as (Timothy) Bradley won the fight against Pacquiao, which means he didn't win it," said Wynn sports book director Johnny Avello, who took multiple six-figure wagers on Pacquiao.
Pacquiao also suffered a controversial split-decision loss to Timothy Bradley in June 2012 despite landing almost 100 more punches (253-159).
"That was a horrible decision," Westgate sports book manager John Murray said. "Pacquiao clearly won that fight, and they gave that one to Bradley. That was awful, maybe even worse than the Horn decision. Pacquiao has been on the wrong end of probably two of the worst decisions in the last 10 years."
Veteran South Point oddsmaker Jimmy Vaccaro offered advice for boxing bettors.
"If you're betting boxing or anything that has to do with a vote, never rip up your ticket because you never know if the person who has the power to score these things sees the same things you see," he said. "I thought Pacquiao won, but I've been around so long, I've seen bouts like that when you were stunned by the final call."
Vaccaro said the most egregious decision he has seen, which caused millions of dollars in wagers to be refunded, was a draw between Pernell Whitaker and Julio Cesar Chavez in September 1993 at the Alamodome in San Antonio.
"I thought maybe Chavez won a round or two, and they called it a draw. The cry heard after that fight was 10 times worse than what you heard (Saturday)," Vaccaro said. "Calling that fight a draw was the worst decision I've ever been a part of in the last 40 years."
Sports Illustrated ran a headline on its cover after the fight that screamed "Robbed!" The subhead was "Pernell Whitaker whips Julio Cesar Chavez in a dubious draw," and the cover story noted that the decision was "so violently in contempt of plausibility that even a number of Chavez's partisans in the largely Mexican-American crowd of 65,000 appeared embarrassed as they quietly left the arena."
One bettor at The Mirage, where Vaccaro was the sports book director, was ecstatic when the stunning decision was announced and he realized he hadn't lost his $100,000 wager on Chavez after all.
"I was in my office at The Mirage, and we were $300,000 high on Chavez at the time," Vaccaro said. "A half-hour before the fight started, one of the casino hosts wanted a high roller to watch the fight in the back without being bothered. I knew he had $100,000 on Chavez.
"Watching the fight, it looks like we're going to have a nice day. Waiting to hear that decision, you would've bet all the money you could've ever had on Whitaker. When the fight was called a draw, (the high roller) was delirious."
To help fix boxing's flawed scoring system, Magliulo and Westgate sports book director Jay Kornegay recommend increasing the number of judges from three to five, albeit in different ways.
"I'd add a fourth official, so there's a judge on every side of the ring, and let the referee score the bout and throw out the high and low," Magliulo said.
Kornegay suggested using the CompuBox stats in some form.
"I just don't understand why so many sports have replays and analytics and boxing just refuses to use that information to enhance their sport," he said. "I don't understand why they don't use CompuBox stats to at least be part of the decision. Maybe count three judges and punch stats count as two judges or something. That's how many punches were landed."
Besides adding more and better qualified judges, Avello said boxing should start showing the scores after each round.
"In every other sport, we know the score when it happens," he said. "I know the reasons (against) it. If guys know they're too far behind or too far ahead, they might not fight as good. There's a lot of reasons (against) it, but they're all wrong reasons."
But Vaccaro said posting scores after every round would be "disastrous."
"Why? It's very simple. If it's the 10th round and your guy's up by a point, the last two rounds he won't even go near the middle of the ring," he said. "You might argue the guy behind might take more chances, but he figures to get hit more. That's the main reason I could never ever foresee posting numbers after each round. I don't think it will work."
Contact reporter Todd Dewey at tdewey@reviewjournal.com or 702-383-0354. Follow @tdewey33 on Twitter.
Five of boxing's most controversial decisions
Jeff Horn (unanimous decision 12) over Manny Pacquiao
Saturday night's fight in Horn's hometown of Brisbane, Australia, was almost stopped after the ninth round, when Pacquiao battered and bloodied Horn, and Pacquiao landed almost twice as many punches (182-92) overall.
Timothy Bradley (split decision 12) over Manny Pacquiao
Pacquiao landed almost 100 more punches than Bradley in the June 2012 bout at the MGM Grand Garden Arena.
Pernell Whitaker (draw) vs. Julio Cesar Chavez
Sports Illustrated ran a "Robbed!" headline on its cover after the September 1993 fight with the subhead "Pernell Whitaker whips Julio Cesar Chavez in a dubious draw." Whitaker quieted the overwhelmingly pro-Chavez crowd of 65,000 at the Alamodome in San Antonio before arguably the worst decision in boxing history was announced.
Sugar Ray Leonard (draw) vs. Thomas Hearns
Hearns knocked down Leonard in two separate rounds in their June 1989 rematch at the outdoor arena at Caesars Palace, where there was pandemonium when the decision was announced. Leonard has since conceded that he lost the fight.
Julio Cesar Chavez (technical knockout, 12) over Meldrick Taylor
Taylor had an insurmountable lead on two of the scorecards in the March 1990 fight at the Las Vegas Hilton and only needed to survive the final round to beat Chavez, who entered with a 66-0 record and 58 knockouts. Taylor was knocked down with 17 seconds left, but got up on the count of six. He was then given a mandatory eight-count by referee Richard Steele, who twice asked Taylor, "Are you OK?" before calling off the fight with two seconds left.
Todd Dewey Las Vegas Review-Journal