Hot tub photo with convicted fixer, UNLV players doomed Jerry Tarkanian
September 8, 2017 - 2:29 pm
Updated September 8, 2017 - 3:07 pm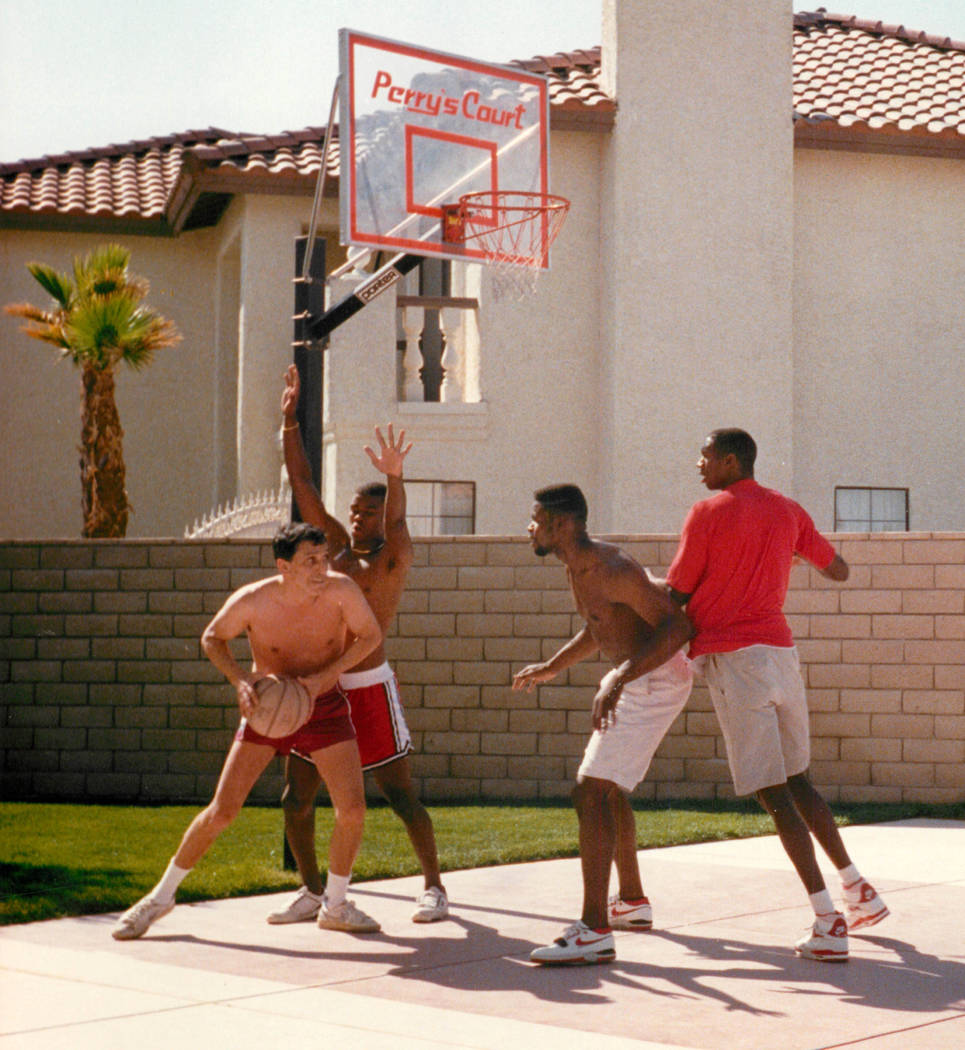 In 2001, the Nevada Gaming Commission lifted a long-standing betting ban on the state's college teams in response to the NCAA's endorsement of a bill that went to Congress that sought to prohibit wagering on college sports.
Nevada sports books then began accepting bets on UNLV and UNR basketball and football games to help exhibit the integrity of regulated wagering, and there have been no issues in the 16 years since the ban was lifted.
When the betting ban was in place, there was a much-publicized issue involving Richard "The Fixer" Perry after the Review-Journal published a photo of the twice-convicted sports fixer sitting in a hot tub with three members of UNLV's 1990 NCAA basketball title team — Moses Scurry, Anderson Hunt and David Butler.
The photo was taken in 1989 but was published May 26, 1991 — less than two months after UNLV's stunning 79-77 loss to Duke in the Final Four semifinals. The Rebels were 34-0 before getting upset by the Blue Devils, a team they had annihilated 103-73 in the 1990 NCAA championship game.
An investigation by the FBI and NCAA didn't uncover any evidence of point shaving.
But the photo essentially ended Jerry Tarkanian's 19-year run as UNLV coach in 1992. The image also led to Perry being added to the Nevada Gaming Control Board's list of excluded persons — aka the "Black Book" — in 1992, mainly because of two felony convictions for influencing the outcome of sporting events.
In 1984, Perry pleaded guilty to conspiring to commit sports bribery in the 1978 Boston College basketball point-shaving scheme. He was sentenced to one year in prison.
In 1974, Perry was convicted of charges in connection with a Superfecta harness racing scandal at the Roosevelt and Yonkers tracks in New York, where jockeys were paid to end in specified orders. He was sentenced to 2½ years in prison and fined $10,000.
Both cases involved individuals associated with the Lucchese organized crime family, including mobster Henry Hill, who was the subject of the Martin Scorcese film "Goodfellas."
Perry, now 72, also was convicted of tax evasion in 1996 for hiding money from an illegal bookmaking business. He was sentenced to 15 months in prison and fined $30,000.
Contact reporter Todd Dewey at tdewey@reviewjournal.com. Follow @tdewey33 on Twitter.
RELATED
Las Vegas bookmakers know a fix when they see one