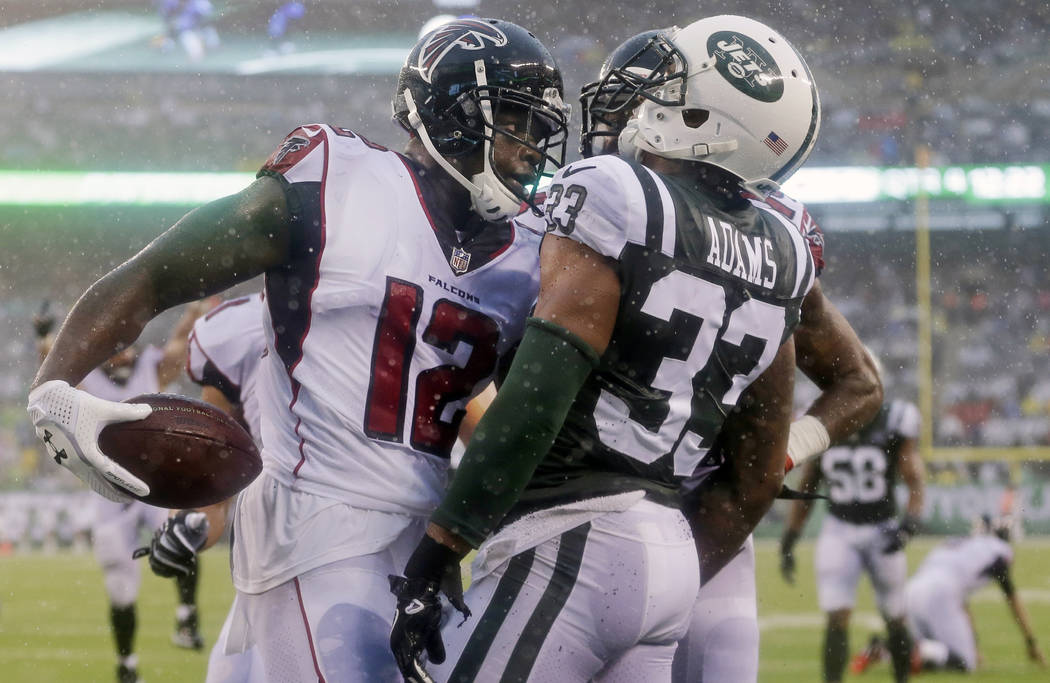 We're only midway through the NFL season, but one team has already eclipsed its season win total and several others are virtual locks to go over or under the preseason numbers posted by Las Vegas sports books.
Based solely on win totals, the New York Giants are the league's biggest underachievers, limping to a 1-7 start that all but guarantees they'll finish under their total of nine.
Meanwhile, the New York Jets (4-5) already have surpassed their total of 3½ wins that was posted at the Westgate sports book.
"It's amazing," Westgate sports book manager Ed Salmons said. "If I said in the first week of November, one of the New York teams has one win and they're dead and the other is 4-5 and looking really good, you'd be shocked it was the Jets I was talking about and the Giants had one win and they'd quit."
The Giants, one of the five most popular Super Bowl LII futures plays at the Westgate, have been hampered by injuries, most notably a season-ending broken ankle to star receiver Odell Beckham Jr.
"It's not the worst thing in the world for the Giants to have a really bad year," Salmons said. "It'll guarantee them one of the quarterbacks in the draft. They'll have a really quick rebuild, kind of like the Colts the year (Peyton) Manning got hurt and they wound up with Andrew Luck."
The Los Angeles Rams (6-2) have enjoyed a quick rebuild under rookie coach Sean McVay. They lead the league in scoring with 32.9 points per game, have already matched their total of six wins and are on pace for their first winning record since 2003.
"For people that say coaching doesn't matter, look at the Rams," Salmons said. "When you watch the Rams play now, you say how in the world could Jeff Fisher take this team and go 4-12 and 7-9 every year?
"It's been an amazing transformation from last year to this year because of the coach."
The Eagles own the NFL's best record at 8-1 thanks in large part to its second-year coach-quarterback combination of Doug Pederson and Carson Wentz. Philadelphia needs only one more win to top its total of 8½.
Other teams on track to top their win totals include the Bills and Jaguars, who are each 5-3 and need two more wins to surpass six, and the Saints and Vikings, who are each 6-2 and need three more wins to eclipse 8½.
Jacksonville, under the first-year combination of coach Doug Marrone and executive vice-president Tom Coughlin, is third in the league in point differential, at plus-89, behind the Rams (plus-108) and Eagles (plus-104).
"Their point differential is just amazing. They're one of the quietest teams you hear about in the media, how good they've gotten," Salmons said. "Their defense is the best in football right now. That team is legit."
Buffalo, guided by rookie coach Sean McDermott, is the only AFC team unbeaten at home.
"They're definitely a team that's overachieved," Salmons said. "The other thing Buffalo is doing real quietly is they're essentially rebuilding as they try to stay relevant. I like what they have going on there now."
The Colts (3-6) are on pace to finish under seven wins and the Browns (0-8) and 49ers (0-9) are on track to finish under 4½.
The Bengals, Broncos and Texans are all 3-5 and appear headed under 8½.
The Raiders and Ravens are both 4-5 and on track to finish under 9½. The Falcons and Packers are each 4-4 and on pace to fall short of 10 wins.
The Patriots (6-2) must finish 7-1 to top its record win total of 12½.
More betting: Follow all of our sports betting coverage online at reviewjournal.com/betting and @RJ_Sports on Twitter.
Contact reporter Todd Dewey at tdewey@reviewjournal.com. Follow @tdewey33 on Twitter.