Johnson, Harvick top picks to win Kobalt 400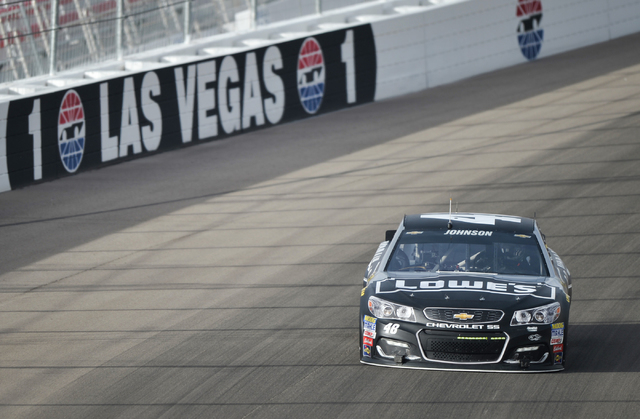 So much for the low downforce package slowing the Sprint Cup cars.
Despite 25 percent less downforce on a package that was introduced last season for two races and used last week at Atlanta, speeds were at an all-time high this week at Las Vegas Motor Speedway during testing, practices and qualifying for today's Kobalt 400.
Three drivers qualified faster than the track record set last year by Jeff Gordon, with Kurt Busch coming in at a blistering 196.328 mph to take the pole. Five other drivers topped the 195 mph barrier.
In theory, the drivers should be going slower because the cars aren't supposed to stick as well around the turns, but the variable missing from the initial equation was how much freedom it gave them to really drive and show their skills. They're all raving about the new package, with every turn giving them a thrill to maximize speed while on the brink of losing control.
Who has the package figured out best?
It should come as no surprise that four-time Las Vegas winner Jimmie Johnson (6-1) looks like the driver to beat, even though Kevin Harvick (5-1) is favored.
Johnson won a series-best four times on 1.5-mile tracks last season and started the 2016 campaign on 1.5s with a victory last week at Atlanta. During testing and practices, Johnson was the best in 10-consecutive lap speeds, a sign that he will be faster than most after 25 laps on one set of tires.
After Johnson, there's Harvick, then about nine other drivers among Team Penske, Joe Gibbs Racing, Hendrick Motorsports and Stewart Haas Racing that are close to being equal.
Best betting proposition?
Despite only three cautions in 500 miles last week at Atlanta, where the first 210 laps were caution free, this week should be much more volatile because of the high speeds and difference between the two tracks.
Atlanta had two nice lines — one way up high and the other down low — that kept drivers separated and the track clean. The progressive banking at Las Vegas will have them closer together with lots of passing, and Turn 4 will cause a couple of cautions on its own. The 32 mph winds expected today also might create havoc.
William Hill and Westgate Las Vegas each posted the caution total at 6.5, partly based on LVMS history but also because of Atlanta's low total last week. Even though this race is 100 miles shorter than Atlanta, expect closer to nine cautions for the race. Last year in the low downforce package races, there were 11 cautions at Kentucky and a whopping 18 at Darlington.
If correct about a lot of cautions, the spillover effect can be wagered into success with other propositions — if one thing happens, the other will.
Over 8.5 drivers to lead a lap is likely with differing pit strategies and several restarts. The same with over 18.5 drivers on the lead lap with the lucky dog in play multiple times, and over 20.5 lead changes.
The cars are faster than ever, but if nine cautions happen, the average speed of the race will be under 140.5 mph. It also should keep one driver from checking out, which would make under 128.5 laps led by one driver a good play. The books won't let bettors parlay them, unfortunately, because they are all correlated.
Start position matter?
Qualifying well has not been a big factor to winning at Las Vegas. Only four of the 18 winners have started within the top five, which is the same amount of winners that have started outside the top 20.
Kyle Busch is the only driver to win from the pole (2009), while the deepest a winner started was Matt Kenseth from the 25th spot in 2004.
How will pole-sitter fare?
Las Vegans are biased about Kurt Busch. He's one of our own, and in a city that doesn't have many championship banners, we have the Busch brothers each with one Sprint Cup title.
Kyle has won at Las Vegas, but a victory has eluded Kurt, who has only one top five, with a 22nd-place average finish in 14 starts. His over-under finish position for today is 8.5 at Westgate, and the trends indicate over is the bet.
But between the end of last season on 1.5s and Atlanta, he's on a run of finishing eighth or better in six straight races. That trend is much more valid than LVMS history. Under 8.5 is the play.
Best long shot?
Last week at Atlanta, Richard Childress Racing showed a lot of speed during practices, and Austin Dillon translated it into a solid 11th-place finish.
This week, it's almost the same thing with Dillon being the second fastest in Saturday's early practice in single lap speeds and 10-consecutive lap averages. He also was fastest in 10-consecutive lap averages after final practice.
Getting 60-1 on a driver and team that has something working well isn't the worst investment.
Micah Roberts, a former Las Vegas sports book director, has been setting NASCAR odds since 1994. Follow him on Twitter @MicahRoberts7
Odds to win Kobalt 400
Kevin Harvick 4-1
Jimmie Johnson 5-1
Kyle Busch 6-1
Matt Kenseth 6-1
Joey Logano 6-1
Carl Edwards 17-2
Brad Keselowski 17-2
Dale Earnhardt Jr. 10-1
Denny Hamlin 10-1
Kurt Busch 11-1
Martin Truex Jr. 12-1
Kasey Kahne 25-1
Kyle Larson 25-1
Chase Elliott 30-1
Ryan Blaney 50-1
Austin Dillon 50-1
Jamie McMurray 50-1
Ryan Newman 50-1