Kyle Busch looks fastest despite Kyle Larson's final best run
October 30, 2016 - 12:08 am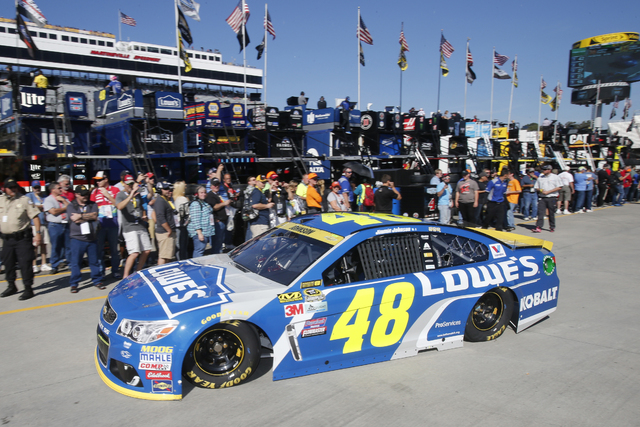 Kyle Larson produced the fastest lap during Saturday's final practice session at Martinsville Speedway in preparation for Sunday's Goody's Fast Relief 500.
Larson gained the top speed of 96.08 mph on his fourth of 61 laps turned on the half-mile paper clip layout, but what was more impressive was he had the best 10-consecutive lap average during long-run race simulations.
The Westgate sports book opened Larson at 25-1 to win, but after his stellar session, he went to 18-1. The only reason the odds weren't dropped lower was because Martinsville wins traditionally have been reserved for a select few. Jeff Gordon, Jimmie Johnson and Denny Hamlin have won 19 of the past 27 races there.
It took Las Vegan Kyle Busch 22 starts before he finally won at Martinsville in April. The defending Sprint Cup champion started seventh and led 352 of 500 laps.
Busch had the same type of dominating setup in Saturday's practices, during which he had the second-best 10-consecutive lap average. More important, he was faster than everyone when running 18 to 30 consecutive laps. Other cars got slower as tires wore down, but Busch's lap times stayed relatively the same. That's a winning formula.
With a victory, Busch, a 5-1 co-favorite with Hamlin and Johnson, would be the first driver to sweep a Martinsville season since Hamlin in 2010. Busch will start ninth.
START POSITION IMPORTANT
It's hard to pass on the flat track, so starting near the front is where most winners come from. Of the 135 races all time, 97 have been won from a top-10 start position and 36 from the front row, 21 by the pole sitter. Martin Truex Jr. (12-1) is on the pole, lined up next to Joey Logano (8-1) on the front row, and neither has won at Martinsville.
GRANDFATHER CLOCK CRAZY
Martinsville gives the winner a grandfather clock as the trophy. Gordon (12-1) has nine of them, and he starts 10th in what should be his final race there. Last season he won the race in what was expected to be his farewell season, and it gave him entry into the Championship Round. As part owner of Hendrick Motorsports, he took over Dale Earnhardt Jr's No. 88 after Earnhardt suffered a concussion that ended his season. This is where Gordon has achieved the most success — he has a 6.76 average finish in 46 starts and has led 3,776 laps. The only problem with a bet on him to win is his slower reaction time on restarts.
BEST LONG SHOT
The best possible story would be a Tony Stewart win, which would give the three-time Sprint Cup champion 50 career victories, the first of which came at Martinsville in 1999. Stewart had the second-fastest lap in Saturday's final practice and the second-best 10-consecutive lap average in the early session. He looks so good that the Westgate cut his odds to win from 80-1 to 40-1. Of the four tracks remaining, Martinsville is his best opportunity to get No. 50.
Micah Roberts, a former sports book director, has been been setting NASCAR lines in Las Vegas since 1994. Follow @MicahRoberts7 on Twitter.