LV sports books need MNF home 'dogs; handicapper likes under Vikings-49ers
September 14, 2015 - 1:58 pm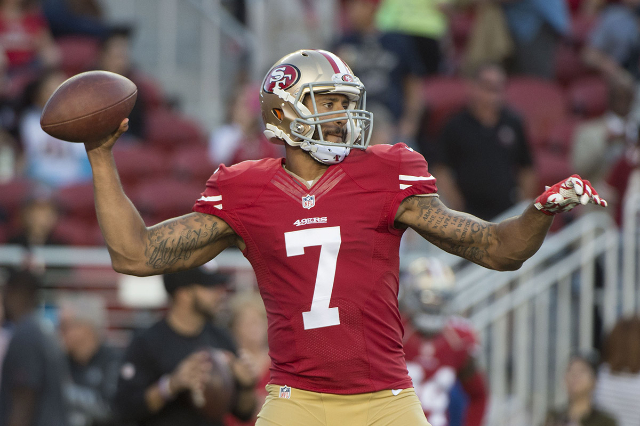 Betting Monday Night Football home underdogs has traditionally been a surefire way to pad your bankroll. Las Vegas sports books hope that's the case again today as they need both home 'dogs in today's MNF doubleheader.
The Atlanta Falcons are getting 3 points from the visiting Philadelphia Eagles in today's first game (4:10 p.m., ESPN (30)) and the San Francisco 49ers are getting between 2 and 2½ points from the visiting Minnesota Vikings in the nightcap (7:20 p.m., ESPN (30)).
The public cashed in on the first NFL Sunday of the season as favorites went 9-4 against the spread.
"From yesterday's results, we're not sitting good with parlay card accountability. Both favorites with both overs would not be good to cash the remaining parlay cards," Stratosphere sports book director Ed Malinowski said Monday afternoon. "If we could split them up or have the two home teams come through, that would be ideal for us."
The Eagles opened as 1-point favorites in April, the line was quickly adjusted to 2½, and it has since climbed to 3. The total opened at 54 and is now at 55½.
The Vikings opened as 2-point favorites, went to 2½ and both numbers are still available around town. The total has stayed pretty flat, opening at 41½ and staying there.
Running back Adrian Peterson is set to return to action for Minnesota after playing in only one game last season and coach Chip Kelly's high-flying Eagles, who led the NFL in scoring in the preseason (33 ppg), is ready to start the Sam Bradford era.
"Because it's Peterson's first game back, there's a lot of interest in the Vikings tonight and the way the Eagles played in the preseason, that's why they're the favorites and why the public is playing them," Malinowski said.
Bruce Marshall, handicapper for The Gold Sheet (goldsheet.com), likes the under in the Vikings-49ers game.
"Any total over 40 with the 49ers right now, you want to look under," he said. "San Francisco games are going to go quick this year. With running and short passes, the clock is going to move. (The 49ers) went under in every preseason game and that trend carried over from last year. They look like an under team to me and so do the Vikings.
"(Minnesota coach Mike) Zimmer's got a good defense with a lot of first-round picks and there's going to be a lot of running the ball tonight with Adrian Peterson and short passes. Both defenses are pretty good. The 49ers lost some pieces, but I don't think they'll be the disaster that everybody thinks."