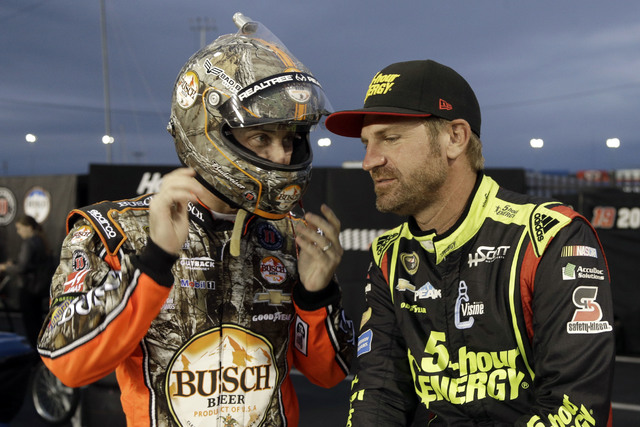 Bank of America 500
Charlotte Motor Speedway, Concord, North Carolina
4 p.m. Saturday (KSNV-3)
RATING DRIVER ODDS PRACTICE 1 QUALIFIED CHARLOTTE* CHICAGO*
1. Kevin Harvick 5-1 1st 1st 2nd 20th
Three-time winner, all in past six years; ninth or better in 11 of past 12 starts, runner-up last two.
2. Martin Truex Jr. 4-1 3rd 7th 1st 1st
Led 392 of 400 laps in Coca-Cola 600, the best Charlotte performance ever (track opened in 1960).
3. Kyle Busch 7-1 4th 4th 33rd 8th
No wins in 25 starts but has 10 top-fives. Victories on two 1.5-mile tracks this season.
4. Jimmie Johnson 6-1 12th 11th 3rd 12th
Active track leader with seven wins (the last time in 2014), 14 top-fives and 1,740 laps led.
5. Brad Keselowski 8-1 15th 20th 5th 5th
2013 winner; top-five finishes on past three 1.5-mile tracks. Won on 1.5s at Las Vegas and Kentucky.
6. Joey Logano 12-1 11th 10th 9th 2nd
Won this race last season; his 9.5 average finish is best among active drivers. Won All-Star Race.
7. Carl Edwards 10-1 9th 8th 18th 15th
2015 Coca-Cola 600 winner; second-best among active with 10.8 average finish in 23 starts.
8. Denny Hamlin 8-1 5th 9th 4th 6th
Top-10 finishes in 11 of his past 12 starts but no wins in 22 starts. Fourth past two starts.
9. Matt Kenseth 10-1 14th 17th 7th 9th
Two-time winner, including his first career Cup win in 2000 Coca-Cola 600; 14th-place average.
10 Chase Elliott 12-1 17th 3rd 8th 3rd
All Hendrick cars have been solid on 1.5s since Chase started at Chicago; they know something.
Note: Final two practices washed out Friday because of Hurricane Matthew spillover inland.
* Results from the May 29 Coca-Cola 600, the last race run at Charlotte, and Sept. 18 race at Chicagoland Speedway, the last race on a 1.5-mile track. This will be the eighth race on a 1.5-mile track this season and second of five during the Chase.
Odds courtesy of Westgate.
Micah Roberts, a former sports book director, has been setting NASCAR lines in Las Vegas since 1994. Follow on Twitter @MicahRoberts7