Micah Roberts' Sprint Cup driver ratings
February 28, 2016 - 12:11 am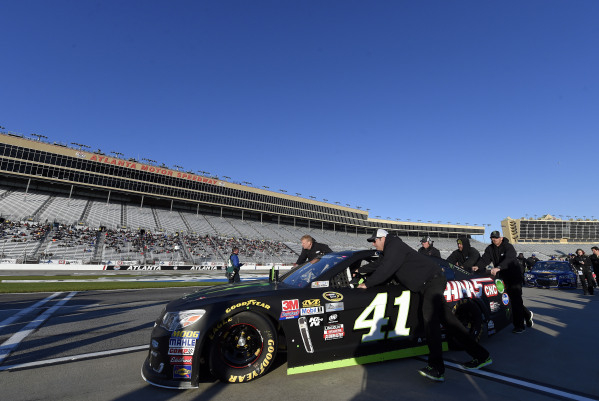 Folds of Honor QuikTrip 500, Atlanta Motor Speedway
1 p.m. today, KVVU-5
Rating, Driver Odds Practice 1 Qualified Practice 2 *Kentucky '15
1. Kurt Busch 15/1 6th 1st 9th 10th
Three-time winner, the last in 2010; using Kentucky chassis that finished fifth at Charlotte.
2. Jimmie Johnson 7/1 12th 19th 3rd 9th
Four-time winner, including last season; 11th-place average finish tops among active drivers.
3. Denny Hamlin 8/1 23rd 12th 1st 3rd
2012 winner; looking to be sixth NASCAR driver to win two straight to start a season.
4. Matt Kenseth 8/1 11th 13th 11th 6th
No wins in 27 starts, but 10.2 average in past 20 is No. 2; 3.5 average in past two with Joe Gibbs.
5. Kyle Busch 7/1 10th 39th 6th 1st
Two-time winner, the last in 2013; his 2008 win was first for Toyota in Cup series.
6. Kevin Harvick 5/1 22nd 6th 15th 8th
2001 winner in third Cup start; using chassis that led 480 laps in four 2015 races.
7. Martin Truex Jr. 15/1 8th 9th 2nd 17th
Sixth last season, career-best third in 2013; transition to Toyota is better than expected.
8. Brad Keselowski 8/1 9th 17th 17th 6th
Third place in 2012, ninth last season; led 258 laps in two downforce races in 2015.
9. Joey Logano 5/1 13th 26th 32nd 2nd
Fourth last year; has led 1,001 laps in past two seasons (24 races) on intermediate tracks.
10. Carl Edwards 12/1 21st 7th 21st 4th
Three-time winner, none since 2008; 11 top-10 finishes in 18 starts; 12th in Gibbs debut.
Note: This is the first of 11 races on 1.5-mile tracks this season.
* Results from the July 11 race at Kentucky Speedway, the lone race run on a 1.5-mile track using the new low downforce package that makes its 2016 debut at Atlanta.
Odds courtesy of the Westgate.
— Micah Roberts, a former Las Vegas sports book director, has been setting NASCAR odds since 1994. Follow him on Twitter @MicahRoberts7