Micah Roberts' Sprint Cup driver ratings
October 30, 2016 - 12:04 am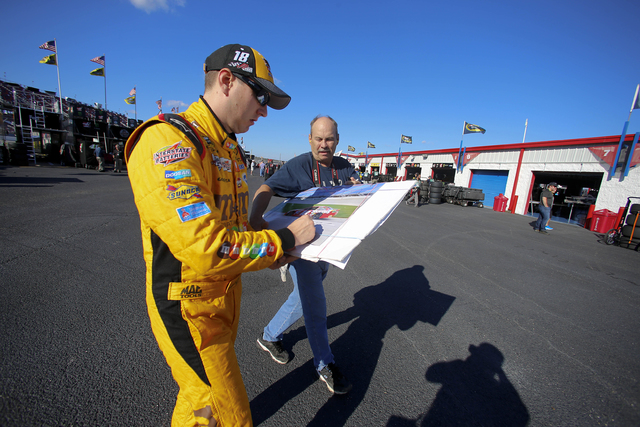 Goody's Fast Relief 500
Martinsville Speedway, Martinsville, Virginia
10 a.m. Sunday (NBCSP)
Rating, driver Odds Practice 1 Qualified Practice 2 Practice 3
1. Kyle Busch 5-1 7th 9th 16th 18th
First career win in April, led 352 of 500 laps; second-best 10-consecutive lap average in Practice 3.
2. Denny Hamlin 5-1 2nd 8th 11th 16th
Five-time winner in 21 career starts for the native Virginian. Fast on long runs during practices.
3. Jimmie Johnson 5-1 10th 3rd 10th 20th
Eight-time winner with a 7.5 average finish and 2,747 laps led in 29 starts; ninth in spring race.
4. Jeff Gordon 12-1 9th 10th 20th 14th
Nine-time winner, including this race in 2015, with an amazing 6.7 average finish in 46 starts.
5. Joey Logano 8-1 3rd 2nd 2nd 8th
Was on his way to first win last fall, leading 207 laps, when Matt Kenseth purposely wrecked him.
6. Kyle Larson 25-1 1st 11th 15th 1st
Career-best third in the spring and looked just as fast during all practices this time.
7. Kevin Harvick 7-1 19th 20th 13th 10th
2011 winner; using chassis that has exclusively been used at Martinsville the past five races.
8. Tony Stewart 80-1 21st 6th 9th 2nd
Three-time winner, the last in 2011. His last legitimate shot to win career race No. 50 before retiring.
9. Martin Truex Jr. 12-1 6th 1st 4th 7th
Career-best fifth, twice; sixth in both 2015 races. Fast 10-consecutive lap average in Practice 2.
10. Matt Kenseth 8-1 15th 17th 6th 15th
No wins in 33 starts, but has been getting better the past four seasons; runner-up in 2013.
Note: This is the second race of the season at Martinsville and first of three in the Round of 8 during NASCAR's 10-race Sprint Cup Chase format. The champion will be decided Nov. 20 at Homestead.
Odds courtesy of the Westgate sports book.
Micah Roberts, a former sports book director, has been been setting NASCAR lines in Las Vegas since 1994. Follow @MicahRoberts7 on Twitter.