Micah Roberts' Sprint Cup driver ratings
October 9, 2015 - 11:41 pm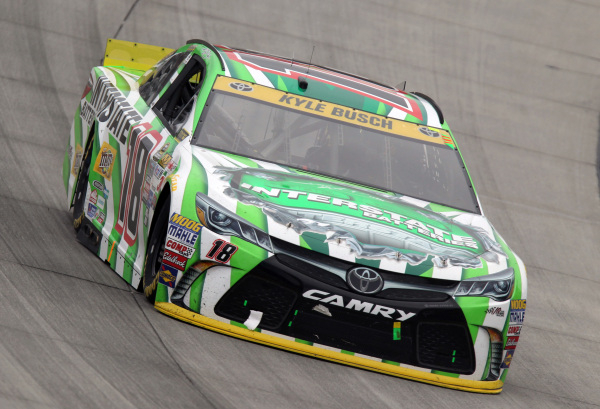 Bank of America 500, Charlotte Motor Speedway, Concord, N.C.
4 p.m. today (NBC, 3)
Rating Driver Odds Practice 1 Qualified Practice 2 Practice 3
1. Kyle Busch 6/1 21st 2nd 10th 1st
Led most laps on last two 1.5-mile tracks, winning at Kentucky. Should be best on long runs.
2. Kurt Busch 10/1 9th 6th 1st 2nd
2010 winner; third-best 10-consecutive lap average in practices 2 and 3. Using Kentucky chassis.
3. Denny Hamlin 10/1 17th 5th 7th 11th
Won All-Star race (Charlotte) in May and won on last 1.5-mile track to kick off Chase at Chicago.
4. Matt Kenseth 7/1 2nd 1st 22nd 25th
Two-time winner; top-five finishes on past three 1.5-mile tracks. Season leader with five wins.
5. Kevin Harvick 9/2 1st 11th 26th 12th
Three-time winner, including this race last season; using fifth-place Darlington chassis this week.
6. Carl Edwards 10/1 19th 8th 2nd 8th
Captured first career Charlotte win in May and has been fourth or better on past three 1.5s.
7. Jimmie Johnson 8/1 18th 7th 9th 13th
Seven-time winner; out of Chase, but had best 10-consecutive lap average in Practice 2.
8. Joey Logano 10/1 4th 3rd 5th 3rd
Leads active drivers with a 10.2 average finish in 13 starts. Sixth or better on five of seven 1.5s.
9. Brad Keselowski 10/1 14th 13th 6th 6th
2013 winner finished ninth or better on all seven 1.5s this year; should be just as competitive.
10. Dale Earnhardt Jr. 20/1 7th 12th 8th 5th
No points-paying Charlotte wins in 31 starts, but showed great average speeds in practice.
Note: This is the eighth race on a 1.5-mile track this season and second of five in the Chase. Being the best on these tracks has traditionally been the gateway to a championship.
Odds courtesy of Westgate Las Vegas.
— Micah Roberts, a former Las Vegas sports book director, has been setting NASCAR odds since 1994. Follow him on Twitter @MicahRoberts7.