NBA draft offers another option for bettors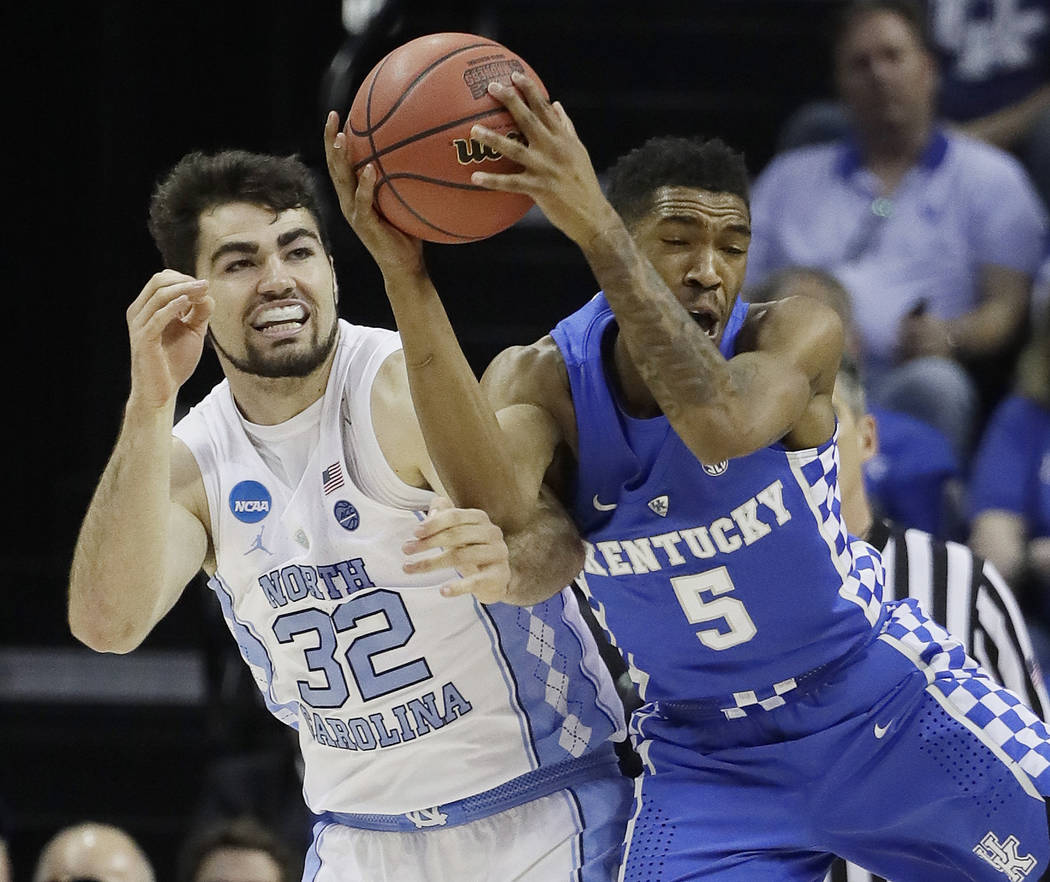 As summer heats us up in Las Vegas, let me buy you a cup of iced coffee. You will have to invest $20, but stick with me on this.
For the first time in Nevada, you can wager on the NBA draft, which takes place Thursday. Just like the NFL draft in April, you can bet on propositions that are focused on the schools and conferences that produce the new pros.
One prop centers on Kentucky. The over-under on Wildcats chosen in the first round is 2½. At the Westgate, the over is minus-350.
That caught the ear of my friend Seth Greenberg, the outstanding ESPN basketball analyst who was on my VSiN show Thursday. Seth says De'Aaron Fox, Malik Monk and Bam Adebayo are going to be chosen in the first round — and that the over is a lock. So if you invest $20 and you can find a $5.71 cup of iced coffee, the Wildcats are buying.
Greenberg also likes under 3½ Duke players to be drafted in the first round. He is convinced that big man Harry Giles does not belong in the top 30, but I don't know about that one.
If these props are a fraction as popular as they were for the NFL, there is no question that draft betting will get even bigger next year. And why not? It's just one more way to have fun in Vegas.
Mayweather-McGregor action
It's clear that the Floyd Mayweather Jr.-Conor McGregor fight has captivated the combat sports world. Look at the Oddschecker website, which monitors British and Irish bookmakers much the same way Covers.com tracks Las Vegas prices. Two days after the Aug. 26 date was set, it is still the headline item.
At Dublin-based Paddy Power, Mayweather is a minus-588 favorite, with McGregor at plus-400. Las Vegas take note: Here come the Irish and their money backing McGregor.
No matter where they are coming from, bettors are taking the underdog. But those of us who don't think there is a chance that Mayweather loses are just waiting for his price to reach minus-500. There are places offshore in the Caribbean where it is already down to minus-650.
Mayweather started this week at minus-1,100. If you like Mayweather, as I do, this might be a fight to bet the day before it happens.
There is only one number that concerns me about backing the champ, and that is 40. As in 40 years old. But every other conceivable angle of this fight screams that McGregor does not have a chance.
As he goes from the 4-ounce gloves of the octagon to the 10-ounce gloves of the ring, McGregor is walking into Mayweather's lair, so the advantage goes to the most dominant boxer of this generation.
The hype coming for the next two months will keep us entertained. It will get outrageous. This is the biggest entertainment sporting event since Bobby Riggs took on Billie Jean King in 1973 at the Houston Astrodome.
I had broadcast the tuneup match four months earlier when a 55-year-old Riggs crushed 30-year-old Margaret Court on Mother's Day near San Diego. But then Howard Cosell took over "Battle of the Sexes II" and entertained a worldwide TV audience of 90 million as Billie Jean decimated the aging Riggs — something to remember if you hope McGregor wins.
Unfortunately, this new spectacle will completely overshadow an otherwise inviting fight between Gennady Golovkin and Saul "Canelo" Alvarez on Sept. 16 at T-Mobile Arena. Those of us who still respect boxing know how good a matchup this should be.
At first, it would appear that the Mayweather-McGregor show will put such a drain on money that it will make GGG-Alvarez an afterthought. But let's not forget that Alvarez remains the most popular fighter Mexico has produced in recent memory. His audience is loyal, and since the fight happens on Mexican Independence Day, Alvarez should enjoy a huge crowd advantage.
Baseball "overs" coming in
My tip for passing the time this summer is to nail some "overs" this baseball season. With an average of almost 2.5 home runs per game, it's clear that somebody or something is juiced. It's either the players or the baseball. My money is on the ball.
Gill Alexander delved into this on his VSiN show, "A Numbers Game," this week, examining The Ringer's laboratory study of baseballs bought on eBay that were used in big league games over the past three years. The conclusion is that balls used since the 2015 All-Star Game have flatter seams, making them more likely to fly out of ballparks.
Bookmakers are trying to adjust, but "overs" are still cashing in 53 percent of the time this season — something to remember if you bet on the daily run total of all games.
While we keep an eye on that trend, we should be careful betting on streaking teams when they travel to California. It was a rude awakening last month for the Cubs, who had won seven of nine before they were swept on their visits to Dodger Stadium and Petco Park. Now the Yankees are finding out how tough the trip can be. They ran their winning streak to six before hitting the walls in Anaheim and Oakland.
These trends thankfully will keep us busy as we wait for Mayweather-McGregor, GGG-Alvarez and the start of football.
Veteran sports broadcaster Brent Musburger writes a weekly column for his Vegas Stats and Information Network, which simulcasts his show Monday through Friday from 3 to 5 p.m. Follow @BrentMusburger on Twitter.