NCAA betting: Kruger or Altman? Oklahoma or Oregon? It's a pick'em
March 25, 2016 - 12:32 pm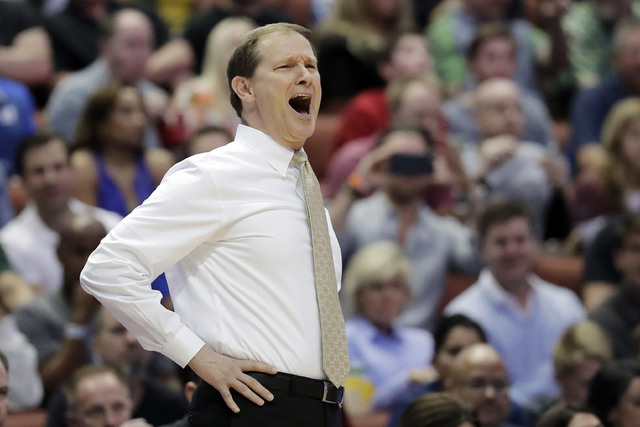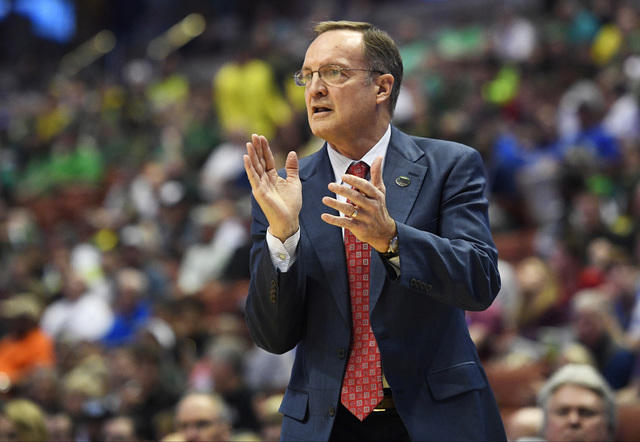 In order to get Oklahoma to the Final Four, Lon Kruger has to go through one of his closest coaching friends. Kruger has a history with Dana Altman and Oregon.
Who's the better coach? Who's got the better team? Choosing sides is tough on bettors and oddsmakers.
The Ducks-Sooners matchup, an NCAA Tournament West Region final on Saturday night in Anaheim, California, is a pick'em at all major Las Vegas books. Oregon is the region's No. 1 seed.
"Dead equals," William Hill sports book director Nick Bogdanovich said of the teams. "It's two guys I like, Kruger and Altman."
Oklahoma, a 2½-point favorite, eliminated Texas A&M 77-63 on Thursday. The Ducks, 3½-point favorites, followed by dismantling Duke 82-68.
In 2010, when Oregon was searching for a coach, Kruger recommended Altman. Kruger left UNLV one year later.
Kruger led the Rebels to the Sweet 16 in 2007. The run ended with a 76-72 loss to the Ducks, and UNLV started a slow slide from there. Kruger's final three teams at UNLV went 0-2 in the NCAA Tournament, 0-1 in the National Invitation Tournament and 1-8 against Mountain West rival San Diego State.
But Kruger has been rejuvenated with the switch to the Big 12 Conference, where he's working with more resources and receiving a big boost from hot-shooting senior guard Buddy Hield. Altman guided Oregon to the Pac-12 regular season and tournament titles this season.
Las Vegas books were beat up Thursday, when favorites finished 4-0 against the spread. Kansas and Villanova also posted double-digit wins. The Jayhawks are 2½-point favorites over the Wildcats in the South Region final.
In today's games, Virginia is drawing money as a 6-point favorite over Iowa State; Notre Dame has been bet up slightly to a 1½- to 2-point favorite over Wisconsin; Gonzaga is the more popular side as a 4½-point favorite over Syracuse; North Carolina is attracting more action as a 5½-point favorite over Indiana.
Contact sports betting columnist Matt Youmans at myoumans@reviewjournal.com or 702-387-2907. Follow him on Twitter: @mattyoumans247