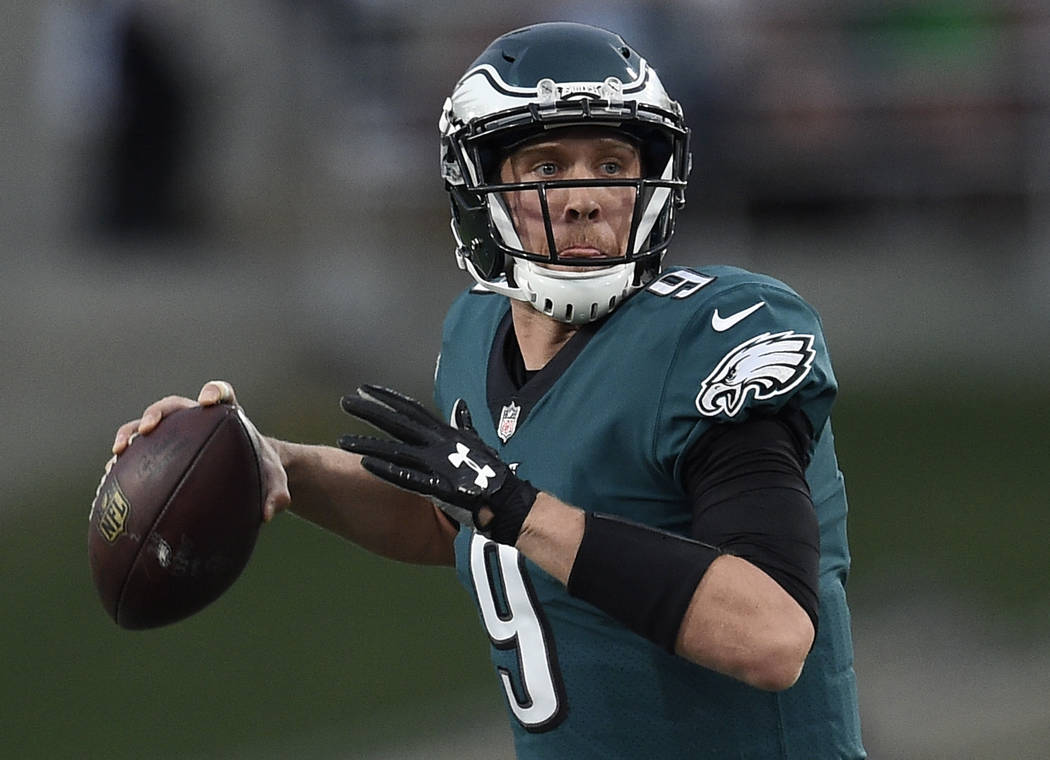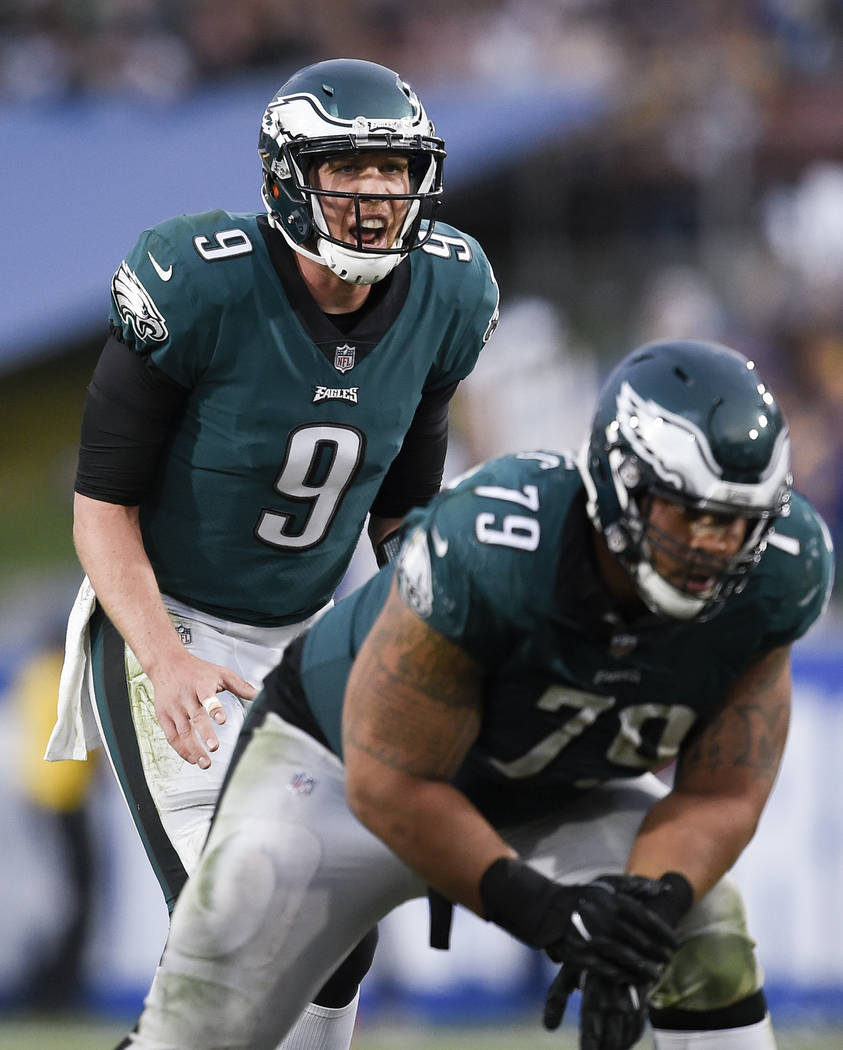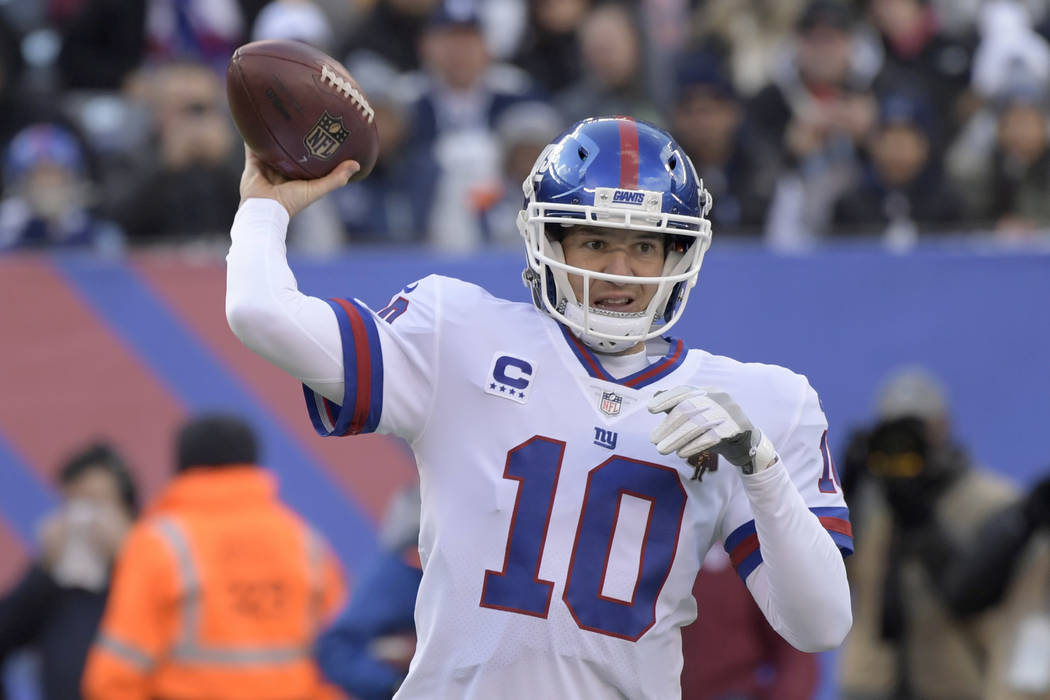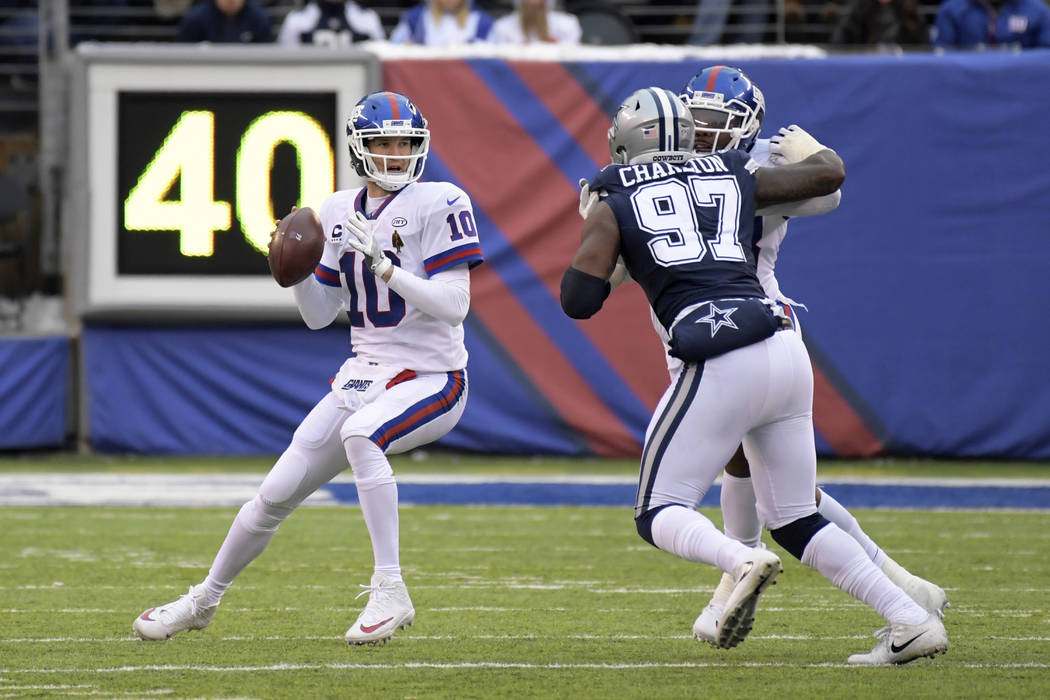 Bruce Marshall, GoldSheet.com
Eagles (11-2) at Giants (2-11)
Time: 10 a.m.
Line/Total: Eagles -7½, 40½
Analysis: While replacing Philadelphia quarterback Carson Wentz, a potential NFL MVP, is a tall order, the Eagles can still win with veteran backup Nick Foles. He's above .500 as an NFL starter and bailed out Philadelphia in its win over the Rams at the Los Angeles Coliseum. Besides, we're only talking about beating the G-Men, whose circle-the-wagons effort for Eli Manning and interim coach Steve Spagnuolo barley lasted three quarters before the roof again caved in during a 30-10 loss to the Cowboys.
By the numbers: The Eagles are 9-1 straight up and ATS in their last 10 games this season. … The Giants are 1-5 ATS at home this season. … Five of the last six meetings have gone over the total, including the last four.
Pick: Eagles, 23-10
Packers (7-6) at Panthers (9-4)
Time: 10 a.m., KVVU-5
Line/Total: Panthers -3, 47
Analysis: Green Bay quarterback Aaron Rodgers is slated to start after backup Brett Hundley did just enough to keep the Packers on the periphery of the NFC wild-card chase with wins in three of his last four outings. Carolina still controls its fate in the NFC South race, but sore-shouldered quarterback Cam Newton has passed for more than 200 yards once in his last six games. Even after beating the hot Vikings, the Panthers are 5-8 vs. the line in their last 13 games at Charlotte.
By the numbers: The over is 9-4 in Packers games this season and 8-5 in Panthers games.
Pick: Packers, 27-24
Bengals (5-8) at Vikings (10-3)
Time: 10 a.m., KLAS-8
Line/Total: Vikings -11 42
Analysis: Though the physical toll of the brutal battle vs. the Steelers further thinned his injured roster, Marvin Lewis is beyond any more mulligans, and the 33-7 beatdown administered by the 3-9 Bears should mean he has used the last of his nine lives as Bengals coach. Any recovery is less likely with Andy Dalton's confidence on the wane after being pulled last week. Minnesota had won eight straight and covered seven in a row before its loss at Carolina, and the Vikes can ill afford another slip that could cost them home-field advantage and/or a bye in the NFC playoffs.
By the numbers: The Bengals had covered four in a row before their loss to the Bears. … The Vikings had covered seven straight before their loss to the Panthers. … The Vikings are 5-1 ATS at home this season.
Pick: Vikings, 31-14
Dolphins (6-7) at Bills (7-6)
Time: 10 a.m.
Line/Total: Bills -3, 39
Analysis: Miami has often had problems at Buffalo, though curiously, reliever Matt Moore has piloted the Dolphins' last two wins at Orchard Park (in 2011 and last season), giving Adam Gase something to think about if he's not in a Jay Cutler mood this week. The Dolphins' inconsistency — they're on a 2-4-1 ATS slide even after their upset win over the Patriots — makes them a tough sell. With Tyrod Taylor named the Bills' starting quarterback, we'll back Buffalo.
By the numbers: Miami won at Orchard Park last season to snap an 0-4 slide straight up and ATS at Buffalo. … The Dolphins are on a 1-5 ATS skid on the road this season. … The Bills are 4-2-1 ATS at home.
Pick: Bills, 19-13
Texans (4-9) at Jaguars (9-4)
Time: 10 a.m.
Line/Total: Jaguars -11, 38
Analysis: Even Tiger Woods has fewer injury worries lately than the battered Texans, whose mounting maladies force a turn to third-string QB T.J. Yates after Tom Savage was sidelined by a concussion in Sunday's loss to the 49ers. In truth, there probably isn't much of a drop-off to Yates from Savage, who was pounded mercilessly when the Jaguars won the season opener 29-7 at NRG Stadium. But the voracious Jacksonville pass rush also got to Deshaun Watson on Sept. 10, when it recorded 10 sacks. A new and more efficient Blake Bortles has thrown only one interception in his last four games.
By the numbers: The Jaguars have covered the last two meetings and are 6-4 ATS in the past 10. … Houston is 2-4 ATS since Deshaun Watson went down.
Pick: Jaguars, 30-13
Jets (5-8) at Saints (9-4)
Time: 10 a.m.
Line/Total: Saints -16, 47½
Analysis: It was only a matter of time before the Jets could no longer camouflage all of their warts on offense. They resurfaced in last week's unsightly 23-0 loss to a Broncos team that hadn't won in more than two months. Now the prospects become more daunting for New York with Bryce Petty at quarterback after the season-ending loss of Josh McCown. In the midst of a tight NFC South race, the Saints figure to be focused.
By the numbers: The Jets are on a 1-3 ATS skid, and the Saints are on a 7-4 spread surge. … The over is 15-5 in New Orleans' last 20 home games.
Pick: Saints, 35-14
Cardinals (6-7) at Redskins (5-8)
Time: 10 a.m.
Line/Total: Redskins -4, 41
Analysis: Arizona is showing more fight in recent weeks, winning two of its last three games with Blaine Gabbert at the controls. There are possible internal problems on the Redskins, and quarterback Kirk Cousins is now primarily concerned with self-preservation in advance of his pending free agency. Washington's patchwork offensive line has used seven combinations in the past eight games.
By the numbers: The Redskins are on a 3-6 ATS skid and have gone over in 20 of their last 29 games.
Pick: Cardinals, 24-20
Ravens (7-6) at Browns (0-13)
Time: 10 a.m.
Line/Total: Ravens -7, 41
Analysis: After avoiding the big doughnut last season in the penultimate week, 0-13 Cleveland is again running out of time to find a win. With big-play wide receiver Josh Gordon now in the fold and developing a rapport with DeShone Kizer, the Browns have a chance at a win … next week at Chicago. Since Baltimore badly needs a win to stay in the playoff race, Cleveland won't get overlooked, and the revived Ravens (82 points last two games) are scoring enough to cover the number.
By the numbers: The Ravens have won and covered the last four meetings. … Baltimore is on a 5-1 spread run and the over is 7-2 in its last nine games. … The Browns are on a 2-10 spread skid.
Pick: Ravens, 30-18
Rams (9-4) at Seahawks (8-5)
Time: 1:05 p.m.
Line/Total: Seahawks -1½, 47½
Analysis: The Rams have fared well on the road and were their own worst enemy with five giveaways in their home loss to Seattle this season. The over-burdened Russell Wilson can't do everything for the Seahawks, who will be in a precarious playoff position if they lose.
By the numbers: The Rams are 6-1 straight up and 5-2 ATS on the road. … The over is 5-2 in Los Angeles' away games. … The Seahawks are 2-4 ATS at home. … Seattle was on a 2-7 spread skid vs. Los Angeles before winning and covering the last two meetings.
Pick: Rams, 31-24
Titans (8-5) at 49ers (3-10)
Time: 1:25 p.m.
Line/Total: 49ers -1½, 45
Analysis: Jimmy Garoppolo, who threw for a career-high 334 yards in last week's win at Houston, continues to provide a palpable spark for the upbeat 49ers, who are gunning for their first three-game win streak since 2014. The Tennessee offense seems to have gone south for the winter, with struggling quarterback Marcus Mariota throwing three TD passes and eight interceptions in the last four games.
By the numbers: The Niners have won and covered both games with Garoppolo as starting quarterback. … San Francisco is on a 5-1 under run. … The Titans are on a 3-7 ATS skid overall and a 1-5 ATS slide away from Nashville.
Pick: 49ers, 27-20
Patriots (10-3) at Steelers (11-2)
Time: 1:25 p.m., KLAS-8
Line/Total: Patriots -3, 54
Analysis: For once, the NFL got it right with this matchup that promised to decide home-field advantage in the playoffs ever since the schedule was announced. A knee-jerk reaction might be to side with the Patriots, as Bill Belichick has mostly owned Mike Tomlin in recent years, including in January's AFC title game. And, as Joe Flacco did last week, Tom Brady will exploit the absence of Ryan Shazier that has left a void. But Ben Roethlisberger has finally shifted gears, and last week's heroic 506-yard performance vs. the Ravens suggests he's ready to match Brady point for point. The team that has the ball last might win this shootout.
By the numbers: The Patriots have won the last four meetings while going 3-0-1 ATS. … The Steelers are on an 0-3 spread skid. … The over is 3-0-1 in Pittsburgh's last four games.
Pick: Steelers, 33-31
Cowboys (7-6) at Raiders (6-7)
Time: 5:30 p.m., KSNV-3
Line/Total: Cowboys -3, 45½
Analysis: We don't mind laying a short price with revived, wild-card hunting Dallas, which received a huge offensive lift from running back Rod Smith (160 yards, two TDs) in last week's 30-10 win over the Giants.
By the numbers: The Raiders are on a 2-8-1 spread skid. … Oakland is on a 4-0 under run, and the Cowboys have gone under in four of their last five.
Pick: Cowboys, 26-17
Falcons (8-5) at Buccaneers (4-9)
Time: 5:30 p.m. Monday, ESPN
Line/Total: Falcons -6½, 49
Analysis: After pulling recent must-win games out of the fire vs. the Seahawks and Saints, we doubt the surging Falcons will fly off course against a sagging Tampa Bay side that Atlanta recently dispatched 34-20 at home. The Bucs have covered only three games amid various disappointments and distractions with Jameis Winston. The quarterback had three more giveaways in last week's loss to the Lions and has been sacked 10 times in the last two games.
By the numbers: The Buccaneers are on a 3-11-1 spread skid. … The Falcons are on a 4-1 spread run.
Pick: Falcons, 27-17