December 12, 2014 - 4:08 pm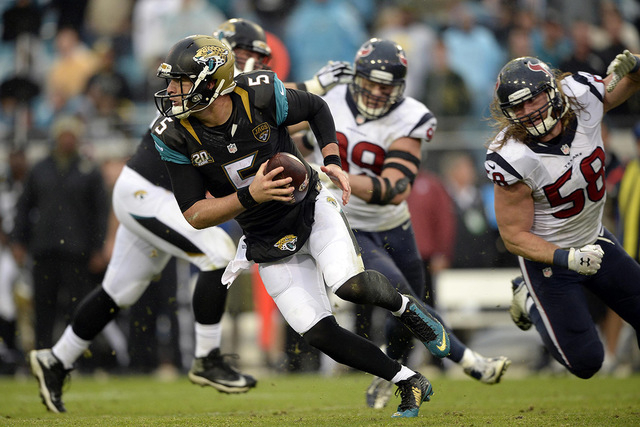 Cincinnati Bengals (8-4-1) at Cleveland Browns (7-6)
Sunday, 1:00 p.m. ET, at FirstEnergy Stadium, Cleveland – TV: CBS
TV announcers: Thom Brennaman, David Diehl, Laura Okmin
Keys to the game: The Browns rolled the Bengals 24-3 in Cincinnati last month on the strength of 269 yards and a pair of touchdowns from QB Brian Hoyer. But Hoyer through one touchdown against eight picks over the ensuing four games and now it's the Johnny Manziel Show.
The Browns did not install a new playbook in a week to full take advantage of Manziel's skillset. Coach Mike Pettine referred to an "inventory" that the team carried during training camp and said certain parts of the playbook will be highlighted. Bottom line: the Browns need to get the undersized Manziel on the move and allow him to make plays with his feet. With the good no doubt will come the bad, but the Browns can mitigate the risk factor if RBs Terrance West and Isaiah Crowell can slowly churn out positive yardage as they did by combining for 135 yards on ground in the first meeting — albeit at just 3.6 yards per carry.
Quarterback questions are quietly concerning on the other sideline as well. Bengals QB Andy Dalton has been the leading passer in a game just four times this season and he enters with a modest 15 TD passes. His passer rating in the first meeting … 2.0 — and no, the decimal place isn't in the wrong spot.
Dalton does have a healthier A.J. Green, who caught just three of 10 targets for 23 yards in the first meeting. But the offense has continued to be spotty due to Dalton's inconsistency and to some untimely drops of late.
Matchup to watch — Bengals RCB Leon Hall vs. Browns WR Josh Gordon: Gordon had fleeting chemistry with Hoyer, including catching two of seven targets for 15 yards and a critical late drop last week, and it will be interesting to see how he meshes with Manziel. Hall is a solid veteran who was part of the blown coverage on Martavis Bryant's 94-yard TD last week.
Player spotlight — Manziel: It's the moment the NFL world has been waiting for. Even coach Rich Pettine joked that people were expecting to see Manziel at the Cavs game Tuesday night when he was crunching the game plan at team headquarters. Boom or bust, it promises to be fascinating entertainment.
Fast facts: Manziel is the 22nd different starting quarterback for the Browns since the team re-entered the league in 1999.
With three games remaining and their playoff hopes hanging by the string, the Browns turn to Manziel for a spark – or at the very least, serious evaluation. He's at home, but facing a veteran defense that will cash in on any erratic throws from the rookie.
Our pick: Bengals 23-20
Green Bay Packers (10-3) at Buffalo Bills (7-6)
Sunday, 1:00 p.m. ET, at Ralph Wilson Stadium, Orchard Park, N.Y. – TV: FOX
TV announcers: Kevin Burkhardt, John Lynch, Pam Oliver
Keys to the game: The Packers lead the NFL with 48 opening-possession points, and show no signs of slowing down as the NFL's highest-scoring outfit. Green Bay also leads the league with 134 points in the first quarter, and 34 first-half touchdowns (the Bills have 28 total TDs) and 32.5 points per game.
How feasible is it for the Bills to keep up? Their fate rides in their third-down and red-zone success. Last week at Denver, the Bills didn't surrender a touchdown pass to Peyton Manning but the Broncos converted 40 percent of third downs and went 3-for-3 in the red zone. In Buffalo's past three home games, the Bills gave up only nine first downs in 40 third-down attempts and two touchdowns in six red-zone trips.
QB Kyle Orton thrives if play-action works, and will attack the left side of the Packers' secondary that was torched by Falcons WR Julio Jones last week. Rookie WR Sammy Watkins mans that spot for the Bills, and could give CBs Sam Shields and Davon House flashbacks.
Still, Orton is not situated to match Aaron Rodgers touchdown-for-touchdown. The Bills ran the ball only 16 times last week, and coach Doug Marrone wants to be closer to 30 for Buffalo's ideal game plan.
Buffalo's defensive line can harass Rodgers but his ability to make plays when protection breaks down keeps the moving target on the Bills' secondary.
Matchup to watch — Packers RBs Eddie Lacy and James Starks vs. Buffalo's front seven: Manning was content gaining 4.6 yards per rush last week and Rodgers, while not on the plain of patience, understands it's in his best interest to let Lacy and Starks pound down the Buffalo defenders. The tandem combined for 179 yards last week, the fourth time in five games with at least 130 rushing yards for Green Bay.
Player spotlight — Watkins: Along with Robert Woods the Bills have the ability to terrorize a leaky secondary that couldn't slow down the Falcons last week. Three of every four Watkins catches go for first downs.
Fast facts: The Packers are 0-5 all-time at Buffalo. … With a win, the Packers would be at least .500 on the road for the seventh time in coach Mike McCarthy's nine seasons. … Rodgers made his 100th career regular-season start in Week 14 and is first in NFL history in TD passes (222), yards (27,520), passer rating (107.3) and TD-INT ratio (222-54) through 100 starts.
The threat is real from the Bills because of their pass rush and capable receiving corps, but it'll take near perfection from QB Kyle Orton and his offensive line to pull the surprise.
Our pick: Packers 31-23
Houston Texans (7-6) at Indianapolis Colts (9-4)
Sunday, 1:00 p.m. ET, at Lucas Oil Stadium, Indianapolis – TV: CBS
TV announcers: Kevin Harlan, Rich Gannon
Keys to the game: Given T.Y. Hilton's four TD catches and two career-best performances in the past two meetings, Houston will double-team the speed demon and demand any other player emerges as the difference-maker for the Colts. It could be rookie outside WR Donte Moncrief, who runs a limited route tree but has enough speed to dent a defense distracted by coverage elsewhere. A limited running game too often puts QB Andrew Luck in the direct line of fire, and Texans DE J.J. Watt is one of the biggest guns in the league.
Texans RB Arian Foster looked healthy last week — 127 yards at Jacksonville — and thrives against the Colts. That's good news for QB Ryan Fitzpatrick, who needs the threat of play-action to confidently set and shoot from the pocket. Fitzpatrick has a career-best 95.9 passer rating but needs to be bold in the red one. The Texans can't win with field goals against Indy's offense.
Matchup to watch — Luck vs. Watt: Two young athletes in their prime who belong on the MVP ballot, Luck and Watt had a memorable first meeting this season in Houston. Luck won the game thanks to a fast start, but Watt was a one-man wrecking crew. He batted down passes, harassed Luck all evening and generally made life very difficult.
Player spotlight — Colts WR Reggie Wayne: He'll see some single coverage, but how Wayne tolerates a torn pectoral muscle will determine his effectiveness.
Fast facts: Watt leads the NFL with 51 sacks since entering the NFL in 2011. … Luck is 4-1 career against Houston.
The Texans have never won a game in Indianapolis – 0-12 all-time. With a conference-best plus-12 turnover margin, this could be Houston's year if nemesis Hilton can be contained. We're betting on Luck delivering late in the game yet again.
Our pick: Colts 34-31
Jacksonville Jaguars (2-11) at Baltimore Ravens (9-5)
Sunday, 1:00 p.m. ET, at M&T Bank Stadium, Baltimore – TV: CBS
TV announcers: Tim McCarthy, Adam Archuleta, Allie LaForce
Keys to the game: The Jaguars have been competitive for stretches during most games this season but have struggled to put together four solid quarters, which has been especially true over the past three weeks. The inconsistency starts with rookie QB Blake Bortles, who has flashed at times but also struggles with his footwork and mechanics. He has a young supporting cast and lost RB Denard Robinson to a season-ending foot sprain, so it will be incumbent upon Bortles to make plays against the league's 31st-ranked pass defense.
Former Jaguars RB Justin Forsett will lead the Ravens attack against the league's 28th-ranked run defense, which allows 132.5 yards per game on the ground and 4.2 yards per carry. Baltimore's biggest threat in this game is the turnover battle. As long as Forsett is setting up manageable third downs and the Ravens keep the chains moving, they can steadily wear down a Jaguars defense that spends far too much time on the field.
Matchup to watch — Jaguars RT Sam Young vs. Ravens OLB Elvis Dumervil: Young was elevated to the starting lineup when Austin Pasztor was placed on IR. The fifth-year journeyman will have his hands full with Dumervil, who is tied for the NFL lead with 16 sacks.
Player spotlight — Jaguars RB Storm Johnson: The rookie has been inactive the past six games, but along with Jordan Todman is expected to share reps behind Toby Gerhart, who is battling an ankle injury.
Fast facts: Jaguars WR Allen Hurns has set a franchise rookie record with six TD catches. … The Ravens start three former Jaguars — Forsett, LB Daryl Smith and LT Eugene Monroe.
The Ravens have won their past 28 home games in which they have been double-digit favorites. The Jaguars are still playing hard and may put up a fight for a half, but minus a ground game Bortles eventually will succumb to the rookie mistakes that have plagued much of his season.
Our pick: Ravens 27-17
Miami Dolphins (7-6) at New England Patriots (7-6)
Sunday, 1:00 p.m. ET, at Gillette Stadium, Foxborough, Mass. – TV: CBS
TV announcers: Ian Eagle, Dan Fouts, Jenny Dell
Keys to the game: It's hard to put much stock in a meeting that took place 14 weeks ago, but the Dolphins are certainly trying to harken back to the success they had in beating the Patriots 33-20 at home to open the season.
Miami had great success with 191 rushing yards in the first meeting. That type of production isn't realistic with Lamar Miller shouldering the brunt of the load minus Knowshon Moreno, but QB Ryan Tannehill is completing 66.7 percent of his passes and has an emerging trusted weapon in rookie WR Jarvis Landry. The Dolphins must be able to control the ball and cash in drives in a game in which everything must fall in their direction.
The Patriots' offense is a different beast than the one the Dolphins shut out in the second half in Week 1. TE Rob Gronkowski is healthy and causing matchup nightmares, the offensive line has gelled and QB Tom Brady has a comfort zone with his receiving corps. But expect to see plenty from the Patriots' stable of running backs early on. The Dolphins have excellent edge rushers, but have been gashed for 661 rushing yards over the past three games due to a combination of poor gap integrity and very poor tackling.
Matchup to watch — Dolphins FS Jimmy Wilson vs. Brady: With Louis Delmas going on IR, Wilson is the likely candidate to move into his starting spot. The domino effect would then mean a new face at nickel corner. Another option is stating rookie Walt Aikens in Delmas' spot. With CBs Cortland Finnegan (ankle) and Jamar Taylor (shoulder) also racing to return from injury, Brady could be licking his chops against a severely undermanned secondary.
Player spotlight — Dolphins RT Jason Fox: Fox could get the start after Dallas Thomas was credited for being beaten for 3.5 sacks last week.
Fast facts: Tannehill has thrown for 490 yards with five touchdowns and a 101.7 passer rating in winning his past two starts against New England. … The Patriots clinch the AFC East title with a victory.
The Patriots return from two weeks on the road to face a very inconsistent but dangerous Dolphins team that has won the past two meetings. Miami will again prove a tough out, but Brady will smell blood in the water against the Dolphins' short-handed secondary and dominate in the quick-strike passing game.
Our pick: Patriots 30-26
Oakland Raiders (2-11) at Kansas City Chiefs (7-6)
Sunday, 1:00 p.m. ET, Arrowhead Stadium, Kansas City, Mo. – TV: CBS
TV announcers: Spero Dedes, Solomon Wilcots
Keys to the game: Backup RB Knile Davis will prepare for more work and possibly a start as Jamaal Charles (ankle) works through his latest ding, but the Chiefs are much more concerned about the recent trend of no-name running backs carving through their defense. While Kansas City is trained in operating without Charles on occasion, not getting off the field on third downs is dogging a defense that had excelled in that area for the first half of the season.
The Raiders will throw six blockers and a downhill running game at Kansas City and test the Chiefs' mettle early in the game. Big plays from RB Latavius Murray (6.5 yards per carry), who had a 90-yard TD run against K.C. three weeks ago, open passing lanes for rookie QB Derek Carr. Carr was cautious yet effective in his first game against this defense, averaging under 5 yards per pass attempt.
Third downs are haunting QB Alex Smith and the Chiefs' offense of late, with three or fewer conversions in four of the past five games, including 2 of 14 in the "Thursday Night Football" loss at Oakland Nov. 20. The Raiders commit an extra defender to clog cutback lanes — also a boon in defending the Chiefs' middle screen game — and dare Smith to throw outside the hashes.
Matchup to watch — Chiefs LT Eric Fisher vs. Raiders OLB Khalil Mack: Mack is up to three sacks but playing better than the numbers indicate, as exhibited by the extra attention he is getting from blocking schemes. Fisher is far from perfect on the blind side. These two players drafted in the top five the past two years could be in for a decade-long duel.
Player spotlight — Chiefs WR Jason Avant: He's getting more work and could soon be the sixth receiver to start opposite Dwayne Bowe as the Chiefs strain for the right combination of outside targets.
Fast facts: The Chiefs have had 488 pass attempts since a wide receiver last caught a touchdown pass (Dec. 8, 2013, Bowe). … The Raiders have won six of the past seven meetings in Kansas City.
Kansas City snaps a three-game losing streak by opening up the offense and forcing the Raiders to play catch-up.
Our pick: Chiefs 25-17
Pittsburgh Steelers (8-5) at Atlanta Falcons (5-8)
Sunday, 1:00 p.m. ET, at Georgia Dome, Atlanta – TV: CBS
TV announcers: Greg Gumbel, Trent Green, Evan Washburn
Keys to the game: The Steelers enter with the league's second-ranked offense and second-ranked passing attack. The Falcons are dead last in total and passing defense.
Fret not, Atlanta fans. Your offense is fifth in passing yards, while the Steelers' pass defense is ranked 23rd in the league and has surrendered five receptions for 50-plus yards – five in the past four games.
You get the picture.
Key to the outcome could be the availability of Falcons WR Julio Jones, he of 21 catches for 448 yards and two touchdowns over the past two weeks. He left last week's game with a hip injury that leaves his status in doubt and with Roddy White (ankle) at less than 100 percent, QB Matt Ryan might not have all of his weapons at his disposal to go toe to toe with Steelers QB Ben Roethlisberger. Atlanta has averaged 27 rushes over its past six games, and must stay committed to that effort to help protect the defense.
As poor as the Falcons' pass defense has been, Atlanta does have a plus-five turnover margin and the Steelers have stubbed their toe against losing teams regularly this season, losing to Tampa Bay and the Jets and narrowly escaping Jacksonville and Tennessee – all four-win teams.
Matchup to watch — Steelers WR Martavis Bryant vs. Falcons CB Robert McClain: Bryant is only the fourth player in NFL history with seven TD catches in his first seven career games. The last was Max McGee in 1954. …
Player spotlight — Steelers SS Troy Polamalu: He has lost a step at 33, but will still be active in attacking the line of scrimmage and can be a difference-maker. But if Ryan can catch him out of position, as happened to Polamalu last week, big plays are there to be had.
Fast facts: Steelers RB Le'Veon Bell needs to average 153 yards over the final three games to tie Barry Foster's (1,690) single-season team rushing record. … The Falcons' offensive line will feature the same starting lineup for the seventh straight game.
Pepto Bismol has likely been in short supply during defensive meetings leading up to this game. It will be a track meet inside the dome, with a slight edge to the visiting Steelers due to the versatile threat Bell brings to the equation.
Our pick: Steelers 41-34
Tampa Bay Buccaneers (2-11) at Carolina Panthers (4-8-1)
Sunday, 1:00 p.m. ET, at Bank of America Stadium, Charlotte – TV: FOX
TV announcers: Dick Stockton, Brady Quinn, Kristina Pink
Keys to the game: The Bucs have been eliminated from playoff contention, but coach Lovie Smith is still playing to win games and decided to stick with struggling 35-year-old QB Josh McCown rather than take another look at Mike Glennon. Then again, rookie RB Charles Sims played 40 snaps compared to 24 for starter Doug Martin last week. Due to poor offensive line play, the Bucs too often abandon the ground game early – at times because they're playing from behind. McCown is then left to test the edges to WRs Mike Evans and Vincent Jackson because injuries have thinned the tight end position.
With their playoff hopes at stake, the Panthers have been forced to turn to QB Derek Anderson following Cam Newton's car accident Tuesday. Anderson is a solid veteran with a strong arm, but he lacks Newton's mobility and the Bucs know they can attack the pocket. A big question will be the availability of DT Gerald McCoy (knee) and LB Lavonte David (concussion). Anderson did beat the Bucs in the teams' first meeting this season, but Carolina's offense will begin with RB Jonathan Stewart, who is healthy and coming off a 155-yard rushing day at New Orleans.
Matchup to watch — Bucs MLB Danny Lansanah vs. Panthers TE Greg Olsen: Olsen is always a threat working the seam against Smith's Tampa-2 defense. Lansanah struggled last week and would again start in the middle if Foster is unable to play.
Player spotlight — Bucs DE Jacquies Smith: Despite being claimed off waivers following the season opener, Smith has been a pleasant surprise with two more sacks last week bringing his season total to six. He admitted a season-long goal of reaching double-digits.
Fast facts: Evans has already set a single-season franchise record with three multiple-touchdown games. … Panthers WR Kelvin Benjamin is second among NFL rookies with nine TD catches and 848 receiving yards.
Anderson is a savvy veteran who has already beating Tampa once this season. With the o-line playing better and the Bucs' defense ailing up the middle, Carolina relies on a run-heavy scheme to steadily pull away.
Our pick: Panthers 24-17
Washington Redskins (3-10) at New York Giants (4-9)
Sunday, 1:00 p.m. ET, MetLife Stadium, East Rutherford, N.J. – TV: FOX
TV announcers: Kenny Albert, Daryl Johnston, Tony Siragusa
Keys to the game: The Giants have outscored the Redskins 65-20 in the past two meetings on the strength of timely big plays on offense and takeaways on defense. TE Larry Donnell caught three TD passes in the Week 4 meeting for the Giants, and QB Eli Manning has three consecutive wins over Washington. The Redskins don't know what they're going to get from rookie CB Bashaud Breeland, who matched Dez Bryant one week but then suffered blown coverage assignments against the Rams and Colts. Manning has supreme confidence in WR Odell Beckham, who caught 11 passes last week. The gear the Giants want to find more consistently is balance.
Redskins RB Alfred Morris should be spitting fire when he takes the field after a career-worst effort last week. Teams don't fear QB Colt McCoy when DeSean Jackson isn't running deep routes, and neither player was fully healthy at midweek. That shapes up as heavy run fronts and tough sledding for Morris, a squat but consistent runner who has 100-plus yards in four of five career games in this series. If McCoy's sprained neck settles down, he will start and can expect single coverage across the formation.
Matchup to watch — Giants DE Jason Pierre-Paul vs. Redskins OT Trent Williams: Pierre-Paul has seven sacks in his contract year, but he is labeled the "total package" by the Redskins, who aren't exactly a brick wall up front as-is — McCoy was sacked six times last week. Williams is the Redskins' top lineman, but has not played up to his typical Pro Bowl level this season.
Player spotlight — Giants RB Andre Williams: He leads NFL rookies with six rushing touchdowns and broke out last week with a 50-yard TD run among 131 yards rushing.
Fast facts: Redskins WR Pierre Garcon leads the NFC with 171 total catches since the start of the 2013 season. … Manning is 7-2 against Washington at home.
The Giants aren't scaring anyone defensively but can still attack weaker prey with a skilled front four. New York could make it a laugher by avoiding turnovers.
Our pick: Giants 27-15
Denver Broncos (10-3) at San Diego Chargers (8-5)
Sunday, 4:05 p.m. ET, at Sports Authority Field at Mile High, Denver – TV: CBS
TV announcers: Jim Nantz, Phil Simms, Tracy Wolfson
Keys to the game: Cornerback depth is a known issue for the Chargers, who had no answer for Emmanuel Sanders (three TDs) in the first meeting this season. Committing extra resources to slowing down Sanders and Manning might only prolong the inevitable. Denver is averaging more than five yards per carry in the past three games. San Diego is still in search of its missing pass rush and if the Chargers don't at least get Manning off his spot on occasion it could be a long day.
The Chargers could change their approach with every Denver score. Fundamentally, the simple plan is run the ball to keep the heat off QB Philip Rivers. But RB Ryan Mathews must rebound from an ankle injury, the offensive line must improve as a whole and the interior line has to withstand blitz looks up the middle.
Matchup to watch — Broncos DE DeMarcus Ware and LB Von Miller vs. Chargers OTs King Dunlap and D.J. Fluker: Dunlap neutralized Ware in the Week 8 meeting in Denver. But Miller had a sack working against Fluker, who has allowed one sack in six of the last nine games. Denver will try to generate some pressure up the middle to counter Rivers' habit of marching forward to dodge edge pressure.
Player spotlight — Chargers OLB Melvin Ingram: He's coming on strong and has been the team's top pass rusher down the stretch. How Ingram is used is becoming the biggest key to stopping opposing quarterbacks.
Fast facts: Chargers coach Mike McCoy previously served as Broncos offensive coordinator. He's 1-3 against Denver. … Manning is the only player in NFL history with four 35-touchdown seasons.
The Broncos get their NFL-record 12th consecutive division road victory by going with the new recipe of running early and launching only as required.
Our pick: Broncos 28-21
New York Jets (2-11) at Tennessee Titans (2-11)
Sunday, 4:05 p.m. ET, at LP Field, Nashville – TV: CBS
TV announcers: Andrew Catalon, Steve Tasker, Steve Beuerlein
Keys to the game: Chris Johnson is in a split backfield role with Chris Ivory, but you can bet Jets coach Rex Ryan will give him plenty of opportunity to leave an impression in Johnson's first game back in Nashville. The Titans enter with the league's worst run defense, and can expect a steady diet of Ivory and Johnson. QB Geno Smith continues to preach consistency as his area of most needed improvement, and there is no better way to support a quarterback than setting him up with a consistent platter of 3rd-and-2s.
The Titans have a good young back of their own in Bishop Sankey, who is backed up by Shonn Greene, who swapped NFL uniforms with Johnson over the offseason. Coach Ken Whisenhunt has rarely attempted to establish the ground game, but with a dinged up offensive line going against the Jets' stout front four and backup QB Jake Locker forced back into the huddle, Tennessee also needs some solid production via the ground. Locker has completed just 59.3 percent of his passes with five TDs against seven INTs this season, although he does bring more versatility than injured Zach Mettenberger and flashed at times earlier this season before injuries again took their toll.
Matchup to watch — Titans LT Will Svitek vs. Jets DE Jason Babin: Babin might not put the same fear into Svitek after he was abused by Houston's J.J. Watt and the New York Giants' Jason Pierre-Paul to the tune of five sacks, but Babin is a veteran pass-rushing specialist with the ability to continue Locker's run of injuries if given clean shots. Whisenhunt hasn't ruled out making a position switch.
Player spotlight — Jets WR Percy Harvin: Harvin said he expects to play on his sore ankle, Ryan called it "a stretch" on Wednesday. His availability to could prove the tipping point as his versatility near the line of scrimmage is a significant asset for Smith.
Fast facts: Johnson ranks third in Titans franchise history with 7,965 rushing yards and 50 TDs. … Greene needs 62 rushing yards to reach 4,000 for his career.
Someone is going to lose valuable draft position by improving to three wins. It's a longshot to be the Titans, who are dusting off Jake Locker, an injury-prone former first-rounder who may be hard pressed yet again to finish a game he starts.
Our pick: Jets 16-9
Minnesota Vikings (6-7) at Detroit Lions (9-4)
Sunday, 4:25 p.m. ET, at Ford Field, Detroit – TV: FOX
TV announcers: Chris Myers, Ronde Barber, Jennifer Hal
Keys to the game: The Vikings were physically overpowered in a 17-3 loss to the Lions at home in Week 6. As they prepare for the rematch, QB Teddy Bridgewater is confident he is a different quarterback capable of handling Detroit's defense far better.
But he can't do anything about the ground game, which managed only 68 yards against the Lions' top-ranked run defense the first time around. And Minnesota's prospects on the ground aren't promising as they're slated to line up with their second left guard, second right tackle and third right guard this season.
Regardless, the Vikings must run the ball far better Sunday, because the Lions will also have WR Calvin Johnson and Reggie Bush available for the rematch. QB Matthew Stafford's main charge is to avoid turnovers and force Bridgewater to win the game with extended drives on the road.
Matchup to watch — Vikings CB Xavier Rhodes vs. Johnson: Rhodes, a first-round pick in 2013, is quietly emerging as one of the league's top young cover corners. He is big and aggressive, working well in tight coverage and racking up three passes defenses in each of the past three games. Johnson is finally healthy and has three touchdown catches over the past two weeks.
Player spotlight — Vikings RBs Ben Tate/Joe Banyard: Vikings coach Mike Zimmer admitted plodding former fullback Mike Asiata received too many touches with 19 carries last week. Tate, added to the roster three weeks ago and Banyard, a former practice squad player with some shiftiness to his game, are expected to be far more involved this week.
Fast facts: Bridgewater was sacked eight times in the first meeting. He has been sacked 13 times over his past six games.
The Vikings are just good enough to catch the Lions' attention, but Minnesota's six wins are all against teams currently with losing records. The Lions will physically dominate in the trenches defensively, providing Stafford & Co. with consistent short fields to play with.
Our pick: Lions 23-13
San Francisco 49ers (7-6) at Seattle Seahawks (9-4)
Sunday, 4:25 p.m. ET, at CenturyLink Field, Seattle – TV: FOX
TV announcers: Joe Buck, Troy Aikman, Erin Andrews
Keys to the game: The 49ers' offense has lacked an identity much of the season, but the wheels became particularly wobbly during an embarrassing 19-3 home loss to the Seahawks on Thanksgiving Day. QB Colin Kaepernick completed just 10 passes, RB Frank Gore averaged 3.6 yards per carry and the offensive line was powerless to support either.
Kaepernick would be wise to stop throwing in the direction of CB Richard Sherman, his arch nemesis who has picked off three passes over the past two meetings. And offensive coordinator Greg Roman would be wise to get Kaepernick out of the pocket and utilize his multi-dimensional skills. Kaepernick has hurt the Seahawks with his legs in the past, but stands little chance as an inaccurate pocket passer attacking the Legion of Boom.
The Seahawks' offense remains a mishmash of RB Marshawn Lynch bowling over and QB Russell Wilson darting around would-be tacklers. It ain't pretty, but it has been effective. If San Francisco can keep Wilson hemmed in, Seattle's wide receivers don't gain separation easily and pass protection breaks down quickly.
Matchup to watch — Gore vs. Seahawks MLB Bobby Wagner: Seattle's defensive resurgence coincided with Wagner's return from a toe injury. The Seahawks have allowed just 191 combined rushing yards in victories over the Cardinals, 49ers and Eagles.
Player spotlight — 49ers CB Dontae Johnson: The rookie is expected to start in the injury-ravaged secondary if Chris Culliver (knee) is sidelined.
Fast facts: Sherman has two interceptions while allowing two completions over the past three games for an opposing quarterback rating of 0.0, according to Pro Football Focus. … Wilson has 33 regular-season victories, tied with Dan Marino and Matt Ryan for the most in NFL history by quarterbacks in their third NFL seasons.
Billed as one of the games of the year when the schedule came out, the 49ers now have the feeling of a grenade with multiple hands grasping at the pin. Anything can happen in a rivalry as bitter as this, but the Seahawks would love nothing more than to be the team to yank that pin and watches the seemingly inevitable implosion play out.
Our pick: Seahawks 26-16
Dallas Cowboys (9-4) at Philadelphia Eagles (9-4)
Sunday, 8:25 p.m. ET, at Lincoln Financial Field, Philadelphia – TV: NBC
TV announcers: Al Michaels, Cris Collinsworth, Michele Tafoya
Keys to the game: Eagles coaches believe a healthier Dallas team is coming to town this week than the one they faced on Thanksgiving. The Eagles could be a little worse for wear after a beatdown from the Seahawks that was worse than the 24-14 final indicated.
QB Mark Sanchez won't mind seeing the Cowboys' secondary step into his home stadium, not after he roasted that defense inside, outside and all points between in the first matchup. WR Riley Cooper played a big role in that game, and the Cowboys never truly solved RBs LeSean McCoy and Darren Sproles on the two-deep zone-busting swing passes.
Coach Jason Garrett said the Cowboys weren't ready for the exhausting tempo in the first meeting. The everlasting essential to road success is RB DeMarco Murray, who had 179 rushing yards at Chicago last week and has 100-plus on the ground in 11 of 13 games this season. Eight in the box for the Eagles limited Murray to 73 yards with a long of nine Thanksgiving Day, when the Eagles tightly checked TE Jason Witten and QB Tony Romo shied away from one-on-one shots downfield. The Eagles are 26th in the NFL in pass defense and have allowed 26 touchdown passes.
Matchup to watch — McCoy vs. Cowboys MLB Rolando McClain: The Eagles rushed for 256 yards in last month's game and McCoy showed great speed and quickness in easily separating from McClain in the open field.
Player spotlight — Cowboys LT Tyron Smith: Eagles pass rusher Connor Barwin, who leads the NFC in sacks with 13.5, will line up over Smith. The Cowboys allowed four sacks in the first meeting and need to keep the pocket clean for Romo to thrive.
Fast facts: The Eagles have an NFL-worst 30 turnovers. … The past seven Seattle opponents lost the week after playing the Seahawks. … Romo has a 100-plus QB rating in five straight road games.
In a game that could determine the NFC East winner, Dallas wins for the fifth time in six trips to Philadelphia, better protecting Romo and challenging Sanchez to win the game.
Our pick: Cowboys 30-24
New Orleans Saints (5-8) at Chicago Bears (5-8)
Monday, 8:30 p.m. ET, at Soldier Field, Chicago – TV: ESPN
TV announcers: Mike Tirico, Jon Gruden, Lisa Salters
Keys to the game: Drizzle, downpour or flurries, the Saints are hitching their offense to RB Mark Ingram. He's second in the NFL with 651 rushing yards since Week 8, and the Bears have allowed at least 4.1 yards per carry in four of the past five games. Getting Ingram going to start the game should help avoid difficult down-and-distance situations for QB Drew Brees. The Saints were 1 of 10 on third down last week, but have had a good season running the ball and rank ninth in the NFL with 123.7 yards per game. There will be chances for Brees, because the Bears don't have a good answer for TE Jimmy Graham, and Chicago allowed 75 points the past two games.
The Saints have two major worries defensively – RB Matt Forte, who can do everything well, and getting pressure on QB Jay Cutler. Tremendously talented across the board, the Bears do not play well from behind. Cutler, who has lost six fumbles, has been erratic. He has 15 interceptions and has been sacked 29 times. But blitzing is proving problematic for this defense, which is 29th against the run and pass and battling constant breakdowns at the safety position.
Matchup to watch — Bears WR Alshon Jeffery vs. Saints CB Keenan Lewis: Jeffery had 10 receptions last week with the team in hurry-up, comeback mode for most of the game. Cutler is going for Jeffery when he needs a big play.
Player spotlight — Bears OG Ryan Groy: The undrafted rookie has the size and strength to settle into a larger role after splitting time with Michael Ola at left guard last week.
Fast facts: The Bears and Saints have allowed 27 or more points a combined 15 times this season. … Forte is the only NFL player with more than 800 yards rushing and 700 yards receiving.
WHO WILL WIN AND WHY
Windy conditions might be the only thing to save two unsightly defenses from primetime embarrassment. The Bears commit to Forte and push toward eight wins.
Our pick: Bears 32-27