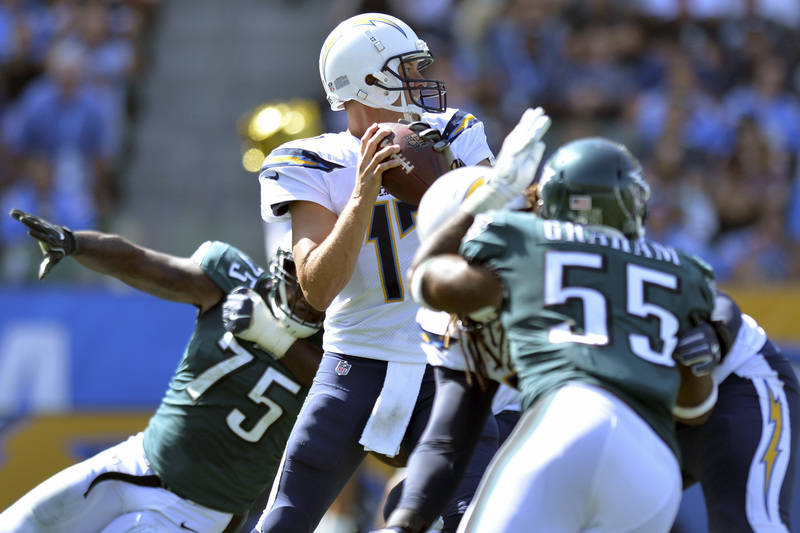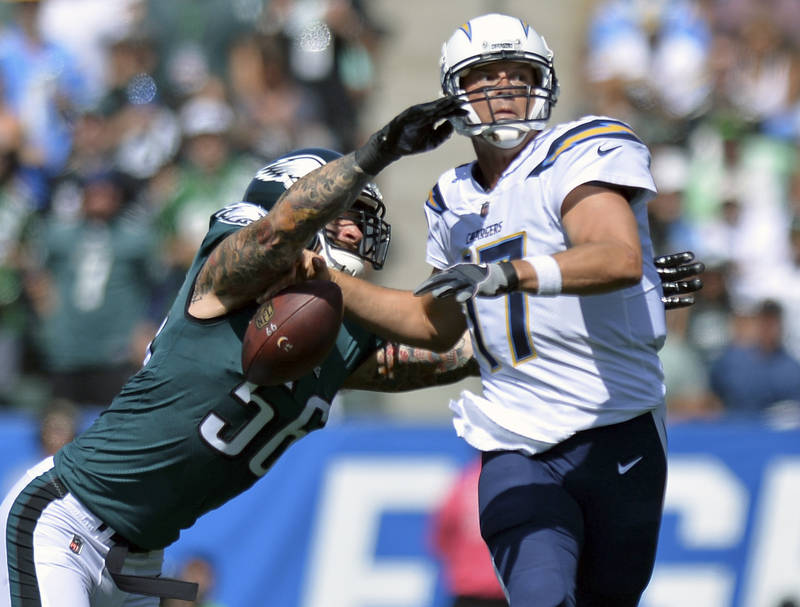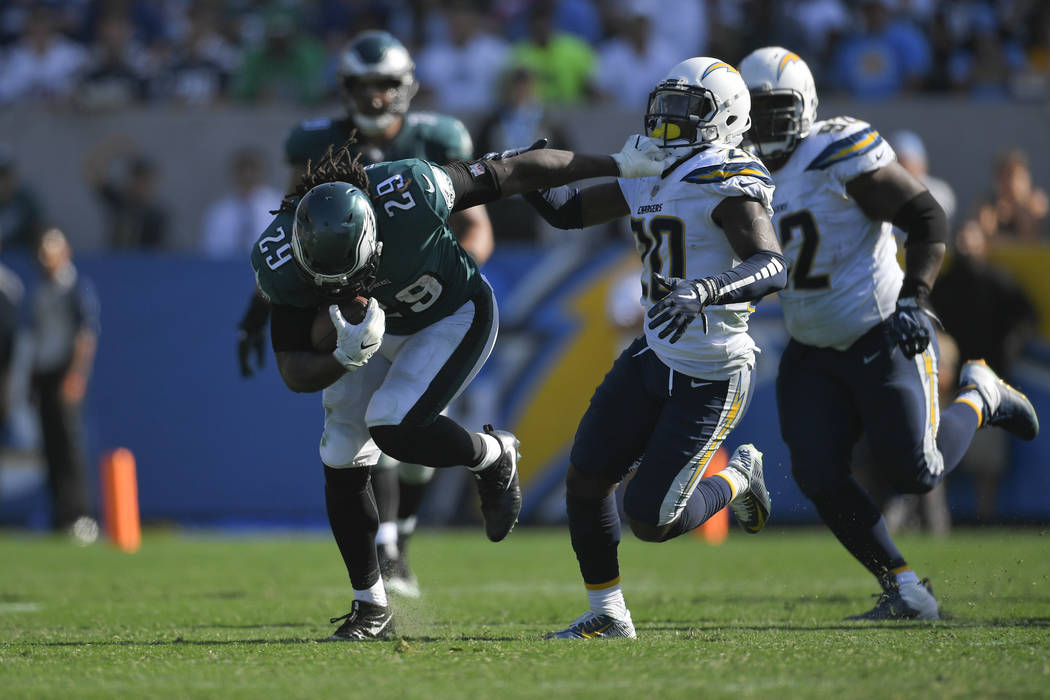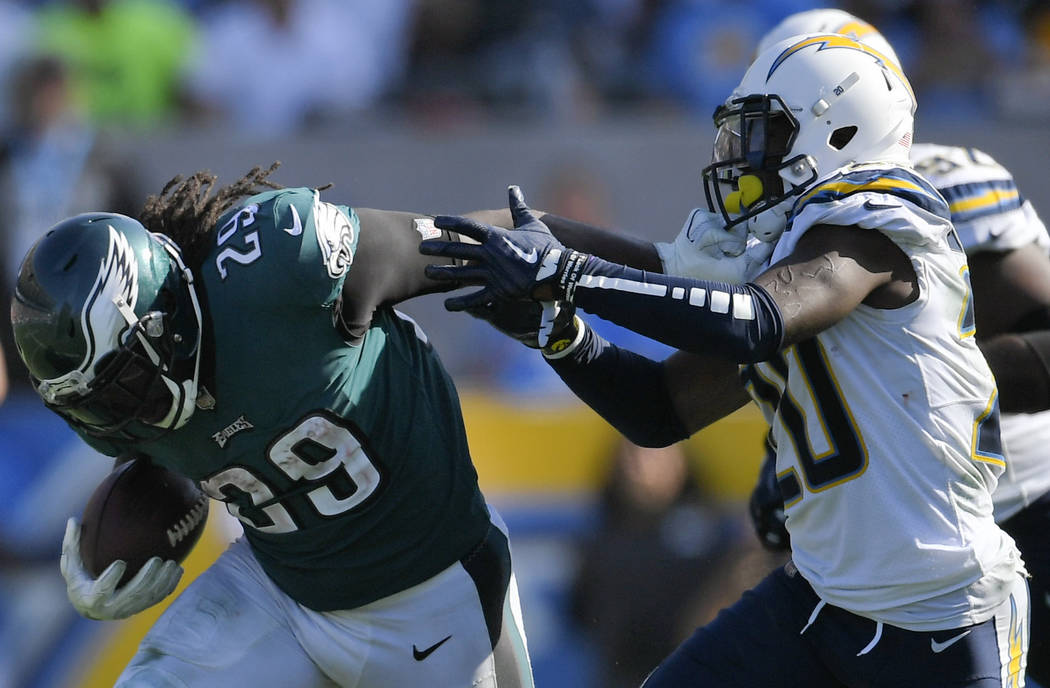 Analysis by Bruce Marshall, GoldSheet.com
Los Angeles Chargers (0-4) at New York Giants (0-4)
Time: 10 a.m.
Line/Total: Giants -3, 44½
Analysis: The Chargers might get more crowd support at MetLife than they do at StubHub Center, but that could be due to Giants fans turning on their team after an 0-4 start that's made "Fire Ben McAdoo" a popular search topic on Google. Anthony Lynn is still winless in his Los Angeles coaching debut, but technicals support the Chargers. In a matchup of teams not likely to escape the gravity pull of the other, we'll take any available points. Maybe a rare overtime tie would be appropriate.
By the numbers: The Giants are on a 5-7 ATS slide as home favorites. … The Chargers are on a 23-11-1 ATS run as road underdogs.
Pick: Chargers, 25-24
Buffalo Bills (3-1) at Cincinnati Bengals (1-3)
Time: 10 a.m.
Line/Total: Bengals -3, 39½
Analysis: Cincinnati's petition to the league to put Cleveland on the schedule every week has been predictably denied. But you can't blame coach Marvin Lewis for trying, as his Bengals are 5-12-1 straight up and 4-13-1 ATS vs. teams not named the Browns in regular-season action since late 2015. So not sure all is well again with 1-3 Cincinnati after yet another win over lowly Cleveland last Sunday. If the playoffs started this week, 3-1 Buffalo would be in for the first time since 1999, as first-year coach Sean McDermott is doing a lot more with the defensive talent on hand than Rex Ryan could the past couple of years.
By the numbers: The Bengals are on a 10-2 under run. … The Bills are on a 12-6-1 ATS streak as road underdogs.
Pick: Bills, 19-16.
New York Jets (2-2) at Cleveland Browns (0-4)
Time: 10 a.m.
Line/Total: Browns -1, 40
Analysis: The Jets could be 3-2 after this trip to Cleveland. All it takes is a win over the lowly Brownies, who have won once in their past 23 games, yet somehow were made an early favorite by oddsmakers. The only category in which Cleveland rookie quarterback DeShone Kizer leads the league is in taking hits, and he was mercifully yanked by coach Hue Jackson in last week's blowout loss to the Bengals. Unlike the Browns, the Jets can rely on their infantry, led by running backs Bilal Powell and Elijah McGuire.
By the numbers: The Browns are 1-22 in their past 23 games overall and are on a 4-14-1 ATS slide in their past 19 home games.
Pick: Jets, 20-16
Jacksonville Jaguars (2-2) at Pittsburgh Steelers (3-1)
Time: 10 a.m.
Line/Total: Steelers -7½, 42½
Analysis: If Jacksonville's zig-zag pattern continues, it's due for a decent showing. Expect its supposedly upgraded defense to buck up after allowing the Jets to play smashmouth and gain 256 yards rushing last week. Pittsburgh is leaning awfully heavy on Le'Veon Bell (35 carries last week vs. Ravens), and if the Jaguars don't lose contact, Doug Marrone won't have to ask Blake Bortles to play catch-up from too far behind.
By the numbers: The Jaguars are 8-3 ATS in their past 11 games as road underdogs. … The Steelers have gone under in their first four games.
Pick: Steelers, 22-17
Tennessee Titans (2-2) at Miami Dolphins (1-2)
Time: 10 a.m.
Line/Total: Titans -2½, 43
Analysis: Based upon six total points scored the past two weeks vs. the Jets and Saints, Jay Cutler might want to reconsider his enlistment with Miami and return to his job in the Fox TV booth. But a disruptive September is now behind the Dolphins, who get to play at home for the first time since Aug. 17. Tennessee is not exactly bringing a lot of momentum into Miami after getting lit up in a 57-14 loss at Houston. Titans quarterback Marcus Mariota's status also is up in the air after he was sidelined by a hamstring injury last Sunday, so Tennessee might be relying on backup quarterback Matt Cassel.
By the numbers: The Dolphins have gone under the total in their first three games.
Pick: Dolphins, 20-16
San Francisco 49ers (0-4) at Indianapolis Colts (1-3)
Time: 10 a.m.
Line/Total: Colts -1½, 44½
Analysis: We're willing to give the 49ers a chance to win a game after coming excruciatingly close in three straight losses in which they went 3-0 ATS. Coach Kyle Shanahan's new offense has been held without a TD in three of four games, but kicker Robbie Gould is salvaging points from stalled drives. The main attraction here is bucking the Colts after their second-half collapse at Seattle.
By the numbers: The 49ers are on a 5-1 ATS streak. … The Colts have gone under in seven of their past 10 home games.
Pick: 49ers, 22-19
Arizona Cardinals (2-2) at Philadelphia Eagles (3-1)
Time: 10 a.m., KVVU-5
Line/Total: Eagles -6½, 44½
Analysis: Arizona quarterback Carson Palmer still can execute a ball-control passing game, meaning the Cardinals probably will set a molasses-like tempo until further notice. Eagles quarterback Carson Wentz is expected to make increased use of running back LeGarrette Blount, who banged for 136 yards rushing vs. the Chargers, further slowing the pace in a game that should go under the total.
By the numbers: The Eagles are on a 1-4 ATS slide as favorites. … The Cardinals have gone under in their past three games without David Johnson.
Pick: Eagles, 20-17
Carolina Panthers (3-1) at Detroit Lions (3-1)
Time: 10 a.m.
Line/Total: Lions -2½, 42½
Analysis: Though Carolina revived last week in its win at New England, the Panthers have not exactly been a paradigm of consistency, and quarterback Cam Newton has been embroiled in extra distractions this past week. The Lions are a controversial call away from being 4-0, with a juiced-up pass rush fueling the defense and quarterback Matthew Stafford getting help on offense.
By the numbers: The Lions are on a 11-4-1 ATS run as home chalk. … The Panthers are on a 6-1 ATS run as road underdogs.
Pick: Lions, 27-20
Seattle Seahawks (2-2) at Los Angeles Rams (3-1)
Time: 1:05 p.m.
Line/Total: Rams -1½, 47½
Analysis: Averaging 36 points, it's obvious that brash first-year coach Sean McVay has a pretty good idea what he's doing on the offensive end after making Kirk Cousins a rich guy in Washington. Keep in mind that this has been a tough matchup for Seattle even vs. Jeff Fisher's stodgy offenses, as lesser Rams teams won four of the past six meetings. Look for this game to go over the total.
By the numbers: The Rams have gone over in their past six games. … Los Angeles has covered the past five meetings at home.
Pick: Rams, 30-27
Baltimore Ravens (2-2) at Oakland Raiders (2-2)
Time: 1:05 p.m., KLAS-8
Line/Total: Raiders -3, 39½
Analysis: Advise Raiders fans to pump the brakes a bit on quarterback EJ Manuel, whose encouraging effort in relief of Derek Carr at Denver recalled some of his bright moments at Buffalo. The main attraction here is to fade a Ravens squad that might be unraveling and appears unable to count on quarterback Joe Flacco to spark the offense. Flacco appears to be playing at less than 100 percent since returning from a back injury that sidelined him in preseason.
By the numbers: The Ravens are on a 2-7 ATS slide on the road.
Pick: Raiders, 24-14
Green Bay Packers (3-1) at Dallas Cowboys (2-2)
Time: 1:25 p.m., KVVU-5
Line/Total: Cowboys -3, 52½
Analysis: It's becoming apparent that owner Jerry Jones didn't make the needed defensive upgrades in Dallas. When last seen against Green Bay, the Cowboys' secondary was pierced by Aaron Rodgers in the playoffs. And Rod Marinell's defense has been exploited by the likes of Trevor Siemian and Jared Goff this season. Ezekiel Elliott also hasn't been finding as much room to run as he did a year ago.
By the numbers: The Cowboys are on a 3-8 ATS slide. … The Packers are on an 8-1 over run on the road.
Pick: Packers, 31-24
Kansas City Chiefs (4-0) at Houston Texans (2-2)
Time: 5:30 p.m., KSNV-3
Line/Total: Pick, 45
Analysis: We're compelled to hop on board the burgeoning Texans bandwagon and perhaps catch an extended uptick in its earlier stages. The lights are already going on for rookie quarterback Deshaun Watson, whose near-miss at New England and destruction of Tennessee in his past two starts are warning signs to NFL teams. It won't be easy for Chiefs rookie running back Kareem Hunt to motor against Houston's fierce front seven, which is allowing only 3.6 yards per carry.
By the numbers: Kansas City coach Andy Reid has covered his past seven games as road chalk. … The Texans are on a 10-4-1 ATS run at home in the regular season.
Pick: Texans, 33-24
Minnesota Vikings (2-2) at Chicago Bears (1-3)
Time: 5:30 p.m., ESPN
Line/Total: Vikings -2½, 40
Analysis: Bears coach John Fox makes the quarterback switch from Mike Glennon to rookie Mitchell Trubisky. Even while using a variety of quarterbacks under Fox, the Bears have had a knack of punching above their weight as a Soldier Field underdog. Minnesota quarterback Sam Bradford is questionable, and rookie running back Dalvin Cook is out for the rest of the season with a torn ACL.
By the numbers: The Bears are on a 6-1-1 ATS streak as home underdogs. … The home team has covered in Chicago's first four games. … The Vikings are on a 3-6 ATS slide on the road.
Pick: Bears, 20-13