Oddsmaker projects Tiger Woods to open at 3-1 to win major in 2019
Updated August 13, 2018 - 11:49 pm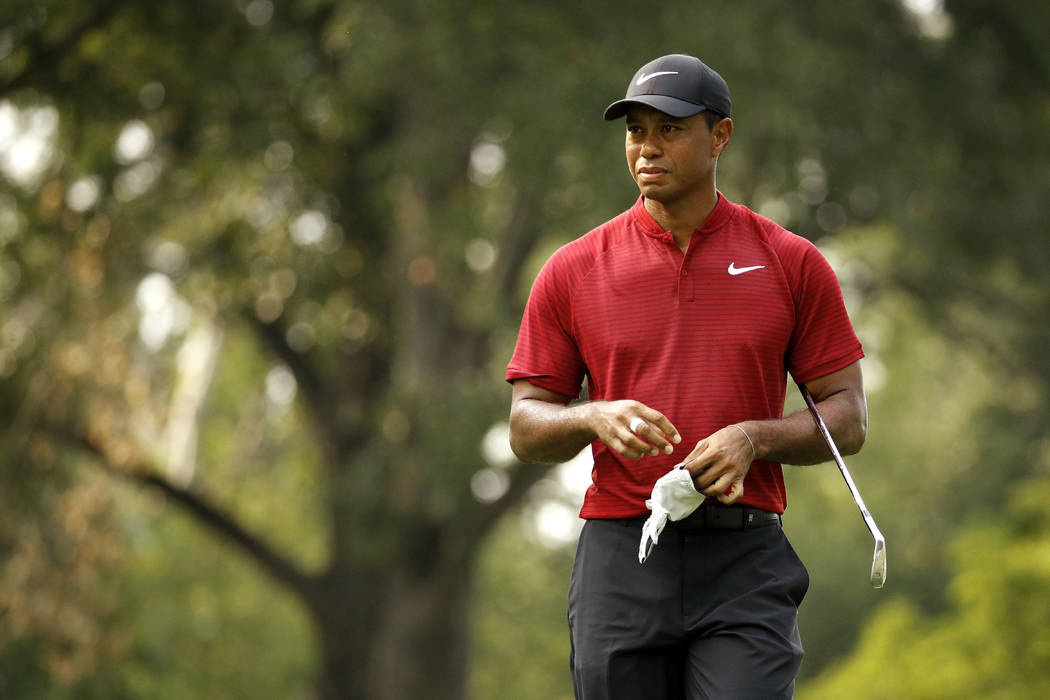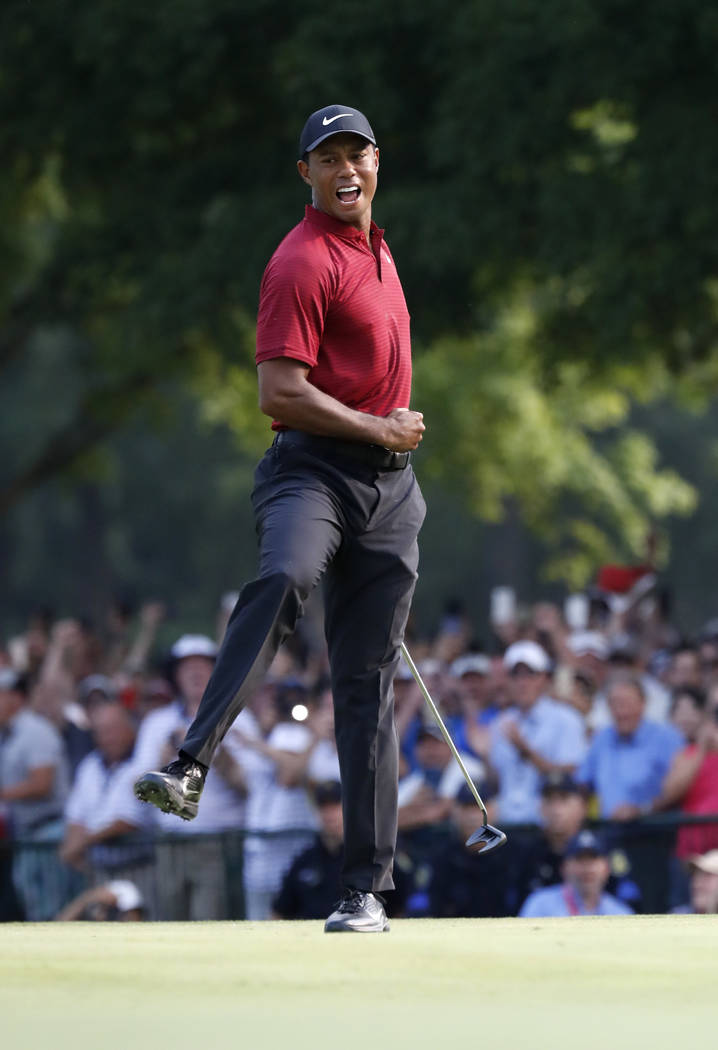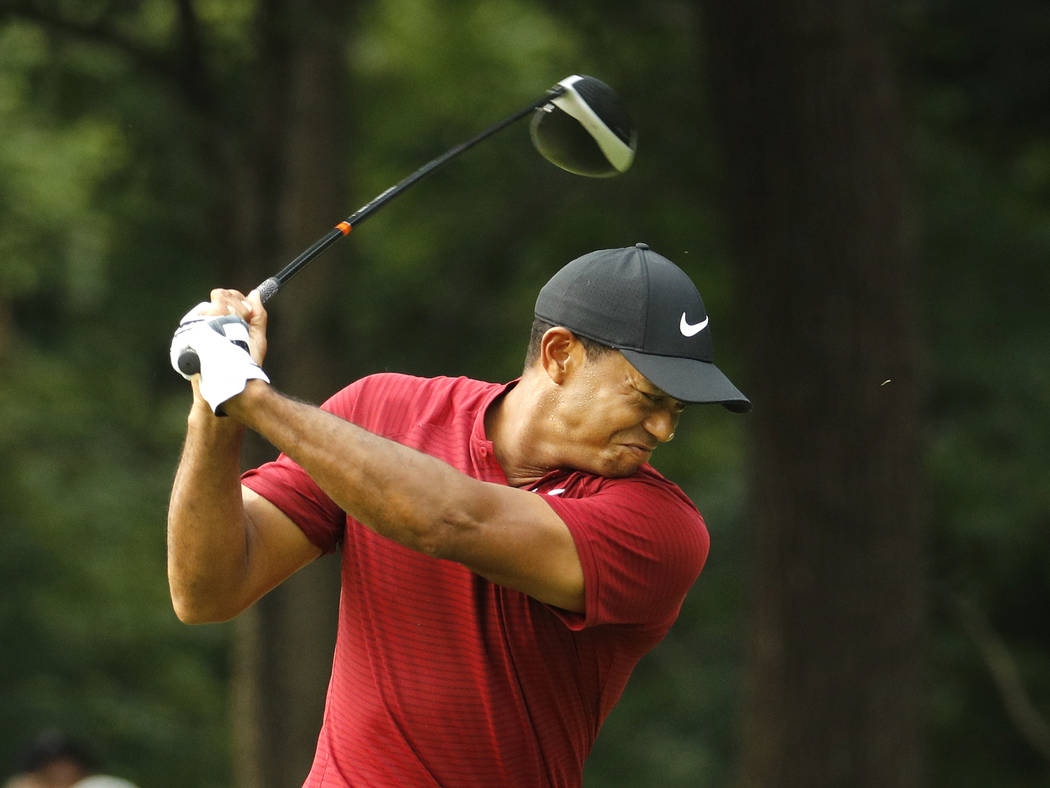 Tiger Woods is back and so are the short odds on him to win another major.
A year after Woods opened as a 100-1 long shot at the William Hill sports book to win the 2018 Masters, the 14-time major champion opened as the 12-1 co-favorite at William Hill to win the 2019 Masters.
Woods, coming off a thrilling runner-up performance to Brooks Koepka at the PGA Championship, is the 12-1 co-second choice at the Westgate sports book to win the 2019 Masters behind Jordan Spieth, the 10-1 favorite.
"Tiger's days of 100-1 are long gone now," Westgate sports book manager Jeff Sherman said.
Ten years after his last major victory and a year removed from his fourth back surgery and a DUI arrest, Woods has made a stunning turnaround in 2018. He placed sixth at the British Open and second at the PGA Championship after closing with a 64 on Sunday in the lowest final round of his major career.
"Nobody thought he'd be back to this level this quickly," Sherman said. "He's obviously in the conversation now. He was a 4-foot putt in the British Open from finishing second in the last two majors."
True Tiger odds
Woods opened at 20-1 odds to win a major this year. Sherman projected his odds to be about 3-1 to win a major in 2019.
"You're getting into true odds now with his performance being what it is," he said. "I'm sure we'll see considerable support on him at 12-1 (to win the Masters). If we stuck up 20-1 on Tiger in the Masters, I think sharp players would be involved in that.
"We're starting to see something closer to reality at this point based on what his performance is."
Woods-Mickelson odds
After Woods finished two shots behind Koepka on Sunday, Sherman increased Tiger to a 2-1 favorite over Phil Mickelson in their head-to-head 18-hole match that reportedly will be played Thanksgiving weekend at Shadow Creek Golf Course in Las Vegas.
Woods, who opened as a minus 150 favorite Aug. 2, was moved to a minus 180 favorite on Monday morning.
"I don't want to get too high until I hear whether it's a match play or stroke play format," Sherman said. "There's more of a chance to stay in match play rather than stroke play, where one bad hole can take you out of it.
"If they announce the winner will be based on stroke play, then I'll bump Tiger's price. But I'm anticipating it's going to be a match play format."

There have been only four wagers placed on the potential match so far, with one ticket on Phil and three on Tiger.
Fading Tiger
For the first time in years in a major, Sherman said a win by Woods would've been a positive result for the Westgate, where he closed at 25-1 odds.
"It was just one of those rare positions," he said. "He's usually a liability for the book when he plays in majors. There just wasn't that much (action) there."
Sherman said the betting public was probably turned off by Woods' poor performance the week before at the Bridgestone Invitational, where he closed with back-to-back 73s and finished out of the top 30.
"A lot of people looked elsewhere," he said.
The wiseguys wagered against Woods, betting him not to finish in the top 20 and to miss the cut. To finish out of the top 20 opened at minus 150 and closed at minus 180 and to miss the cut opened at plus 450 and closed at plus 400.
"Sharps were mostly fading him," Sherman said. "Sharps tend to do that."
Brooks beats books
The Westgate broke even on their usually profitable outright pool to win the PGA Championship after Koepka backers cashed in at odds ranging from 20-1 before the tournament to even money before the final round.
Koepka is in a group of six golfers tied as 12-1 favorites at William Hill to win the Masters. He's the 14-1 third choice at the Westgate.
"He's won three of the last seven majors and he gets well supported in majors, too," Sherman said. "You have to respect that at this point."
Contact reporter Todd Dewey at tdewey@reviewjournal.com. Follow @tdewey33 on Twitter.