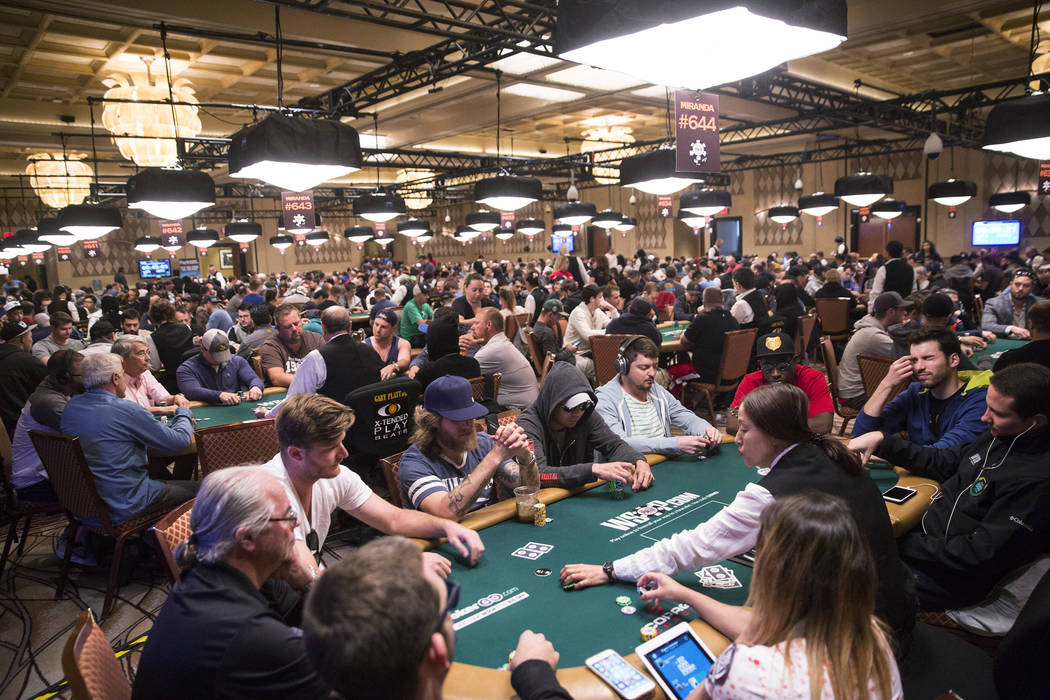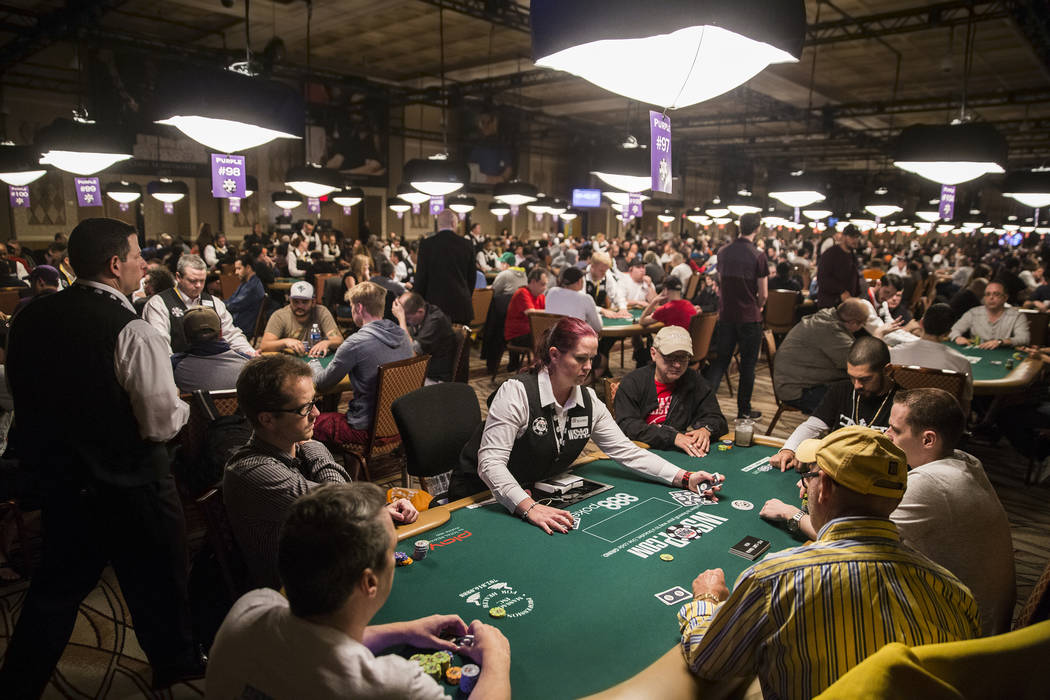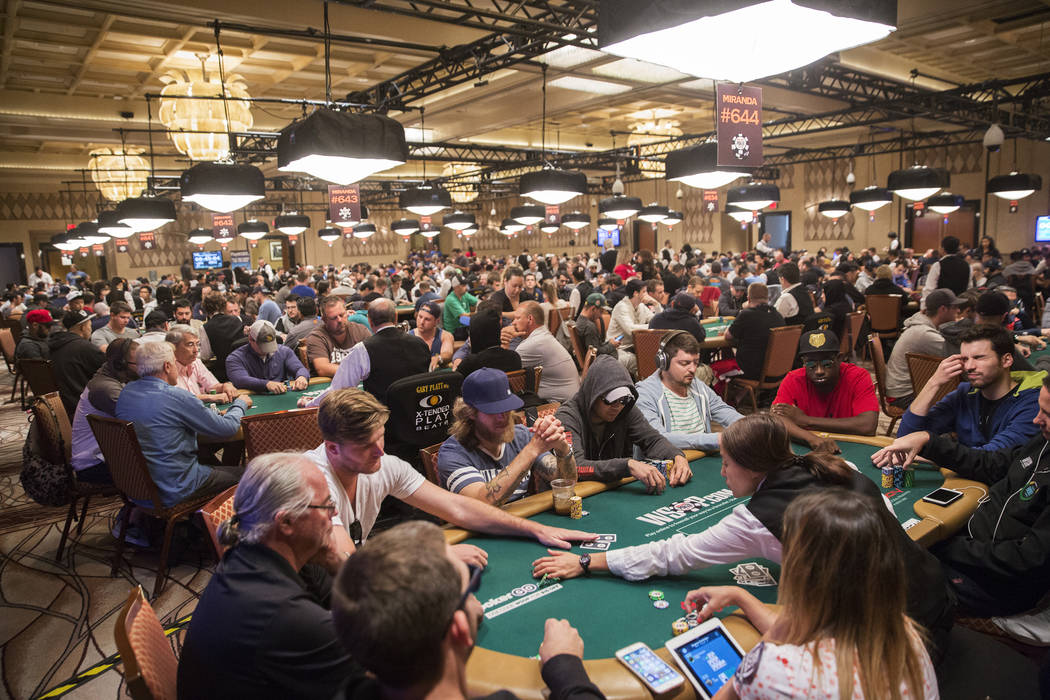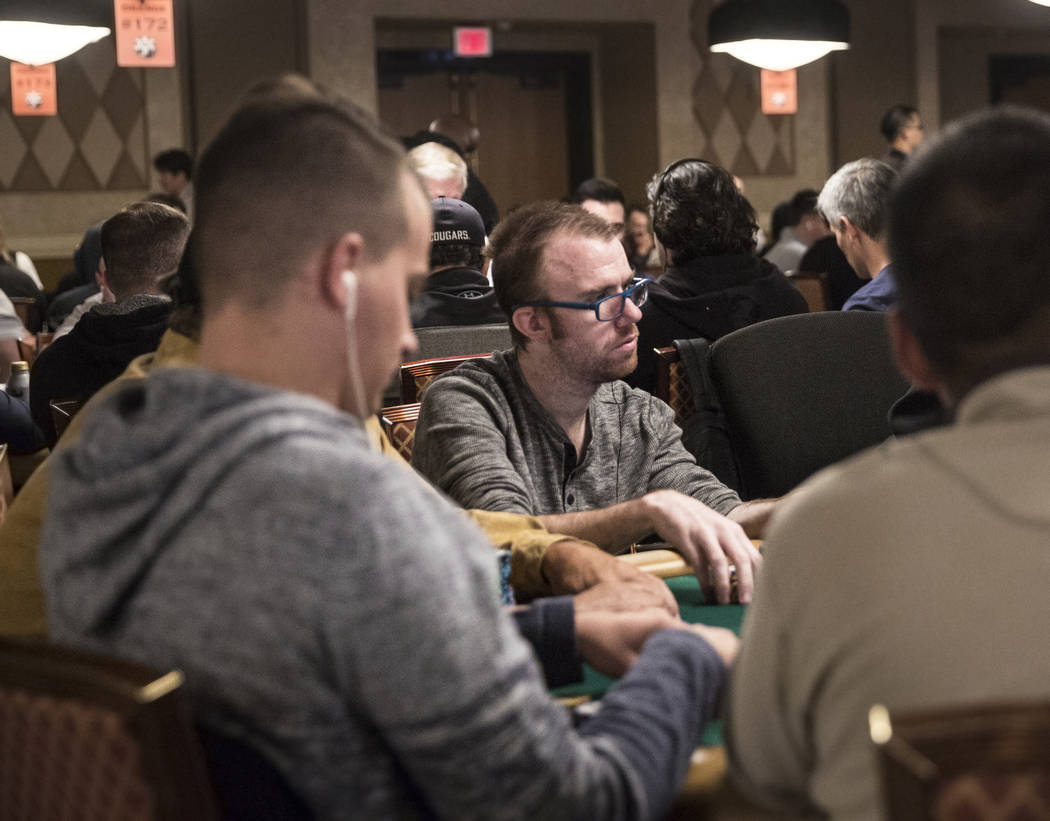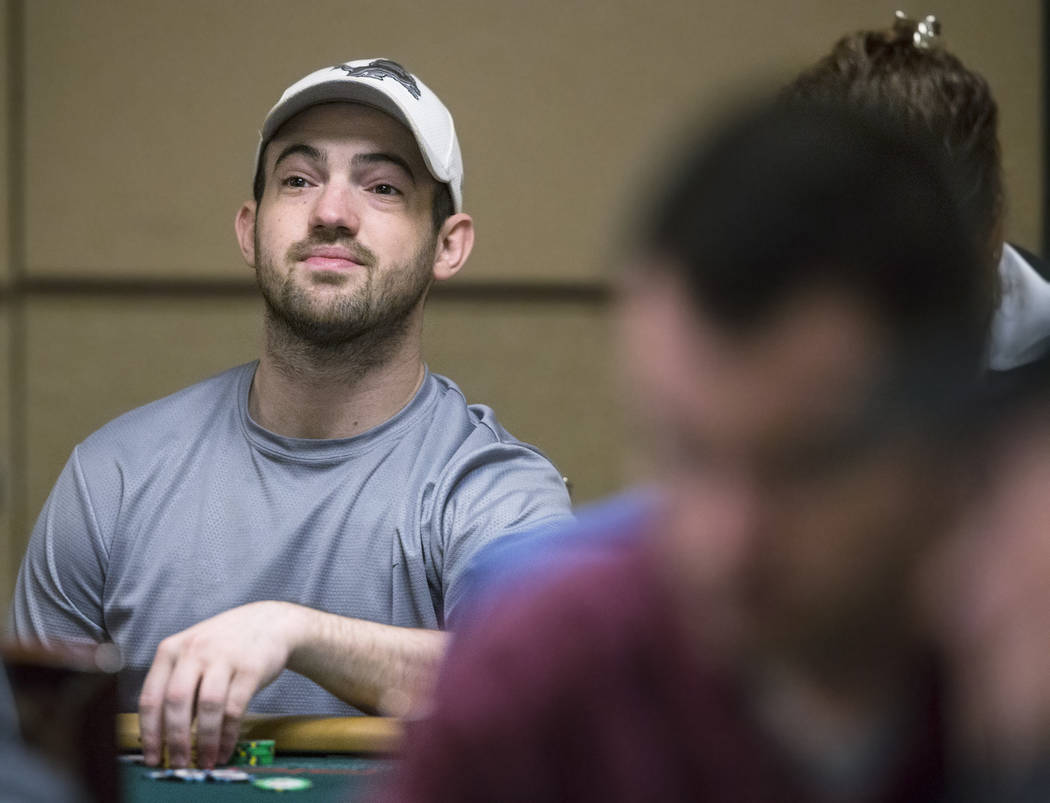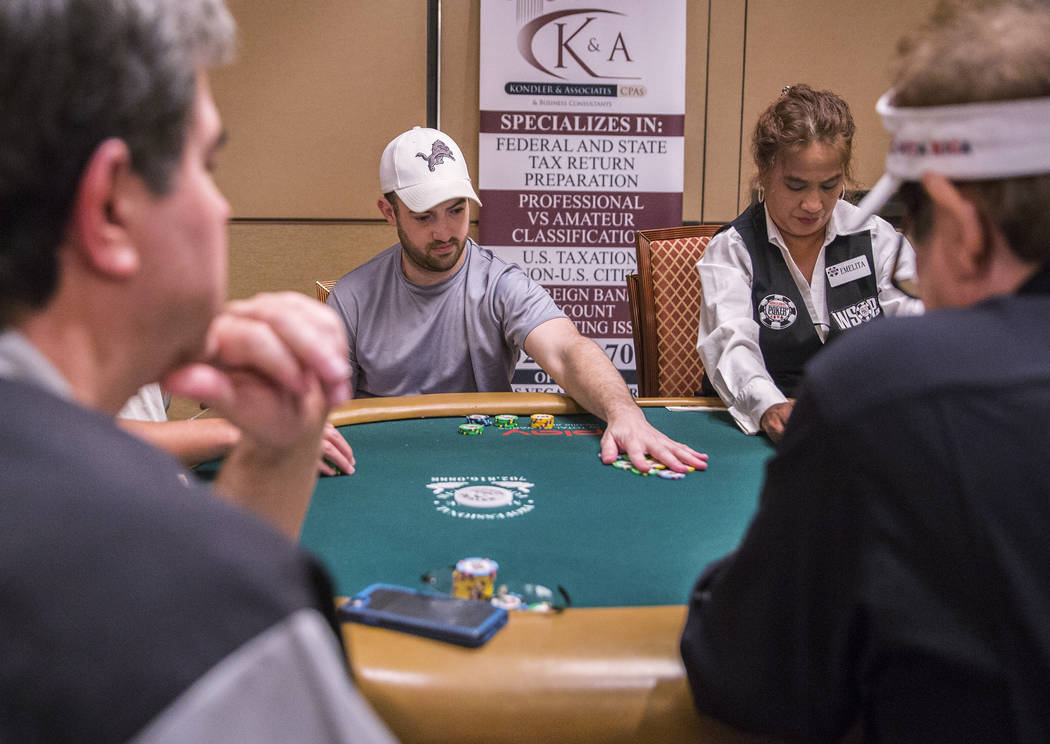 Joe Cada won enough money playing online poker to pay for his first house in cash.
But before his first World Series of Poker in 2009, the 21-year-old didn't want to risk a significant portion of his bankroll in Las Vegas.
"I gave my mom money, and I still had a few hundred thousand in the bank, but if you go out to the World Series, you're going to spend — if you want to play a complete schedule — 50 to 100 grand," Cada said.
"At that time, I figured, hey, it might be a better idea just to have a backer."
Cada had full financial backing for all 16 events he played that summer and went on to win the $10,000 buy-in No-limit Texas Hold 'em World Championship, commonly referred to as the Main Event.
The prize for first place that year was more than $8.5 million. Cada's cut was half.
Cada is a high-profile example of backing at the World Series of Poker, which runs until July 22 at the Rio Convention Center. It is an often secretive economic system that many professional players say is essential to offset the expenses and unpredictability that accompany tournament poker.
In recent years, backing has evolved into a sophisticated market where top players sell and/or swap percentages of their action with one another.
"Pretty much no one in a tournament has 100 percent of themselves," professional poker player Tom Kearney said.
'The standard deal'
Traditionally, backing was used to help poker players who were down on their luck, such as legendary gambler Billy Baxter staking eventual champion Stu Ungar in the 1997 Main Event.
But that changed during the poker boom of the 2000s, as New York business partners Eric Haber and Cliff Josephy began financially backing many of the best young online players. (Josephy and Haber backed Cada during the 2009 WSOP.)
Similarly, Shane Sigsbee founded Imawhale Staking Group in 2009 and currently has 60 players under contract with his company.
"The misconceptions I hear a lot is hard-money lending, used-car salesman, high-interest loans, none of these things of which we do," said Sigsbee, a Las Vegas resident. "We're actually, truly, investing in guys, just like you would invest in a stock or gold or cryptocurrency or anything else. It's a different medium. We're investing in poker players."
A standard backing deal, according to Sigsbee, is 50-50 with "makeup," meaning the backer pays for the buy-ins and splits the winnings evenly with the player.
If a player loses money, they must "make up" their debt before collecting any profit.
"You're trying to maximize your return, but at the same time, you're trying to smooth out your risk a little bit," Haber said. "That's what I tried to explain to actual players when I would talk to them about being backed. Some players look at it as, 'Well, I don't want to give any of my profits away.' But you're just kind of looking at it the wrong way.
"Would you rather give up 50 percent of your profits with literally no financial risk to yourself, or keep all of your supposed profits but yet subject yourself to all the variance and the gambler's ruin that's there?"
The modern system
While full backing deals still occur, they've largely been replaced by an alternative model in which players sell percentages of their tournament action with markup to multiple investors.
In other words, if Player A wants to play in a $10,000 buy-in event and is selling at a markup of $1.10 on the dollar, an investor would pay $1,100 for 10 percent of the player's action.
That is especially common in high-roller tournaments, where only a handful of professional players and wealthy businessmen are bankrolled for the entire six-figure buy-ins.
"The younger generation really just looks at it like you would look at a market," professional poker player Daniel Negreanu said. "They're emotionless and ruthless when it comes to this stuff. There's very little, 'I want to help this guy out.' They're just simply looking at the numbers. 'Is this a positive EV (expected value) situation for me?' And if it is, they do it. And if not, they don't."
Kearney, a Las Vegas resident who finished 15th in the 2015 Main Event for $411,453, said he sold pieces of his action to investors that summer.
As he went deeper in the tournament, Kearney also made deals with other competitors to swap a percentage of their winnings, another common financial strategy poker pros use to maximize profit.
The system of selling and swapping percentages can create an awkward dynamic at the poker table.
Haber noted that the year Cada won the Main Event, two other players he and Josephy backed also ran deep and nearly faced off with their stablemate.
"I've had swaps that have gone deep, but it's never an issue. You just play," Kearney said. "Everyone kind of knows who's friends with everyone, so if people started doing weird stuff, it would get kind of speculated quick."
Beyond the possibility of collusion, though, there are legal issues to consider.
"If you have a player selling pieces to a friend in Hawaii where gambling is strictly illegal," three-time WSOP bracelet winner Dutch Boyd pointed out, "is there really a difference between giving your buddy five bucks to play the Razz event or giving your buddy five bucks to play roulette or bet the Raiders?"
Seth Palansky, vice president of corporate communications for the World Series of Poker, said players are not prohibited from selling or swapping percentages of their action in WSOP tournaments.
"We follow Nevada gaming regulations, as well as local and federal law, in relation to financial transactions in our events. We prohibit third-party registrants and mandate each individual must pay and register themselves in person," Palansky said. "Additionally, only the person who cashes in our event may collect their winnings. This winner is responsible for all the related tax and legal ramifications."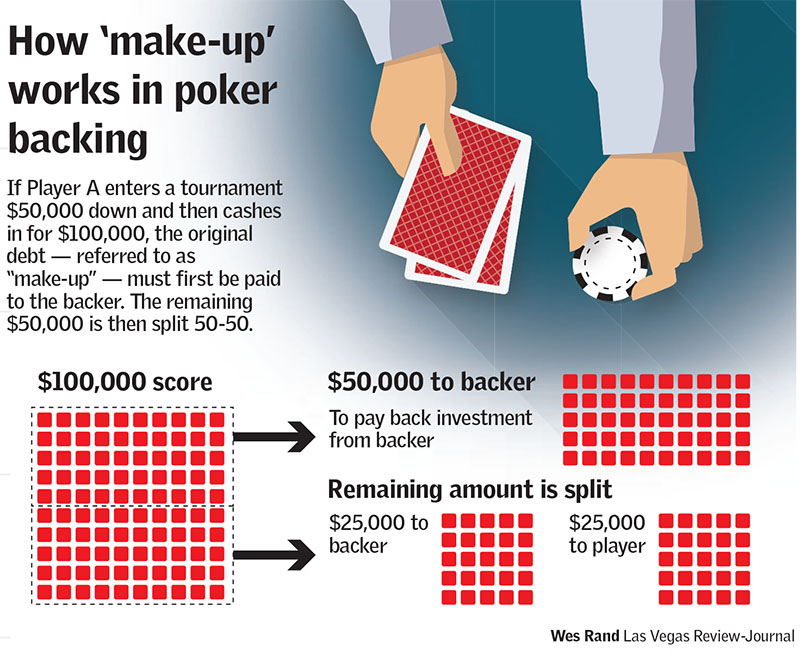 Out of the shadows
As poker backing starts to move into the mainstream, corporate investors such as Sigsbee aren't the only ones who can get in on the get action.
Many of the top live and online players now sell percentages of themselves with markup to the public through their social media accounts and online staking sites such as StakeKings, TastyStakes and YouStake.
"What we did is like dinosaurs compared to what's going on now," Haber said. "From the player's perspective, it's a freakin' gold mine. It's perfect, because people want a sweat, people want action, and the players ostensibly go to every one of the sites and put up whatever they want to sell and someone's going to buy it."
Cada said he hasn't been backed since his Main Event victory — "That's the greatest thing about getting lucky in the first big event I played" — and currently has deals to stake two players.
Cada, who remains the youngest Main Event winner in history, earned his second career WSOP bracelet in 2014. But the Michigan native hasn't cashed in the Main Event since his victory eight years ago.
"Everyone's always probably wondering like, 'Why would you get backed if you're doing well in poker?'" Cada said. "There's so many great players out there who don't have a bracelet because of poker variance. It's tough. I don't ever regret my decision of getting backed. I always thought it was a smart idea."
Contact David Schoen at dschoen@reviewjournal.com or 702-387-5203. Follow @DavidSchoenLVRJ on Twitter.
World Series of Poker
When: Sunday through July 22
Where: Rio Convention Center
TV: ESPN/ESPN2 (Main Event) and Poker Central (online stream)
Admission: Free (21 and older)