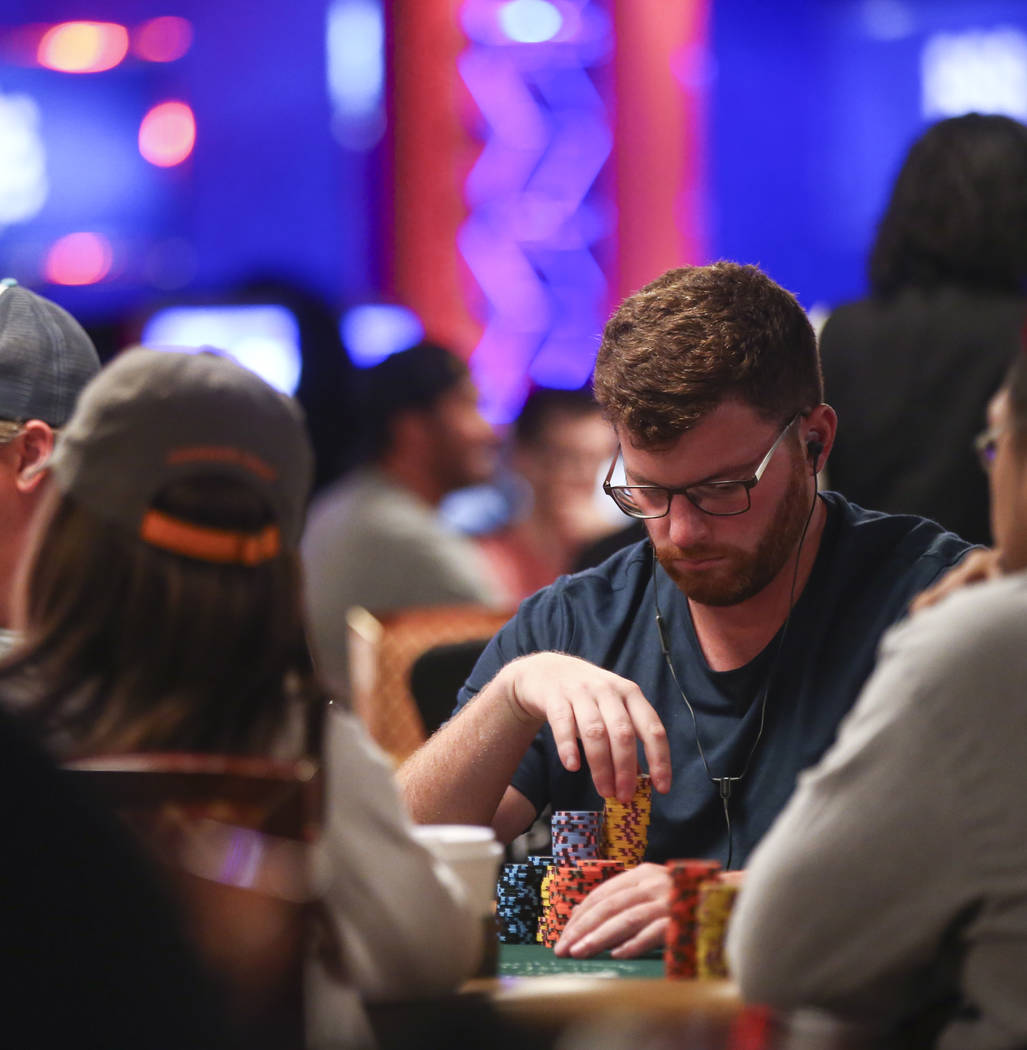 Nick Petrangelo divided the majority of his time in college between three activities: hockey, golf and studying.
When he was forced to retire from playing sports because of concussion problems, Petrangelo needed something to fill the void.
"That gave me more free time to play online poker," Petrangelo said.
Petrangelo, who attended Division III Skidmore College (New York), is one of the top tournament poker players in the world and was poised for a deep run in the World Series of Poker Main Event.
The 30-year-old from Feeding Hills, Massachusetts, was in the top 100 in chips at the final evening break Thursday in the $10,000 buy-in No-limit Texas Hold 'em World Championship at the Rio Convention Center.
Poker pro Michael Krasienko of Grafton, Ohio, was the unofficial leader when Day 3 action paused shortly after 9:30 p.m., with the money bubble expected to burst late Thursday or early Friday.
The Main Event, featuring an $8.15 million first prize, continues Friday at the Rio with Day 4.
"In Main Events in general, and obviously this one, it's really important to get off the ground and be in a situation when the tournament gets deeper you can put people in tough spots and it's not for your tournament life," Petrangelo said. "I was really lucky (Wednesday) to have it in some big pots. That's always great."
Petrangelo dabbled in poker while he attended boarding school in Connecticut and made occasional trips to Turning Stone Resort Casino in update New York after he turned 18.
Petrangelo suffered his second serious concussion as a sophomore at Skidmore, and after graduating in 2010, he started playing poker professionally.
In 2015, Petrangelo won his first WSOP bracelet in the $3,000 buy-in No-limit Hold 'em Shootout event. He made 11 final tables worldwide while earning $3,362,396 that year.
"I thought I was playing well in live tournaments before that, and I had a few close calls and it didn't work out," Petrangelo said. "In poker, when you have a couple results — whether you had fortunate situations happen or whatever — it obviously can perpetuate some confidence, whether it's real or not.
"I think that confidence, especially since I started to do well in some of the higher-stakes events, made me think like, 'Maybe I can play in the highest-stakes stuff.' "
Petrangelo has more than $8.93 million in documented live tournament earnings and is the No. 1 tournament player in the world, according to the latest Global Poker Index rankings.
He enjoyed a rush of cards after the dinner break Wednesday in the Main Event and entered play on Day 3 in 17th place overall.
"I think sometimes in the Main Event, it's lucky to have the image of someone who plays really high stakes because a bunch of things happen that are in your favor," Petrangelo said. "People don't three-bet you as much. Maybe in a spot where you wouldn't be bluffing ever, they think you are because you're a high-stakes player and you're trying to outplay them. It's lucky to have that image."
Contact David Schoen at dschoen@reviewjournal.com or 702-387-5203. Follow @DavidSchoenLVRJ on Twitter.
World Series of Poker
What: $10,000 Main Event No-limit Texas Hold 'em World Championship
When: Friday through July 22
Where: Rio Convention Center
TV: ESPN/ESPN2 or Poker Central (online stream)
Admission: Free (21 and older)