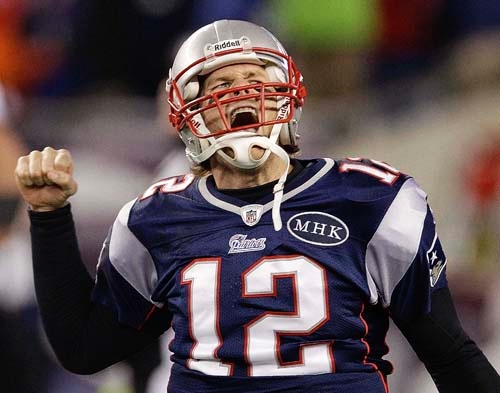 This time around, the New England Patriots are not perfect, and their opponent is far from it. But quarterback Tom Brady's return to the Super Bowl, in a rematch against the New York Giants, sets up an ideal matchup for Las Vegas sports books.
The year's biggest wagering event should be an easy sell to NFL fans, with two high-profile teams meeting for the game on Feb. 5 in Indianapolis.
At most Las Vegas books, the Patriots (15-3) opened as 3½-point favorites over the Giants (12-7). The line is 3 at some books. The total is 55.
"The Super Bowl is an event that pretty much sells itself, but I would rather take my chances with popular teams," LVH sports book director Jay Kornegay said. "It's nice to have a more appealing matchup."
It's a familiar one, too. In 2008, New England took an 18-0 record into Super Bowl XLII and was upset by the Giants, who opened as 13½-point underdogs.
It could be argued that betting on the Super Bowl is more of a tradition than voting in a presidential election.
"Over half of adult Americans are expected to have some money at risk on the game," said sports wagering analyst RJ Bell of Pregame.com.
Bell, who estimated more than $10 billion worldwide will be wagered on Super Bowl XLVI, added, "This would be the largest bet single-day sporting event in history."
About 1 percent of the handle will be wagered in Nevada. In last year's Super Bowl, in which Green Bay defeated Pittsburgh 31-25, the state's wagering handle was $87.5 million.
"If we can get to $90 million, that would be huge," MGM Resorts sports book director Jay Rood said.
Brady is the star attraction, but he was shaky Sunday in the Patriots' 23-20 victory over the Baltimore Ravens in the AFC Championship Game. With a chance to force overtime, the Ravens' Billy Cundiff missed a 32-yard field goal with 11 seconds left.
The Super Bowl line opened a half-point lower at the LVH, where Kornegay said, "I make it 3. I don't think New England is anything special."
Eli Manning passed for 316 yards and two touchdowns as the Giants beat the 49ers 20-17 in overtime in the NFC Championship Game in rainy San Francisco. Lawrence Tynes' 31-yard field goal won it for New York.
Manning outdueled Brady for the title four years ago. The Giants have made a habit of winning thrilling games in the underdog role.
"The Giants are a marquee team, so they're going to draw attention," said Jimmy Vaccaro, director of operations for Lucky's sports books.
Vaccaro then offered his prediction — on everything.
"The statewide handle is going to be $88.1 million, the hotel rooms will be booked, and the Patriots will win the game, 20-17."
Contact reporter Matt Youmans at myoumans@reviewjournal.com or 702-387-2907.