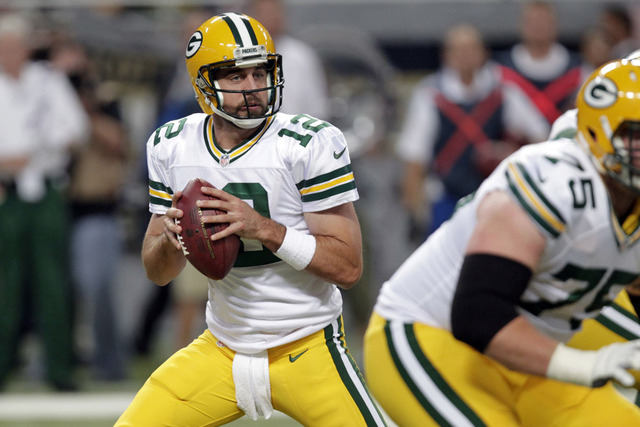 It's premature to proclaim the Green Bay Packers finally have found balance in their offense. Aaron Rodgers' right arm shows up each week, but the running attack is nowhere near as reliable.
One week after the Packers made an offensive mark in the NFL history book, they face a stiffer challenge today against the Cincinnati Bengals, who rank sixth in the league in total defense.
The Packers, 2½-point road favorites, are a popular bet with the public, and handicapper Joe D'Amico (Aasiwins.com) also recommends siding with Rodgers.
In a rout of the Washington Redskins last week, Rodgers passed for 480 yards, and James Starks ran for 132 yards. It was the first time in league history that any team had a 450-yard passer and 125-yard rusher in the same game.
Starks was Green Bay's first 100-yard rusher since Oct. 10, 2010, stopping a streak of 44 regular-season games without one.
"Rodgers is surging, and now the Packers also have a rushing threat with Starks in the lineup," D'Amico said.
Rodgers, with 813 yards, seven touchdowns and one interception, is the NFL's second-rated passer to Denver's Peyton Manning. Rodgers has completed 69.6 percent of his throws to a versatile group of receivers.
Bengals quarterback Andy Dalton has a big-play threat in wide receiver A.J. Green, but the offense bogged down in a season-opening loss at Chicago and was limited to 20 points in a victory over Pittsburgh on Monday.
Cincinnati is 7-9-1 against the spread at home since 2011.
"The Packers should cover the short line with ease," said D'Amico, who breaks down the rest of today's Week 3 schedule:
■ San Diego at Tennessee (-3): The Titans gave up 298 yards passing to Houston's Matt Schaub last week and now face Chargers gunslinger Philip Rivers, who has passed for 614 yards and seven touchdowns. Even without wide receiver Malcom Floyd, who has a neck injury, Rivers still has enough targets. The San Diego defense has yielded 61 points. Chris Johnson's running should allow Tennessee quarterback Jake Locker to throw downfield. Look for this to go over the total of 44.
■ Cleveland at Minnesota (-6½): With 16 points in two weeks, the Browns had little offense, and trading running back Trent Richardson to Indianapolis won't help. Brian Hoyer will start at quarterback in place of Brandon Weeden (sprained thumb). Vikings quarterback Christian Ponder has made some miscues, but Adrian Peterson is on a mission to carry the offense. Peterson will lead Minnesota to the win and cover.
■ Tampa Bay at New England (-7): Dissension is everywhere in the Buccaneers' locker room. Tampa Bay is 0-2, losing to the Jets and Saints by a total of three points, and coach Greg Schiano is taking a lot of criticism. With the Buccaneers' inability to score, I have to go with Tom Brady and a New England side that has covered the past two meetings in this series.
■ Houston (-2½) at Baltimore: Home 'dog alert. The Texans are 2-0 but have failed to cover a game and needed comebacks to win both times. Houston is one of the league's most balanced teams, but things haven't clicked yet behind quarterback Matt Schaub. The Ravens have won five of their past six against the Texans. My numbers show Baltimore should be a slight favorite at home.
■ St. Louis at Dallas (-4): Sam Bradford passed 55 times in a 31-24 loss at Atlanta last week. The problem with that is the Rams have been unable to run the ball. I am not crazy about laying points with the Cowboys. St. Louis covered seven of eight road games last season. But I lean to Dallas, which is averaging 26 points. Look for quarterback Tony Romo to move the offense.
■ Arizona at New Orleans (-7½): The line is bouncing from 7 to 7½. The Saints' improved defense is getting a lot of credit. This might have the makings of a trap, but it's hard to go against a 17-5 ATS run at home with New Orleans. The Cardinals allowed a total of 48 points to the Rams and Lions. Drew Brees should light up the scoreboard, and I lean to the Saints.
■ Detroit at Washington (-1): Robert Griffin III is not 100 percent, so the once-mobile quarterback has been forced to play a different game. The Redskins still have posted 47 points in two losses. The Lions are averaging 27.5 points, and quarterback Matthew Stafford and wideout Calvin Johnson can exploit a Washington pass defense that the Packers' Aaron Rodgers shredded for 480 yards passing. Both defenses have surrendered a lot of points. This will be a shootout that goes over 49.
■ New York Giants (-1) at Carolina: The favorite has changed in this game as bettors are siding with the Giants. Both teams come in 0-2 straight up and ATS. New York won and covered the past two meetings. The Panthers have injury problems in the secondary, and this is good timing for the Giants' Eli Manning, who has passed for 812 yards and five touchdowns but also has seven interceptions. The Giants will emerge from their funk.
■ Atlanta at Miami (-2½): The Dolphins surprised some by opening with two road wins. Miami's defense has been the difference by allowing 15 points per game. Falcons quarterback Matt Ryan has a stable of quality receivers, but running back Steven Jackson is out with a thigh injury. The Miami pass rush and overall defensive speed should force Ryan into mistakes. I have an opinion on the Dolphins.
■ Indianapolis at San Francisco (-10): The 49ers come into this matchup angry after getting their heads handed to them in a 29-3 defeat at Seattle. The Colts have not been able to protect quarterback Andrew Luck, who has been sacked seven times. I don't have a problem laying points with San Francisco coach Jim Harbaugh, who is 14-5-1 ATS at home. The Colts dropped four road games by double digits last year. The 49ers will roll.
■ Jacksonville at Seattle (-19½): Can you believe that in Week 3 we already see a favorite this big? The Seahawks are in a letdown spot after they thumped the 49ers. Seattle is 8-1 ATS in its past nine at home, but the team has to be emotionally drained. Jaguars coach Gus Bradley was the defensive coordinator for the Seahawks, so he knows them well. Seattle coach Pete Carroll won't want to run up the score on his friend. I'll pass.
■ Buffalo at New York Jets (-2½): Both teams are 2-0 ATS. The New York defense ranks No. 2 in the league, but the offense is shaky. Rookie quarterback Geno Smith's inexperience and the Jets' weak offensive line have resulted in Smith's four interceptions and nine sacks. Bills rookie EJ Manuel has looked sharp, and his touchdown pass to beat Carolina gave him confidence. Buffalo's running game will keep the New York defense honest and allow the Bills to get another win behind Manuel.
■ Chicago (-2½) at Pittsburgh: The Bears have not covered yet, but quarterback Jay Cutler has led the way to two wins with 534 yards passing and five touchdowns. The Steelers can't run behind a depleted line, and Ben Roethlisberger has been sacked seven times. Chicago's defense will get to Roethlisberger and create turnovers, so go with the short road favorite.
COMPILED BY MATT YOUMANS