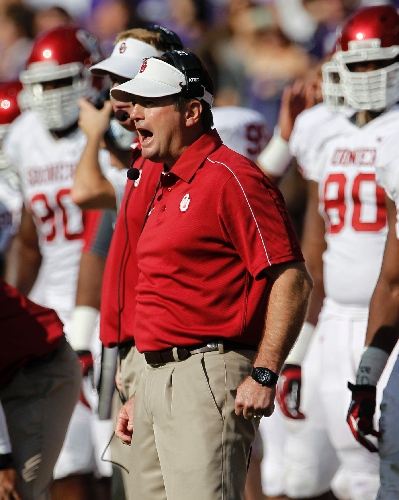 Play Q & A with handicapper Kelly Stewart, who will answer selected questions from Las Vegas Review-Journal readers. Email her at Askkelly@reviewjournal.com.
Q: I noticed you're not a big fan of Texas A&M quarterback Johnny Manziel. What do you think of his chances to beat Oklahoma in the Cotton Bowl?
– Jeremy, Las Vegas
A: I think the Aggies have a decent chance, of course, because they are the favorites. But this Jan. 4 bowl will boil down to two people. The first key figure is Sooners coach Bob Stoops, who hasn't been able to coordinate his defense well all season, except against Texas. If the Alabama defense couldn't stop Manziel, how is Oklahoma going to do it?
But it's Manziel who controls his own destiny in this game. Has the Heisman hype gone to his head? I think so. Humble is not what I would call this kid. But it might be time for him to get humbled, and it's time for Stoops to win a big game. My money is on Oklahoma plus-4½.
Q: It looks like Kansas State has Oregon just where it wants them, with the oddsmakers and ESPN analysts siding with the Ducks. Because the Wildcats love to play as underdogs, I pick K-State to pull the upset of the bowl season. What is your opinion on this?
– Dan, Las Vegas
A: After watching and researching Oregon more the past few weeks, I'm beginning to love the gift of plus-9 the books are offering. At first, I was nervous like many people. How does Kansas State stop the high-powered Oregon offense? "K-State is too slow …" is something I've heard more times than I care to remember. The Wildcats just need to play the same game they played against West Virginia, Texas Tech, Oklahoma and Oklahoma State. With the exception of the game against Baylor, which ranks No. 1 in total offense, K-State slowed the pace of play, forced turnovers and managed to win – and cover – against four other top-15 offenses.
By the time the Fiesta Bowl arrives on Jan. 3, the Ducks will have gone more than five weeks without playing a game. In that time, K-State coach Bill Snyder has been preparing and watching countless hours of game tape, breaking down every play. Collin Klein, the Wildcats' senior quarterback, has the weapons to exploit the Ducks' secondary, and it's a must for K-State to win the turnover battle. I'm on the underdog.
Q: What's your favorite BCS bowl matchup?
– Tyler, Henderson
A: Aside from Kansas State-Oregon and Notre Dame-Alabama, the matchup I'm really excited to watch is Wisconsin-Stanford in the Rose Bowl.
Obviously, if not for Ohio State and Penn State and all their troubles, the Badgers would be an afterthought in this game. But that doesn't mean they should have an asterisk next to their name. After blowing out Nebraska in the Big Ten title game, Wisconsin has proven its worth.
I expect to see a lot from quarterback Curt Phillips and running back Montee Ball despite Stanford's tough run defense. This is the Badgers' third straight trip to Pasadena, and I think they are due for a win. The line is 6½ at most books, and I'll look to take plus-7.
Kelly Stewart of Hottiehandicappers.com can be reached at Askkelly@reviewjournal.com. Follow her on Twitter: @kellyinvegas.
KELLY'S HOT TIPS
The weekend's five best bets:
• Oregon State (-3) over Texas
• Clemson (+5.5) over Louisiana State
• Ravens (+2.5) over BENGALS
• COLTS (+7) over Texans
• Panthers (+5.5) over SAINTS
Last week: 4-1
Season: 25-29-1
Kelly Stewart previews the football weekend at lvrj.com/betting