Sports books excited for Golden Knights despite possible $7M loss
Updated May 24, 2018 - 7:17 pm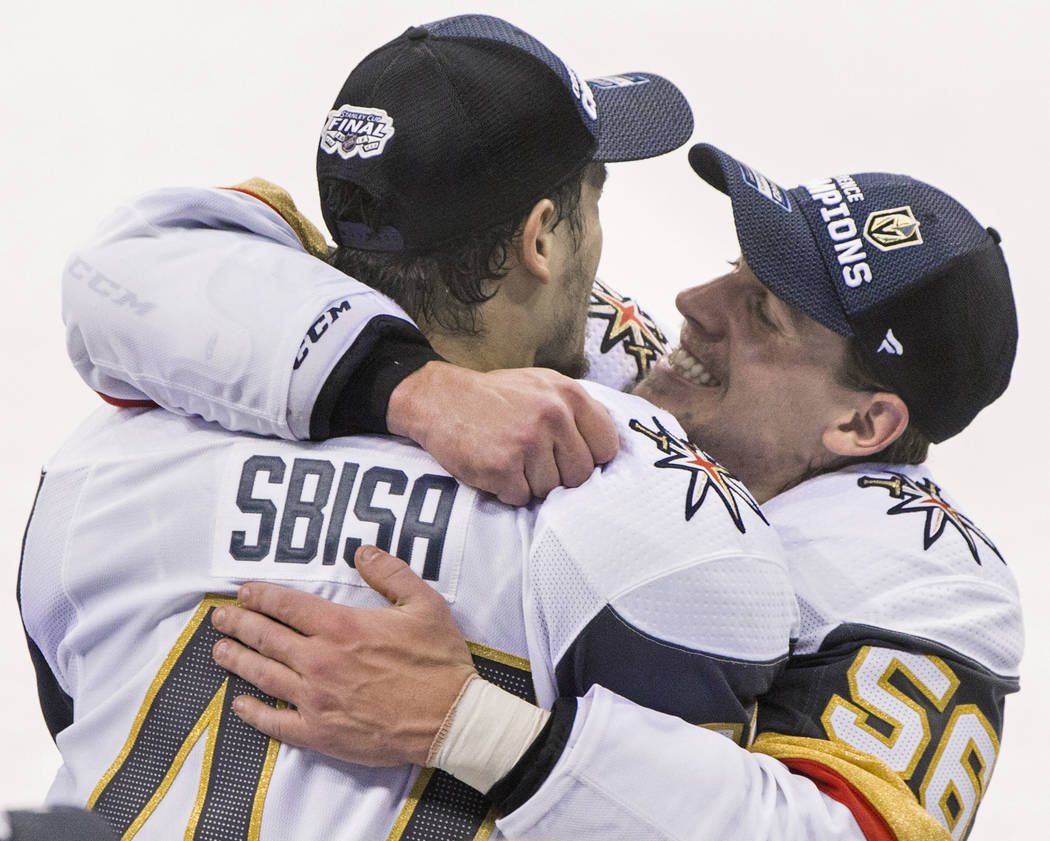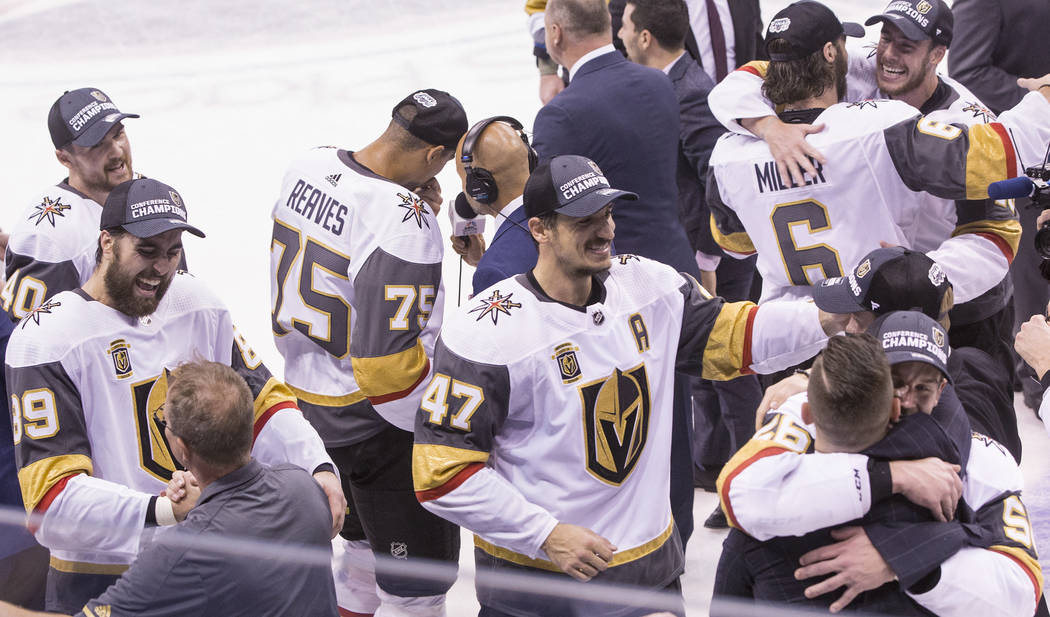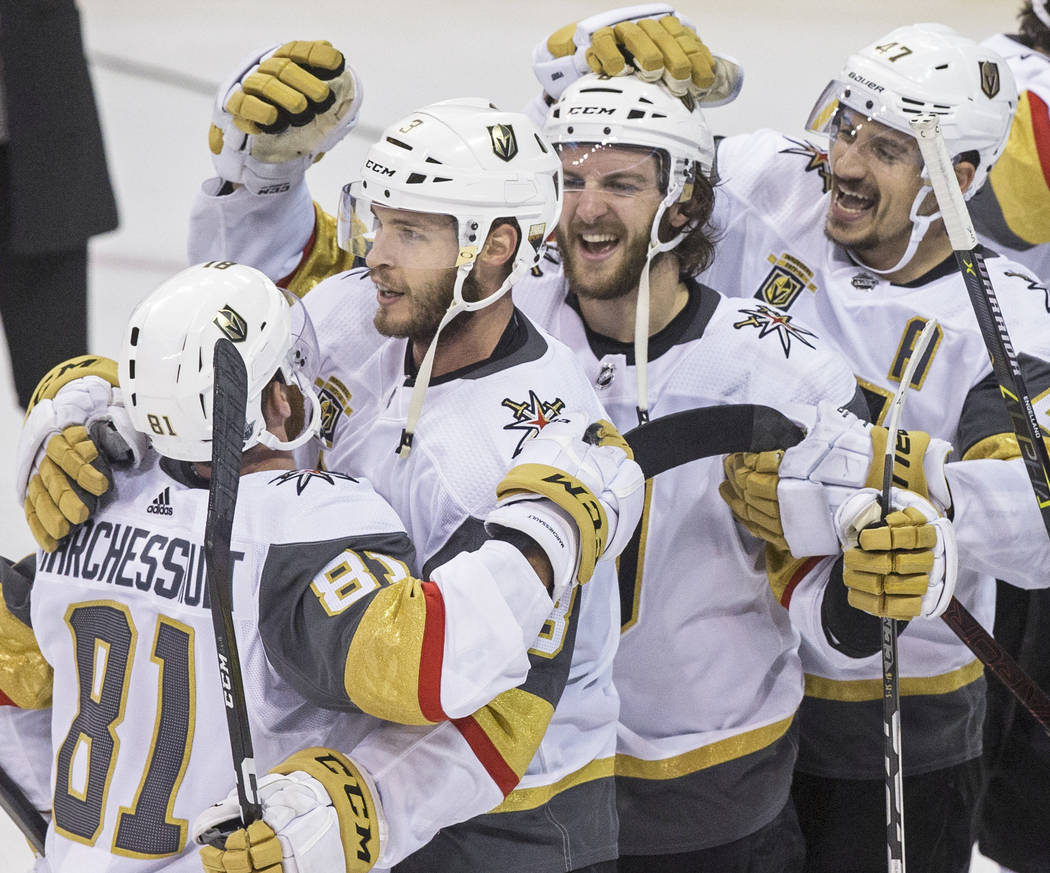 The Golden Knights' love fest that has swept Las Vegas also extends to the city's oddsmakers and casino owners.
The state's sports books will lose an estimated $5 million to $7 million if the expansion Knights cap their improbable inaugural season by winning the Stanley Cup. But several bookmakers said they're rooting for the Knights and aren't worried about them hurting their bottom line.
At South Point, the sports book has liability on the Knights well into six figures.
"But Mr. Gaughan (owner Michael) said that's OK. He thinks it's good for the town and good for the South Point," South Point sports book director Chris Andrews said. "He's not that concerned."
William Hill and Station Casinos sports books have the largest liabilities on the Knights, at more than $1 million each. The Westgate and Wynn Las Vegas sports books are each on the hook for mid six figures, and CG Technology, Caesars Palace and MGM Resorts sports books also reported a six-figure liability apiece.
$1 million-plus promotion
Stations ran a promotion after the first-round sweep of the Los Angeles Kings in which it gave its rewards card members free futures bets on the Knights at 4-1 odds to win the Cup in amounts ranging from $5 to $250. The promotion alone would cost Stations more than $1 million, according to Station Casinos sports book director Art Manteris.
"Station Casinos is very excited that Vegas is now just one series away from tens of thousands of our guests cashing in on our free wager offer made in April to reward their loyalty," Manteris said in a statement. "Station Casinos could pay out an aggregate amount of over $1 million to those lucky guests participating."
Westgate sports book director Jay Kornegay and Caesars Palace sports book director Frank Kunovic are among many industry employees with Knights season tickets.
"And being a huge Knights fan, if they win, I'm OK with the sports books having to pay," Kunovic said. "Every now and then, you have to pay some out. We can't win them all."
Kunovic said he has recouped the money he paid for his two sets of season tickets by betting on the Knights.
"Also paying for playoff tickets," he said. "It's simple. Bet Knights to win."
Largest futures loss
Bettors have cashed tickets on longer shots than Vegas, which was 500-1 at the Westgate before the season started. But if the Knights hoist the Cup, it will represent Las Vegas' largest loss ever on a futures bet.
That said, the books are up huge over the years on futures bets. They hold 25 to 30 percent of all money wagered on them, Kornegay said.
"So if we have to pay out a huge number because the Knights win the championship, we have no problem with it. Especially since it's a Vegas-born team," he said. "We're all rooting for them. My kids, my wife and I all have jerseys, and our schedule has been revolving around the Knights' schedule.
"We know business will take care of itself, and if they do win the championship, we're going to be so excited for them and excited for our city."
Kornegay said the city's projected loss on the Knights is comparable to the worst Saturday or Sunday during football season.
Six-figure paydays
The biggest futures bets on the Knights in Las Vegas are a $400 wager placed at the Westgate at 300-1 odds that pays $120,000 and a $500 bet at CG Technology at 200-1 odds that pays $100,000.
Longest shots
Leicester City was a 5,000-1 shot in Europe and 2,500-1 in Las Vegas to win the 2016 Premier League championship, but it didn't attract much action in the U.S.
The city's sports books did take a hit on the 1999 St. Louis Rams, who were 200-1 shots to win the Super Bowl after Kurt Warner replaced Trent Green at quarterback in the preseason.
The books also were buried by the 1991 World Series between the Atlanta Braves and Minnesota Twins. Each team went from worst in 1990 to first in 1991 and had odds of up to 250-1 to win the title.
Books also took a hit on the 2011 world champion St. Louis Cardinals, who erased a 10½-game deficit in the wild-card chase in the final five weeks of the season — when their odds ranged from 500-1 to 2,000-1 to win it all.
More than a miracle
On the pantheon of major sports upsets, Andrews said he would put a Golden Knights' Stanley Cup title above the United States' 4-3 win over the Soviet Union in the 1980 Winter Olympics.
"This is even a much bigger upset than that," he said. "This is an expansion team. This is just remarkable."
More betting: Follow all of our sports betting coverage online at reviewjournal.com/betting and @RJ_Sports on Twitter.
Contact reporter Todd Dewey at tdewey@reviewjournal.com. Follow @tdewey33 on Twitter.
Promising futures
Notable futures bets on the Golden Knights to win the Stanley Cup
Amount of wager, odds, payout, sports book
$400, 300-1, $120,000, Westgate
$500, 200-1, $100,000, CG Technology
$400, 150-1, $60,000, South Point
$1,000, 50-1, $50,000, William Hill