Super Bowl LI generates record wagering total of $138.5M in Nevada
February 6, 2017 - 6:26 pm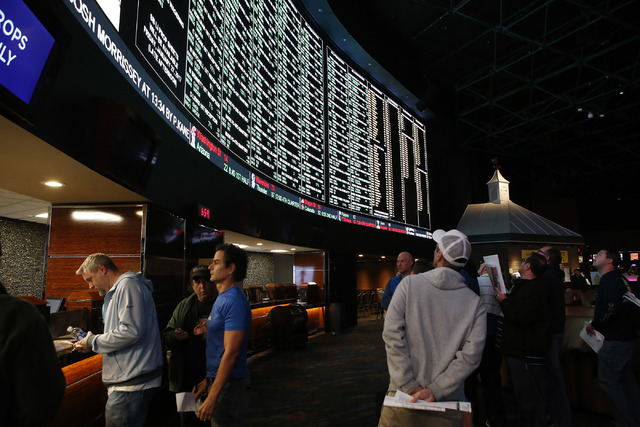 A game that featured the greatest comeback in Super Bowl history also produced a record wagering handle in Nevada.
The state's 196 sports books had $138.5 million wagered on Sunday's game, according to figures released Monday by the Nevada Gaming Control Board. The books won $10.9 million for a hold percentage of 7.9.
The handle eclipsed the $132.5 million that was wagered last year for Super Bowl 50, a 24-10 win by the Broncos over the Panthers.
This is the fourth consecutive year that the state's handle has surpassed $100 million. New England's 28-24 win over Seattle in 2015 produced a handle of $115.9 million and Seattle's 43-8 win over Denver in 2014 generated $119.4 million — and a record profit for the books of $19.7 million (16.5 win percentage).
Quarterback Tom Brady set a Super Bowl record with 466 passing yards as the Patriots, 3-point favorites over the Falcons, stormed back from a 28-3 second-half deficit en route to a 34-28 victory in the first Super Bowl to go to overtime.
South Point oddsmaker Jimmy Vaccaro, who has been a bookmaker in Las Vegas since the 1970s, said there was more money bet Sunday and more people in the sports book than he'd ever seen.
"It was constant madness in the book," he said. "We keep moving forward with this because people enjoy the camaraderie and entertainment."
One bettor used his phone app to make a $1.1 million wager on the Falcons at CG Technology and MGM Resorts sports book director Jay Rood took a $485,000 bet on the Patriots and a $470,000 money-line wager on the Falcons.
"We had a ton of bets between $200,000 and $400,000," he said. "Way more than we saw in years past."
The ever-popular prop bets continue to boost the handle, along with in-progress wagering and phone apps.
"With the crowds at the counter, we might be at sort of capacity," Rood said. "The two hours before kickoff are probably the most hectic two hours of the entire year for the sports book."
Contact reporter Todd Dewey at tdewey@reviewjournal.com or 702-383-0354. Follow @tdewey33 on Twitter.