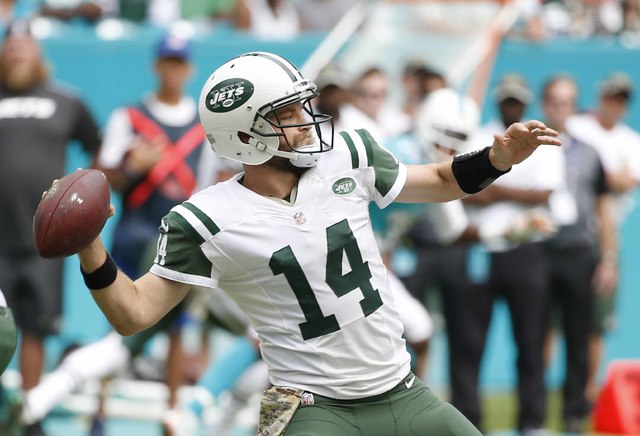 At the tail end of a lost season, the New York Jets are going back to quarterback Ryan Fitzpatrick on Sunday. Expect a last-gasp effort from the Jets in their most meaningful remaining game.
Somehow, the Jets are 5-0-1 against the spread versus New England in the teams' past six meetings, including a damaging loss for the Patriots late last season.
Tom Brady has 16 touchdown passes and one interception in his six games this season, but Brady missed Wednesday's practice with a knee injury. He might be without tight end Rob Gronkowski again this week.
The Patriots had it easy last week against the fading San Francisco 49ers, but New York is one of the traditionally toughest stops on their schedule. The Jets (3-7) are worth a shot as 7½- to 8-point underdogs.
NFL notes and trends from Goldsheet.com:
* San Diego at Houston: The Texans are 5-0 straight up and 4-0-1 ATS at home this season. The Chargers are 3-2 as road 'dogs this year, and 21-10-1 in that role since 2011. San Diego is 9-2 over the total in its past 11 games. Tech edge: Over.
* Jacksonville at Buffalo: Jaguars coach Gus Bradley is 2-5 ATS in his past seven on the road. Bills coach Rex Ryan is 5-2 ATS in his past seven at home. Tech edge: Bills.
* Arizona at Atlanta: The Cardinals are 3-8 ATS in their past 11, including 1-3 in their past four on the road. The Falcons are 1-3 ATS at home, but also 8-2 over the total this season. Tech edges: Falcons and Over.
* San Francisco at Miami: The Dolphins have won and covered their past five. The 49ers are 0-9 straight up and 1-8 ATS since beating the Rams in the season opener. Tech edge: Dolphins.
* Los Angeles at New Orleans: Drew Brees and the Saints are 6-1 ATS in their past seven, with the only loss in that stretch the wild game versus Denver. The Rams are 19-7-1 under the total since late in 2014. Tech edge: Saints.
* N.Y. Giants at Cleveland: The winless Browns have failed to cover their past five. The Giants are 4-1-1 ATS in their past six. Tech edge: Giants.
* Carolina at Oakland: Panthers quarterback Cam Newton is 0-4-1 ATS in his past five away from home, but he's 12-6 in the past 18 as a regular-season underdog. The Raiders are 1-3 ATS at home this year and 3-9 since last year for coach Jack Del Rio. Oakland is 7-2 over the total this season. Tech edges: Panthers and Over.
* Kansas City at Denver: The Chiefs won and covered their past three on the road, but coach Andy Reid 1-5 straight up and 2-4 ATS versus the Broncos since moving to Kansas City in 2013. The Broncos are 5-1 ATS in their past six at home. The past 11 series meetings went 8-2-1 under the total. Tech edge: Under.
* Green Bay at Philadelphia: The Eagles are 4-0 straight up and ATS at home, with all four of those games staying under the total. The Packers are 3-8-1 ATS in their past 12 regular-season games. Tech edge: Eagles.
Las Vegas handicapper Bruce Marshall is editor of The Gold Sheet (Goldsheet.com).