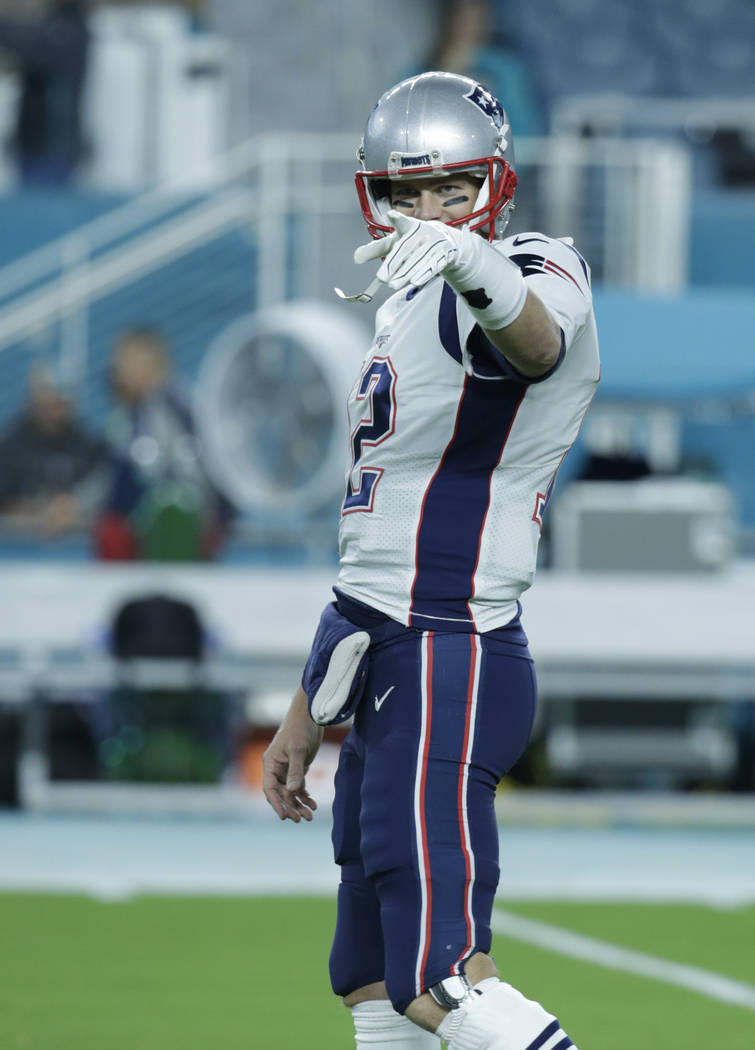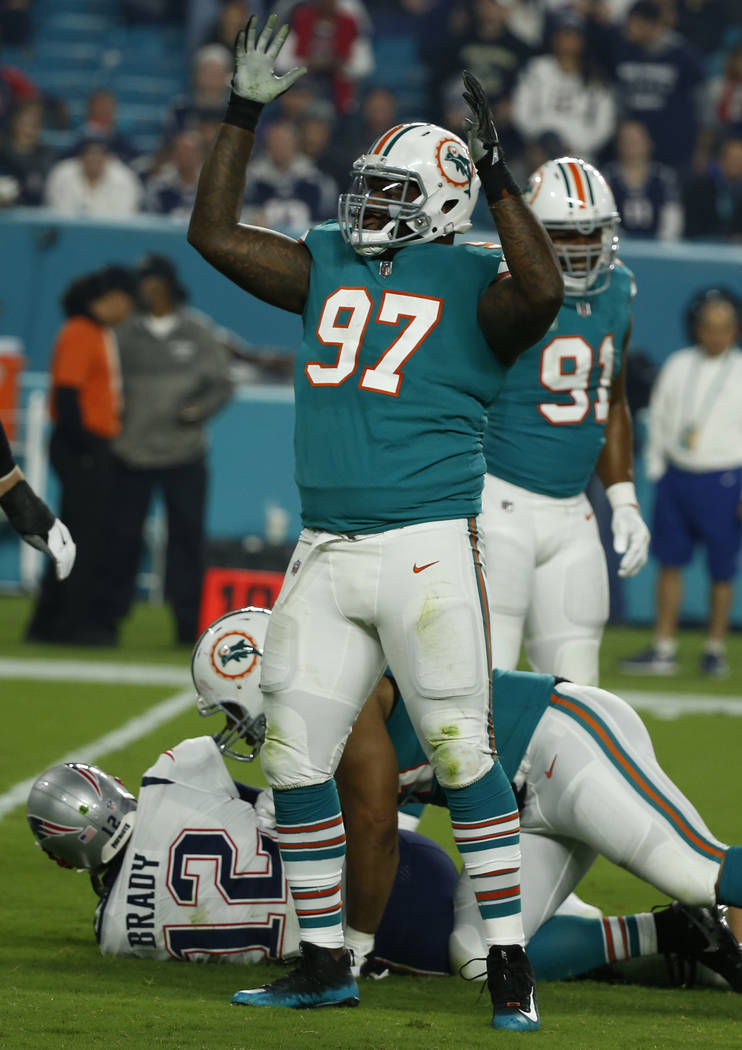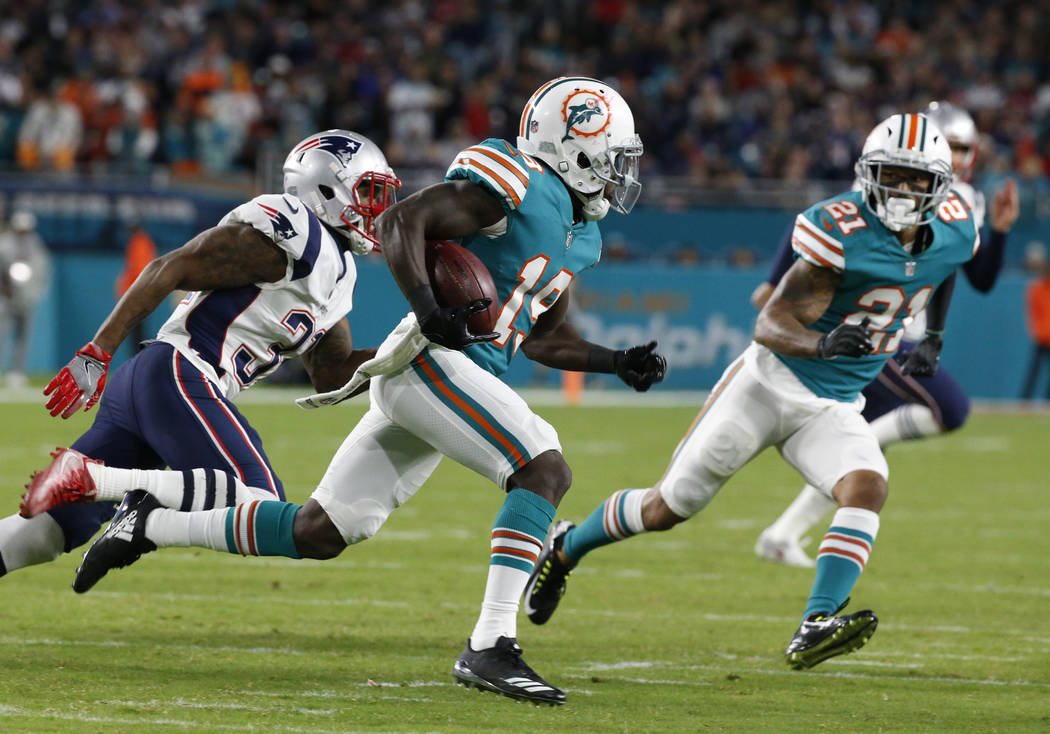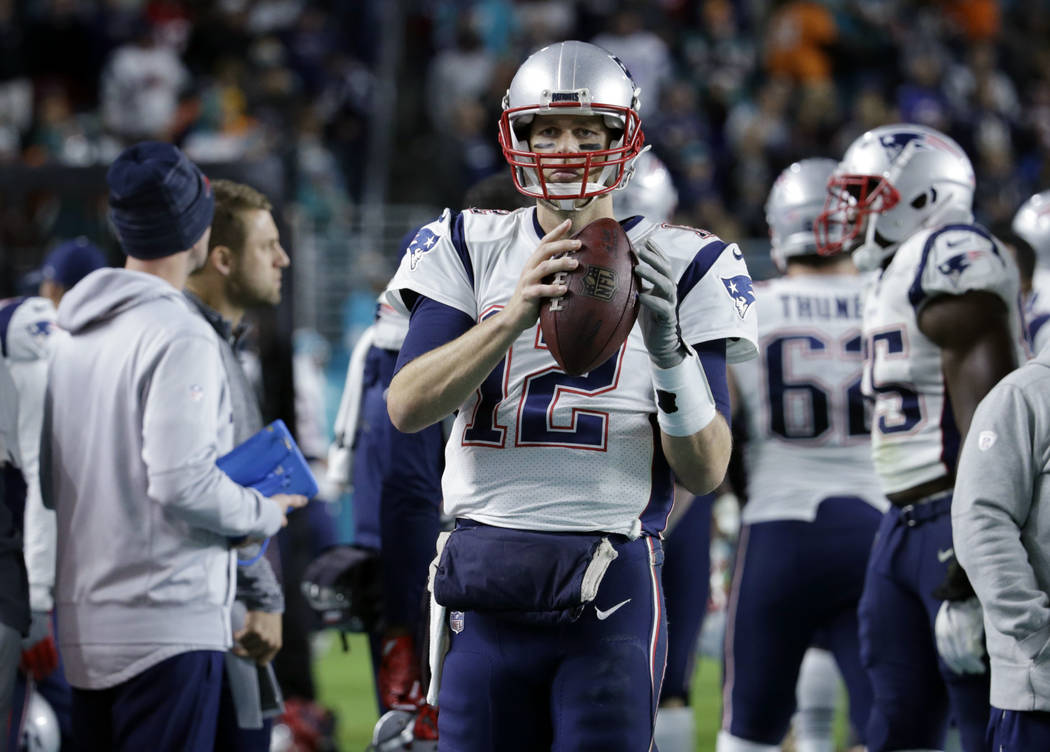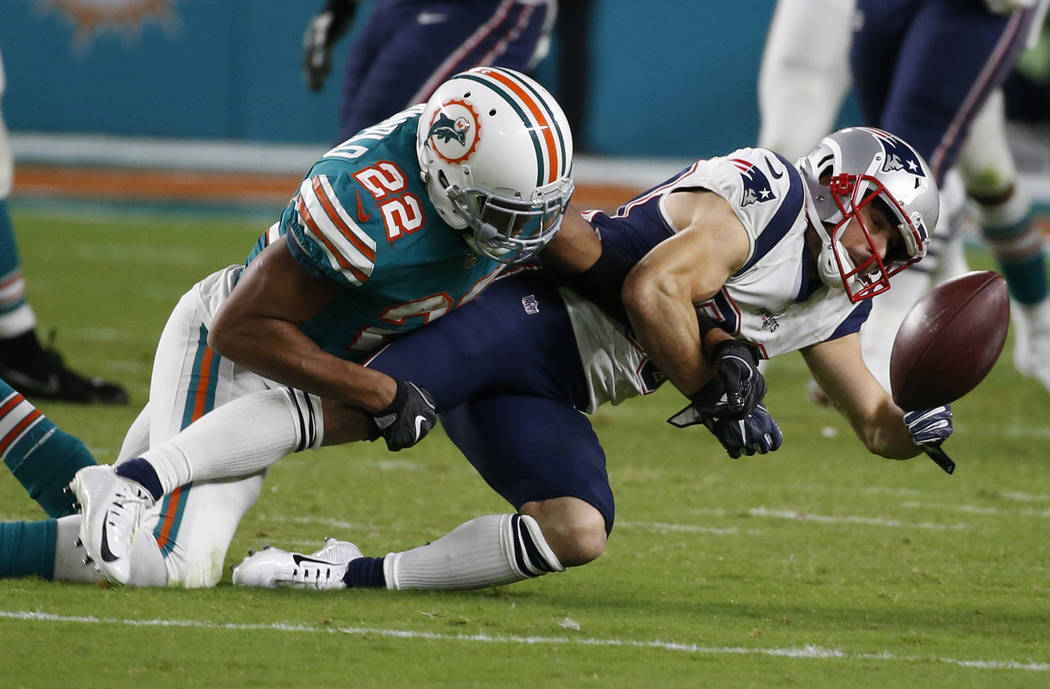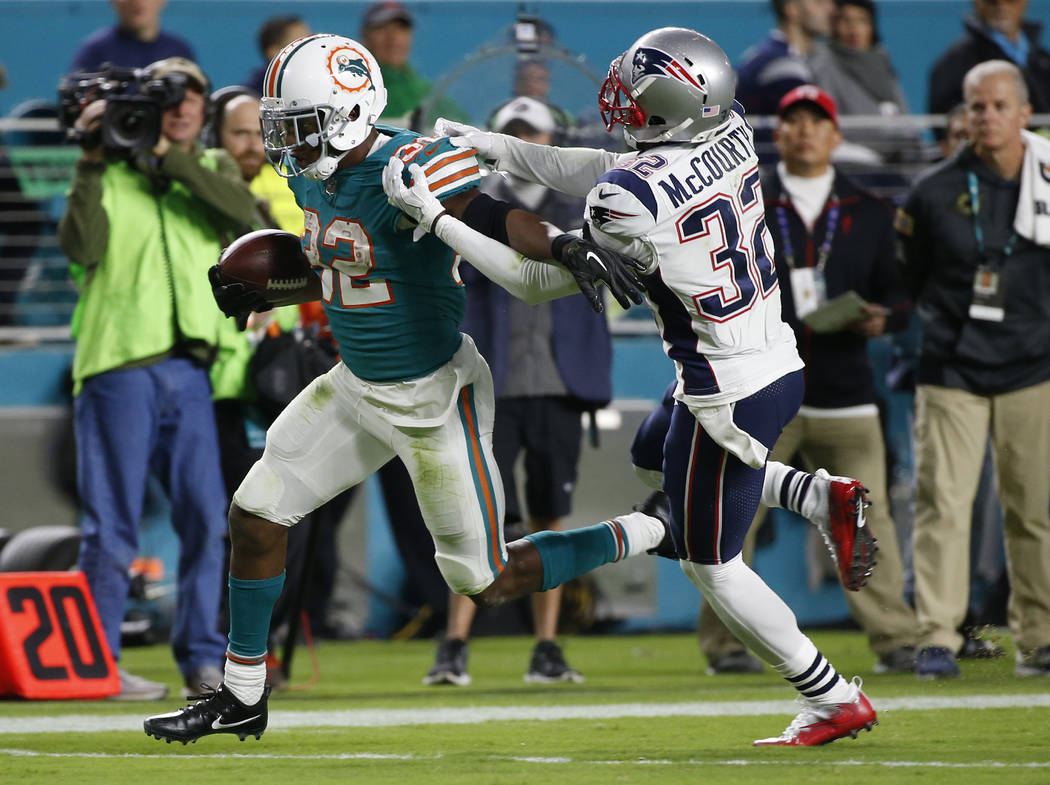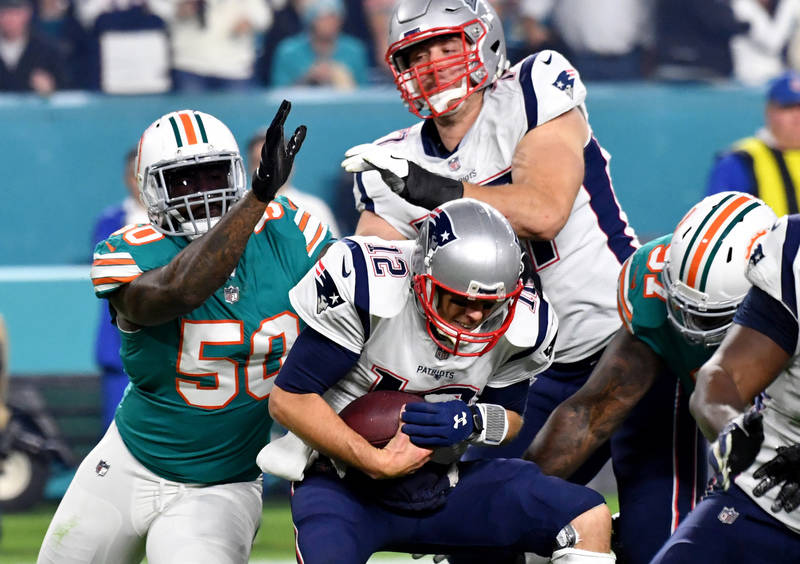 Now that Tom Brady is in his 40s, every time he has a bad game, there'll be questions about whether the Patriots quarterback is finally washed up.
Despite drinking up to 37 glasses of water a day and eating avocado ice cream as part of the regimen described in his book "The TB12 Method: How to achieve a lifetime of sustained peak performance," Brady was anything but a peak performer on Monday night.
The 40-year-old turned in his lowest-rated performance in two years while throwing two interceptions in New England's 27-20 loss at Miami as 10½-point favorites.
But we'll simply chalk up that debacle to an off night for Brady and the Pats, who were without tight end Rob Gronkowski and might have been looking ahead to Sunday's showdown at Pittsburgh. New England is a 3-point favorite over the Steelers, and the winner probably will earn home-field advantage in the AFC playoffs.
The Patriots rarely lose two in a row. In New England's past 50 games after a loss, it is 44-6. The Patriots also have owned the series with Pittsburgh, winning the past four meetings and going 12-4 ATS in the past 16 meetings. They're also on a 15-1 spread run as a favorite of 7 points or fewer.
The Steelers have won eight straight games, but have covered only one of their past five. They won their past three games by a total of seven points while giving up 86 points.
Before Monday's loss, the Patriots had allowed fewer than 12 points per game during an eight-game win streak. With Gronkowski back, look for Brady and New England to bounce back for a crucial win and cover.
Four more plays for Week 15 (home team in CAPS):
Chargers (PK) over CHIEFS: Los Angeles lost its seventh straight meeting to Kansas City 24-10 in Week 3. But the Chargers have since caught fire. After an 0-4 start, they've gone 7-2 behind quarterback Philip Rivers — who has three straight 300-yard passing games and is 36-18 in December — and the NFL's No. 2 scoring defense (17.3 ppg). Los Angeles has outscored its past four opponents 131-53. The Chiefs have beaten only the Broncos and Raiders since their 5-0 start.
Eagles (-7.5) over GIANTS: Teams typically rally in the first game after the loss of a star player. Look for Philadelphia to do that after losing quarterback Carson Wentz to a torn ACL. His replacement, Nick Foles, is one of the NFL's best backup quarterbacks, throwing 27 touchdowns and only two interceptions for the Eagles in 2013. Philadelphia, gunning for the NFC's top playoff seed, has won six of the past seven meetings and is 13-5-1 ATS in the past 19 meetings. New York couldn't capitalize on its best emotional spot of the season in Sunday's 30-10 loss to the Cowboys.
PANTHERS (-2.5) over Packers: All the attention has been focused on the return of Green Bay quarterback Aaron Rodgers, who threw for 369 yards and four TDs in the last meeting, a 37-29 loss at Carolina in 2015. The Packers (7-6) need to win out for any shot at the playoffs, but the Panthers (9-4) also are gunning for the postseason and are coming off a quality win over the Vikings. Carolina is fifth in the league in rushing, has the NFL's No. 10 scoring defense and should pressure Rodgers, as Green Bay has allowed 43 sacks.
Ravens (-7) over BROWNS: Baltimore still has an outside shot at making the playoffs and had two shutouts in five games before last week's 39-38 shootout loss at Pittsburgh. The Ravens have averaged 32 points in their past four games and beat the Browns 24-10 in Week 2 while picking off four passes. Cleveland is last in the league in scoring (15.2 ppg) and 3-10 ATS this season.
Last week: 3-2 against the spread
Season: 36-34
Contact reporter Todd Dewey at tdewey@reviewjournal.com. Follow @tdewey33 on Twitter.
NFL Challenge
Several Review-Journal NFL Challenge contestants played Saturday's games. Mike Scalleat picked the Bears (+5.5), who play at Detroit. Doug Fitz and Jay Kornegay took the Chiefs (pick), who host the Chargers, and Matt Youmans, Allen Leiker and Todd Dewey picked the Chargers.