UFC 193 analysis: Rousey to win in first round again
November 13, 2015 - 2:44 pm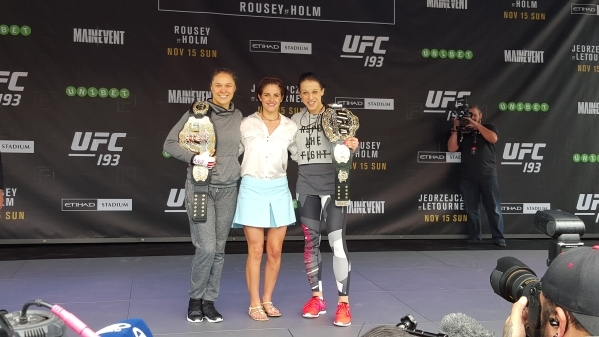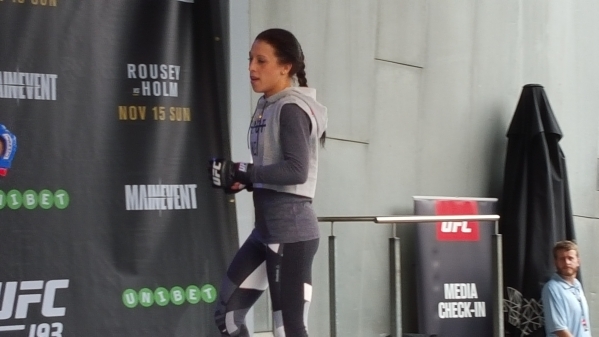 A breakdown of the fights on the main card of UFC 193 today at Etihad Stadium in Melbourne, Australia:
Ronda Rousey (12-0) vs. Holly Holm (9-0)
Class: For Rousey's women's bantamweight title
Line: Rousey minus-2,000
Storyline: Rousey has done a good job of selling Holm as the "toughest challenge of her career." Don't believe the hype. Holm is the most accomplished professional boxer to compete in the Ultimate Fighting Championship, but boxing is not the same as mixed martial arts striking. Rousey's skills in that area have grown exponentially over her past few fight camps. It's remarkable, actually. The champion can more than hold her own in that area and of course has an immense advantage should the fight hit the mat. There's also the possibility Holm gets caught up in the spectacle of what will be the biggest moment she's experienced as an athlete. Rousey is quite used to the spotlight. The only caveat would be Rousey has shown a tendency to try to beat opponents at their own game. If Rousey tries to straight-up box Holm, this could be competitive. But Holm hasn't shown knockout power in the UFC, and if the fight were to drag on for five rounds, it's almost certain she would find herself on the ground at some point. It's not likely she'd be able to get back up.
Pick: Rousey by first-round submission
Joanna Jedrzejczyk (10-0) vs. Valerie Letourneau (8-3-1)
Class: For Jedrzejczyk's women's strawweight title
Line: Jedrzejczyk minus-1,800
Storyline: While she is far from the global phenomenon Rousey has become, Jedrzejczyk has quickly made herself a beloved figure among the hardcore fans and pundits. She is relentless in her striking and has overwhelmed opponents in the 115-pound weight division. This is a perfect opportunity for her to showcase her exciting style for a huge crowd that will tune in to watch Rousey. Jedrzejczyk doesn't have an easy bout, though. Letourneau is a competent striker with a solid ground game. Jedrzejczyk has said she believes Letourneau will bail on trying to strike and desperately try to get the fight to the ground. Each of her past two opponents have paid severe consequences for their failed takedown attempts, though. This should be a star-making performance for Jedrzejczyk.
Pick: Jedrzeczyk by third-round knockout
Mark Hunt (10-10-1) vs. Antonio "Bigfoot" Silva (19-7-0, 1 No Contest)
Class: Heavyweight
Line: Hunt minus-270
Storyline: There is just no way this fight can live up to the hype. Hunt and Silva fought to a draw in Brisbane, Australia, in 2013 that is largely considered the best, or at least most entertaining, heavyweight bout in UFC history. Fans have been going berserk all week for these two, particularly Sydney resident Hunt, in anticipation of a repeat performance. It's just not likely to happen. Those types of moments happen when they're least expected. Still, it should be fun. Hunt has a great chin and swings for the fences. That's a recipe for entertainment. Both fighters have dropped two of their three fights since the draw and are badly in need of a win. Silva's chin has been a bit vulnerable, which doesn't typically work out well for Hunt's opponents.
Pick: Hunt by first-round knockout
Uriah Hall (13-5) vs. Robert Whittaker (15-4)
Class: Middleweight
Line: Hall minus-140
Storyline: When Hall was on "The Ultimate Fighter," he fell victim to UFC president Dana White hyping him up as a potential superstar. That made it so much worse when he dropped his first two official fights in the UFC. Hall is finally starting to fulfill some of that promise. He has won five of his past six fights and is coming off a spectacular knockout of Gegard Mousasi. Consistency remains the question mark with Hall. He will need to be good to get past Whittaker, a New Zealand native whose three consecutive wins include back-to-back knockouts. Whittaker possesses a powerful left hook, but doesn't have the flashy striking skills of Hall. He also has a more diverse attack that should serve him well. Whittaker will look to keep Hall off balance and grind out a victory.
Pick: Whittaker by decision
Stefan Struve (30-7) vs. Jared Rosholt (13-2)
Class: Heavyweight
Line: Struve minus-115
Storyline: Rosholt is the kind of fighter who is easy to pick against. Yet he just keeps winning. He was a great collegiate wrestler with decent power in his hands, but he's simply not exciting. Struve is quite the opposite. The UFC's tallest fighter at 7 feet, Struve's length, athleticism and surprisingly impressive grappling skills make him the mixed martial arts equivalent of a football player who tears up the combine. Success just hasn't come easily for Struve. He battled a career-threatening heart ailment and is 1-1 since his return, though his victory over Antonio Rodrigo Nogueira was far from impressive. He needs a great performance to jump back into the heavyweight picture. This might be a square pick, but Struve's talent is tough to pass up at this price.
Pick: Struve by second-round submission