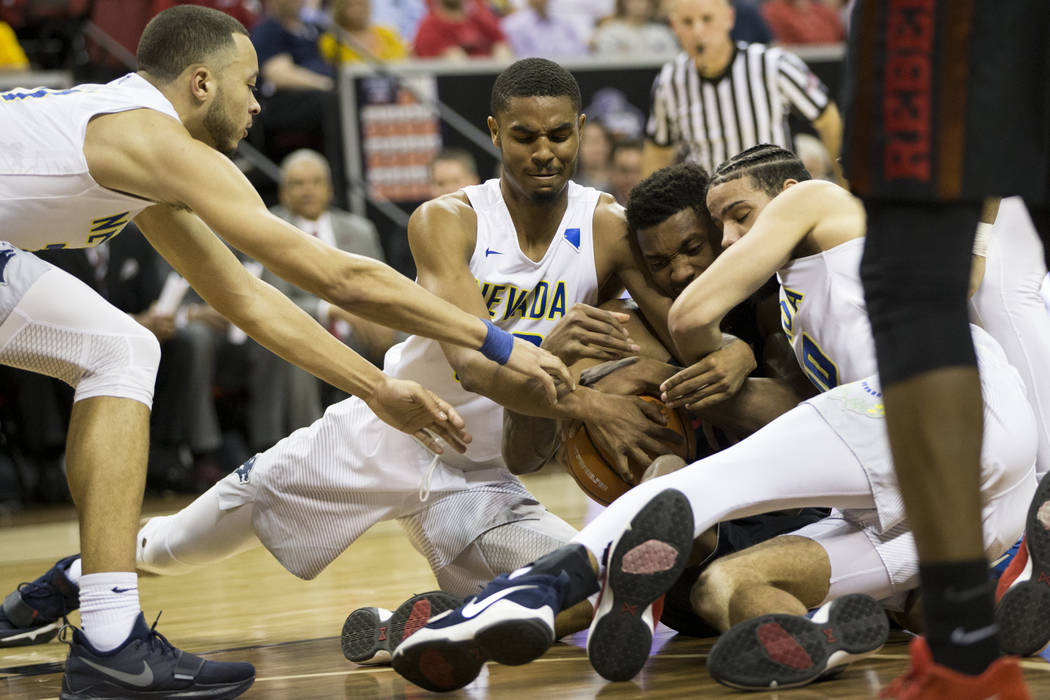 After UNR beat UNLV in the Mountain West tournament quarterfinals Thursday, Wolf Pack swingman Kendall Stephens made no secret of his team's desire to face San Diego State in Friday's semifinals at the Thomas & Mack Center.
"I'd like to play San Diego State, almost for revenge," Stephens said.
UNR, which wants to avenge a 79-74 regular season-ending loss at San Diego State, had its wish granted when the Aztecs dispatched Fresno State on Thursday.
The Wolf Pack are 2½-point favorites over San Diego State in Friday's 6 p.m. showdown and handicappers Bruce Marshall and Brian Edwards love UNR.
UNR (-2½) over San Diego State
"That's the best play on the entire card in the whole country tonight," said Marshall (Goldsheet.com). "I know the Aztecs are playing better but they're not as good as Nevada. The Wolf Pack will win this game and they'll win the tournament.
"Nevada's whole lineup is 6-6, 6-7. They have so much length and it causes enormous matchup problems."
UNR whipped San Diego State by 25 points on Feb. 10 in Reno. The Aztecs have since won seven straight.
"San Diego State's hot play is why the number is so small," said Edwards (BrianEdwardsSports.com, @vegasbedwards). "I know the Aztecs have been on fire, but I like Nevada looking for revenge. It's all about Caleb Martin, who's the best player on the court."
Edwards also noted that the Wolf Pack are on an 8-1-2 ATS run when favored by 7 points or fewer.
In the other Mountain West semifinal, New Mexico is favored by 3½ points over Utah State. The Mirage sports book director Jeff Stoneback said the ticket count is 25-1 in favor of the Lobos.
"New Mexico always has a very large following," he said. "Any Utah teams don't get much action."
Southern California-Oregon (Under 138)
Marshall gave out an easy under winner in this space Thursday before the Trojans' 61-48 win over Oregon State in the Pac-12 quarterfinals at T-Mobile Arena. He's recommending another under play in Friday's 8:30 p.m. semifinal, though it's already dropped from 140.
"Southern California is now under 14-2-1 in its last 17 games," he said. "It started when (Bennie) Boatwright first went out. They seemed to slow the pace down. They're not any worse without Boatwright but they're playing slower and that's why they're going under.
"It's going to be a halfcourt game. There's not going to be much transition."
In the other Pac-12 semifinal, Arizona is favored by 5½ to 6 points over UCLA after the line opened at 4½. Stoneback said the early action was on the Wildcats by a 3-1 count.
"We always get a lot of Arizona action when the Pac-12 comes to town," he said. "They bring in a lot of fans and they load up. If you like to bet against Arizona, our properties have a good point spread."
MGM Resorts sports books had the Wildcats favored by 6 early Friday afternoon.
Kansas (-7½) over Kansas State
Stoneback said the wiseguys were all over the Jayhawks in Friday's Big 12 semifinals. Kansas was favored by as many as 8 points Friday afternoon after the line opened at 4½ on Thursday.
"It's been all sharp money on that game," he said.
Contact reporter Todd Dewey at tdewey@reviewjournal.com. Follow @tdewey33 on Twitter.